Markets in Asia are recovering after yesterday's sell-off and having had some time to digest China's news about tightening as it pertains to their property market. We have meetings this week among central bankers and the sentiment now is that they will keep rates low and an easy monetary policy to help guide the world economy through the current land mine filled field. We like what we are seeing in Australia and Japan and think that the US will eventually come around to getting the house in order, but things can always get much uglier before they get prettier.
Chart of the Day:
The below chart shows the growth in student debt compared to the growth in mortgage debt here in the US. The rising cost of education along with parents unable to tap their home equity to pay for their kids' education has most certainly played a role in this but so too has the growing number of people utilizing the for-profit colleges. It is astounding to see the recent balloon which could be a bubble the most recent administration created.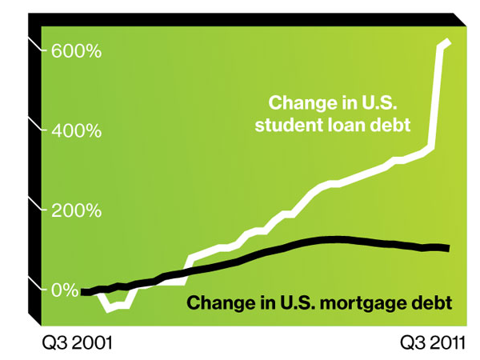 Click to enlarge
Chart courtesy of TheAtlantic.com
We have economic news due out today, and it is as follows:
ISM Services (10:00 AM EST): 55.4
Asian markets finished higher today:
All Ordinaries - up 1.19%
Shanghai Composite - up 2.33%
Nikkei 225 - up 0.27%
NZSE 50 - up 0.37%
Seoul Composite - up 0.17%
In Europe markets are trading up this morning:
CAC 40 - up 1.21%
DAX - up 1.57%
FTSE 100 - up 0.67%
OSE - up 0.83%
Biotechnology
Yesterday Arena Pharmaceuticals (NASDAQ:ARNA) released their results and held a conference call to talk about the past quarter as well as what lies ahead. It was effectively a nonevent as the shares closed at $8.19 having traded down only $0.15 (1.80%) on volume of 9.5 million shares. The company is still waiting on the US Drug Enforcement Agency to approve the proposed classification of Belviq as a Schedule IV controlled substance, and that is holding up the rollout of the drug at this point. Needham had a report out yesterday discussing their doubts about the European Union approving Belviq for use on the continent but they also stated that they see approval from the DEA any day now which would allow for a Q2 rollout.
Airlines
Delta Airlines (NYSE:DAL) has been a hot name which we have discussed in these articles numerous times over the past few months. The name was hot again yesterday as the shares rose $0.83 (5.60%) to close at $15.65/share on above average volume of 25.4 million shares. Investors got excited over the fact that it now appears that the company is going to be upping production at their PA refinery and they expect to see a profit from it in the 2nd Quarter in the range of $75-100 million. Output is expected to be around 40,000 bpd which equates to about 25% of the domestic jet fuel consumption. The company's CEO stated that had the refinery been at 100% capacity during the 1st Quarter, a profit of $60 million would have been likely. This refinery is what sets Delta apart from the rest of the airlines and should be an effective hedge against jet fuel costs moving forward now that they have an idea of how to best utilize the production capacity and product mix.
Technology
The situation over at Dragonwave (NASDAQ:DRWI) is getting worse as the company once again cut their revenue estimates for the 4th Quarter (see press release here). They now expect revenue of about $30 million, which is down from their previous guidance of $40-45 million. The company blamed the Nokia Siemens unit it purchased last year for the most recent revenue cut and also said that they planned to cut costs further, although just how they will implement these cuts was not discussed. The saga with Clearwire has to be hurting on some level, but this is a continuation of management disappointing shareholders. The company continues to cut costs as revenues shrink and for a technology company that indicates to us that it is a dying company; for one does not cut costs because revenues fall unexpectedly unless there is no expectation for them to recover to previous levels. That is something to think about this morning, especially after the shares fell almost 28% yesterday.
Mortgage Insurers
It was a big day yesterday for MBIA (NYSE:MBI) which saw the New York State Supreme Court uphold a lower court decision that the company's restructuring plan from 2009 was legal. Shortly after the verdict was announced the shares moved higher in trading and closed the session up $2.47 (23.96%) to finish at $12.78/share on volume of 28.5 million shares. The company had seen opposition from many of the banks whose mortgages they reinsured who were using this as a chip in a game of high stakes poker, but recently the numbers had dwindled and there were only two banks in opposition, namely Bank of America which took a proactive role in the whole situation and seemed hell-bent on forcing the issue in order to solve their own liability issues they may have with MBIA.
Things are looking up for shareholders now.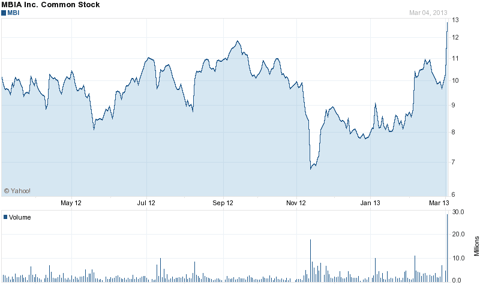 Click to enlarge
Chart courtesy of Yahoo Finance.
Also having a good day in the industry yesterday was Radian Group (NYSE:RDN) which saw shares move higher in the early morning after Keefe Bruyette upgraded the company's shares from 'Market Perform' to 'Outperform'. After the close the company announced that they completed the offering of common stock and convertible senior notes (see press release here). For those wondering, yes, Keefe Bruyette was part of the team offering the stock and notes so it was "one of those upgrades".
Disclosure: I have no positions in any stocks mentioned, and no plans to initiate any positions within the next 72 hours. I wrote this article myself, and it expresses my own opinions. I am not receiving compensation for it (other than from Seeking Alpha). I have no business relationship with any company whose stock is mentioned in this article.