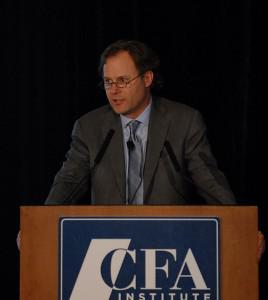 At the 10th Annual Research for the Practitioner Workshop preceding the 64th CFA Institute Annual Conference last month, Brian D. Singer, CFA, author of Investment Leadership and Portfolio Management and a former chair of the CFA Institute Board of Governors, delivered a presentation on portfolio management and risk.
Singer, who is currently a partner at William Blair where he heads up the Dynamic Allocation Strategies team, and previously served as head of Global Investment Solutions and Americas chief investment officer at UBS Global Asset Management, put forward a simple premise: that many portfolio managers are "unaware of the risks embedded in their portfolios."
Singer's point of view is that successful investing requires an understanding of risk factors and an allocation of risk capital to those factors which are compensated. At the same time, he argued, investors must eliminate uncompensated risk factors from their portfolios. Risk can be your friend, Singer said, but only if you are aware of what risks you face.
Because two-thirds of the variation in portfolio returns is driven by systematic risk factors (i.e., beta exposures), Singer said portfolio managers should shift their focus from a search for alpha driven by security selection toward an approach that allocates risk capital to beta factors. Examples of such beta exposures include inflation, credit risk, and illiquidity. Corresponding asset categories for risk budgeting purposes might be inflation-protected bonds, high-yield bonds, and real estate, respectively.
In short, returns originate in underlying economic drivers. Understanding this simple idea leads one to focus on harvesting systematic risk premia rather than pursuing the purported "free lunch" of unique alpha, Singer argued.
He summed it up simply, saying "a top down beta allocation framework is best."
Disclaimer: Please note that the content of this site should not be construed as investment advice, nor do the opinions expressed necessarily reflect the views of CFA Institute.