On Monday, shares of Apple (NASDAQ:AAPL) dipped below the $424 level, and closed just above $420. Why is the $424 level key? At $424, Apple's $10.60 annual dividend yields exactly 2.50%. With Apple closing below that key level, the yield in this stock is up to more than 2.52%. Today, I'll explain why I believe this price point could mark a bottom in the stock, and why I purchased shares for a short-term trade.
The increase in yield:
In the table below, I've shown the year to date change in yield for Apple against a few other large tech names with yields over 2.50% (entering 2013). These names include Microsoft (NASDAQ:MSFT), Dell (NASDAQ:DELL), Cisco Systems (NASDAQ:CSCO), Hewlett-Packard (NYSE:HPQ), and Intel (NASDAQ:INTC). As you can see, all of these names have seen their yields go down, because their stocks have gone up. Apple is the only name that has seen its yield go up, and it's not exactly a small increase.

*Difference is the increase or decrease in yield (or basis points). Change is the percentage change (or rate of change) in that yield from 12/31/12 to 3/4/13.
Apple's yield has increased so much lately that it yields only about 18 basis points less than a 20-Year US Treasury Bond, which currently yields about 2.70%. It's a good comparison to make, and a good question to ponder. For the next 20 years, would you rather be invested in the US government or Apple?
Look at the calendar:
Over the past six years, Apple's best month of the year has been March, with the second best being April. Why have I looked at six years? Well, Apple introduced the first iPhone in January 2007, which represents "the new Apple" in my opinion. So I've focused on the last six years in terms of monthly performance, ending February 2013.
In five of the past six years, Apple has rallied in March, and the only time it was down, in 2011, was a loss of 1.33%. In the five months Apple was up, it averaged a 13.53% gain. Even if you include the one month that produced a loss, you still had an average gain of more than 11%. April was the second best month, with an average return of 9.55%, and five monthly gains. July has also seen five monthly gains, but an average return of just 6.80%.
I know that past performance is no indication of future results, but I found these results rather interesting. Just remember, it was last March when Apple announced the dividend and share repurchase plan. Apple is down $20 already this month, so if it were to get back to even, you'd be looking at a 5% profit. Should we to see one of those 10% or so monthly gains, the return from here would be rather lovely.
The return of cash:
Apple has started returning cash to shareholders, already paying three quarterly dividends of $2.65 each. Additionally, in their latest quarter, the company started buying back some stock. Initially, Apple's plan is really to offset option dilution. Apple's outstanding share count did go down in fiscal Q1 (calendar Q4), but that was part of an accelerated repurchase. We won't see that happen every quarter, so the share count will likely continue higher, but at a slower rate than it has been.
Apple is one of the last major tech names to start returning cash to shareholders, and I'm not including new names such as Facebook (NASDAQ:FB) in that. When you compare Apple to Google (NASDAQ:GOOG), Apple is buying back stock and paying a dividend. Google is doing neither, and Google's share count over the last two years has risen at a faster rate than Apple's has. Google shareholders are likely to face a bit more dilution ahead, while Apple is starting to reverse that process. I'll discuss the importance of that in the next section.
Additionally, I have already stated that I believe Apple will start returning more of that cash to shareholders this year. Apple's cash pile was up to $137.1 billion at the end of fiscal Q1, compared to $97.6 billion a year prior. However, of that $137.1 billion, only about $43 billion was held inside the US to be used for dividends and buybacks. That number is probably over $45 billion by now. Should Apple increase their dividend and or buyback in the near future, it could provide a solid boost to a stock that's looking for a floor.
An extremely reasonable valuation:
I recently wrote an article discussing Google's growth, asking if that growth was worth the huge premium you are paying for it. In that article, I discussed how Google traded at a significant premium to Apple, which is another way of saying Apple trades at a significant discount to Google. That discount widened even more on Monday, with Google shares rising 1.9% to a new high while Apple declined 2.4% to a new low.
When looking at valuations, Apple currently trades for 9.17 times currently expected calendar (not fiscal) year 2013 earnings, while Microsoft is at 8.99 times. When looking at Apple versus Microsoft, I'd rather pay a 2% premium for Apple. Even though Microsoft may have a higher dividend and is buying back stock faster right now, Apple is growing a lot faster. Apple also has a lot more financial flexibility with that roughly $43 billion in domestic cash. Microsoft had over $68.3 billion in cash and short-term investments on the balance sheet at the end of its latest quarter, but $61 billion of that was foreign held. Microsoft had just $7.3 billion inside the US.
Now back to Google, which currently trades for 18.04 times expected 2013 earnings, and that is using the non-GAAP estimate. Google subtracts out stock based compensation and restructuring expenses when calculating non-GAAP earnings per share, and those are the numbers that analysts look at. So if you were to use Google's GAAP earnings, which are a bit lower, or compute a non-GAAP number for Apple, the discount/premium is even larger. Sure, Google's growth numbers look higher now thanks to the Motorola acquisition, but those growth numbers will soon be coming down rather sharply. Also, Google doesn't pay a dividend or buy back stock. Additionally, if you look at dilution, Google's diluted share count (used to determine EPS) has risen by 2.90% over the past two years, while Apple's has risen by just 1.51%. That extra dilution for Google shareholders will continue for the indefinite future.
Where are the analysts?
I mentioned in my latest Apple article that analysts covering the tech giant have seemed to disappear lately. Since February 1st, the average estimates for Apple's fiscal Q2 revenues and earnings have not changed. The numbers on February 1st were $42.94 billion and $10.24, respectively, and that's where estimates stand today. Since that time, Apple's stock is down about $30.
But it's really not the estimates I'm concerned with. It's just a lack of analyst chatter, and I'm referring to those that are bullish on the name. According to Thomson/First Call data, 44 analysts have either a buy or strong buy recommendation on Apple, out of 57 total. There are 45 analysts with price targets currently on Apple, ranging from $465 to $888. The mean target is about $630, with the median at $610.
Apple closed Monday at $420, meaning the average price target is 50% above where we are now. Even the lowest target on the street on that page is 11% above where we are now. So my question is, where are the analysts? If all these analysts have $600 plus price targets, shouldn't we hear a lot of them reiterating buy recommendations, telling you that now is a great time to buy? I would think if you are an analyst putting a lofty price target on Apple now, you should be recommending that investors pound the table now.
Well, we may have just heard from one of those analysts on Monday. Toni Sacconaghi of Bernstein Research issued a note talking about Apple's potential tax bill should it bring money back into the US. This has been a big issue for those worried over Apple's foreign held money. Sacconaghi talks about the tax issue here:
In this break-down, Apple has already been accruing taxes for much of its offshore cash, which would theoretically allow it to bring back about $42 billion worth of those funds without incurring any hit to its reported earnings.

According to Sacconaghi's research, Apple has a "uniquely low offshore tax rate" even compared to other tech firms. But it keeps an overall tax rate that is "relatively high," in part because the company has been accruing taxes on part of the overseas funds even though it is not yet paying that tax.

"Apple can access about half of its offshore cash and return it to shareholders without incurring an incremental hit to its income statement," Sacconaghi wrote, though added that the company would still have to actually pay the cash tax. "That means that about $75 billion in total cash could be returned to shareholders with no impact to Apple's reported tax rate or EPS."
If Sacconaghi's numbers are right, Apple investors should be relieved quite a bit. While Apple would still have to pay the cash portion of the tax bill, it would not have to record some of that on the income statement, meaning EPS would not be reduced. In fact, EPS would actually rise if the money is used for share buybacks. Sacconaghi has an outperform rating and $725 price target on Apple's stock, and has been publicly pressing the company of late to consider using debt or other means to increase the cash it gives back to shareholders.
Add some options:
I don't always talk about options when it comes to Apple, but today I'll briefly discuss a potential opportunity. Those that believe Apple will stay flat or even rise from here might want to consider selling puts. By selling these puts, you collect a nice premium, as long as Apple stays above a certain "break-even" point. So I put together a table showing Apple puts at the $420 strike point, which are the at-the-money puts as of Monday's close. I also included a yield category, which is the effective yield you get based on Monday's close. Obviously, the further out in time you go, the more of a premium you get since your risk is higher, and thus your breakeven is lower. As an added bonus, I haven't even included the Apple dividend (if you are long AAPL shares as well).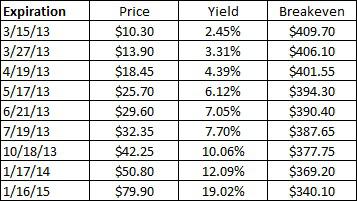 Obviously, options trading isn't for everyone and carries a substantial amount of risk. Before entering one of these trades, you might want to find out what the requirements are, especially margin requirements. But I brought put selling up to make a point. Let's say you think Apple will go higher from here, and you're also long 100 shares. Apple's next dividend won't be until May, so you don't receive any income from holding the shares. Let's say you sell an April $420 put, currently for $18.45. If Apple stays above $420 by expiration, you pocket that entire $18.45, which based on Monday's close, is a yield of nearly 4.4%. Not a bad yield for a month and a half. If Apple drops to $410, you still make nearly $8.50. Apple would have to drop below $401.55 for you to lose money.
There is a bit of risk here, but there's plenty of opportunity as well. Let's say Apple heads to $500 by the October expiration date. If you hold Apple shares, you would make the roughly $80 profit (rounding Monday's close), as well as receive what is most likely to be two dividend payments, $5.30 based on the current rate. $85 or so by October would be a nice profit based on Monday's $420 close. However, if Apple rises to $500 and you also sold $420 October puts, your profit would be about $127. You would add roughly 50% to your profits!
Final Thoughts:
Apple crossed the 2.50% yield mark on Monday, hitting another 52-week low. Even those that have called for a drop in the stock believe markets are acting inefficiently. At this point, it's hard to recommend trying to catch a falling knife, but you can't win if you're not in the game. I even initiated a position in Apple Monday, although only for a short-term trade. You may remember the following piece from the conclusion of my last Apple article, which I backed up with my own money this week:
I think Apple goes lower in the short term, perhaps testing $425...which actually would provide a good entry point for investors if we head towards $425.
I'm looking for a quick rebound in Apple shares, and maybe we'll get a dividend raise or something else in the near future. It was March 19th last year when Apple announced its cash plans. Should we head back towards $450 in the next couple of days or weeks, I will most likely take my profits. As I stated in my previous article, Apple analysts have been known for cutting estimates right before earnings, which could potentially pressure shares in April.
I'll wrap up my article with a point about Apple that shows how strange this fall has been. A year ago (March 2, 2012), Apple closed at $545.18. At that point, there was no dividend, no buyback, and Apple's cash pile was $40 billion less. We now have a 2.52% dividend yield, stock buyback, a much larger cash pile, and a stock that's down 23%. In my opinion, a 2.5% yield for Apple should mark a floor in the stock. The big question is, will it?
Disclosure: I am long AAPL. I wrote this article myself, and it expresses my own opinions. I am not receiving compensation for it (other than from Seeking Alpha). I have no business relationship with any company whose stock is mentioned in this article.
Additional disclosure: Investors are always reminded that before making any investment, you should do your own proper due diligence on any name directly or indirectly mentioned in this article. Investors should also consider seeking advice from a broker or financial adviser before making any investment decisions. Any material in this article should be considered general information, and not relied on as a formal investment recommendation.