As grim as the title of this article is, rest assured AMC Networks Inc. (NASDAQ:AMCX) is not a dead growth stock, at least not yet. It is, however, a media company that has derived much success from its critically and commercially acclaimed series like The Walking Dead. In a previous article that focused on growth opportunities in the content-creation sector, I analyzed AMCX alongside three other media companies, Discovery Communications Inc. (NASDAQ:DISCA), The Walt Disney Company (NYSE:DIS) and Viacom Inc. (NASDAQ:VIAB), and concluded that although faced with significant growth hurdles going forward, AMC Networks appeared to be an attractive short-term investment.
Since the beginning of January, which is when the above-mentioned article was published, AMCX has returned an impressive 15%, which includes a recent selloff of about 10% following a recent fourth quarter earnings miss. For traders quick enough to capitalize, AMCX provided over a 20% return in just over a month's time.
The long-term growth prospects of the company, however, were displaying worrisome trends, and for this reason I cautioned investors about holding AMCX for too long. I have long believed the success of the company is too heavily dependent on a central network and only a handful of shows, The Walking Dead chief among them. Having analyzed the company's most recent earnings report and future guidance, these troubling trends look set to continue for some time, and long-term investors need to be aware of the inherent risks on the horizon.
To best display my apprehension towards the company's future growth, I will first analyze the stock from a growth investing perspective, using the same criteria I judge all growth stocks by: chart, revenue/EPS growth, fundamentals and valuation.
The Company:
AMC Networks is a New York-based media company that owns and operates television brands, which are broadcasted primarily in the United States. Originally formed in 1980 under the name Rainbow Media Holdings LLC, the company was a subsidiary of Cablevision for over three decades until it was spun off as a publicly-traded company in July 2011.
The company's main programming brands are AMC, IFC, Sundance Channel and WE TV. Through its most popular channel, AMC, the company is responsible for hit television shows like The Walking Dead, Mad Men and Breaking Bad. AMC Networks also owns and operates IFC Films; a division that distributes independent films via simultaneous release across various media formats, including theaters and video-on-demand services.
Chart:
In my analysis, I usually include a five-year chart and a one-year chart to illustrate for investors a stock's long-term trend as well as its most recent trading patterns. However, since AMCX is a newly issued stock, I will simply include the lifetime chart (included are 50-day, 100-day and 200-day moving averages as well as MACD and slow stochastic indicators):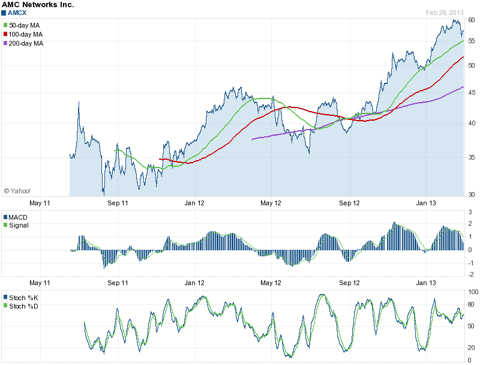 (Chart courtesy of Yahoo! Finance)
Return:
AMCX: 62.31%
S&P 500: 19.32%
AMCX's lifetime chart, which is essentially a one-and-a-half-year chart, is volatile, as IPO's tend to be, but still rather impressive. The stock's return of 62.3%, since July 2011, compares favorably to the S&P 500's return over the same time period of 19.32%.
Since first establishing its 200-day moving average in mid-2012, AMCX has broken below it only twice. Recently, AMCX has been trading very well, up over 40% in the last six months alone, and obeying all listed moving averages. Additionally, the MACD indicates heavy buying and very little selling.
Growth:
| | | | | |
| --- | --- | --- | --- | --- |
| Fiscal Year | Revenue | Change From Prior Year (%) | EPS | Change From Prior Year (%) |
| 2008 | 893.56M | 18.43% | -0.29 | -231.81%* |
| 2009 | 973.64 | 8.96% | 1.28 | 541.37%* |
| 2010 | 1.08B | 10.92% | 1.71 | 33.59% |
| 2011 | 1.19B | 10.18% | 1.79 | 4.67% |
| 2012 | 1.353B | 13.67% | 1.89 | 5.58% |
| Avg. 5-yr. Growth Rate | N/A | 12.43% | N/A | 14.61% |
(Numbers from Yahoo! Finance, MSN Money, as of 3/2/13)
* Indicates a growth rate impacted by negative earnings, numbers not used in calculating average growth rate to avoid major distortion.
With regard to revenue growth, AMC Networks has done very well in the past and the stock's outperformance is a direct reflection of that. Revenue growth has been solid but more importantly is that the growth has been very consistent, fluctuating under 10% only once in the last five years.
EPS growth has been much more volatile and inconsistent and more recently has been lagging behind revenue growth significantly, which is worrisome from a growth investing perspective. This means that although the company is successfully increasing sales, costs are rising at an even faster pace.
Now let's take a look at how AMC Networks is projected to grow revenue and EPS going forward:
| | | | | |
| --- | --- | --- | --- | --- |
| Fiscal Year | Revenue | Change From Prior Year (%) | EPS | Change From Prior Year (%) |
| 2013 | 1.5B | 10.8% | 3.13 | 65.6% |
| 2014 | 1.61B | 7.1% | 3.65 | 16.6% |
(Numbers from Yahoo! Finance, MSN Money, as of 3/2/13)
In a nice change of pace for the company, it looks as if AMCX is expected to rapidly reverse its recently spotty earnings per share history, as projections call for an impressive 65.6% increase in EPS for 2013 followed by a healthy 16.6% increase in 2014. Although still wildly volatile, the company's EPS growth trend is projected to move in the right direction over the next two years.
AMCX's revenue growth looks as if it will continue to remain consistently solid in the near future, projected to grow just under 11% in 2013. However, the company's revenue growth for 2014 is currently projected to fall to 7.1%, which would mark the lowest rate of growth experienced by the company in the last five years.
Fundamentals:
To best display AMCX's fundamentals, I have chosen to compare the company to several of its peers in the content creation sector: The Walt Disney Company, Discovery Communications Inc. and Scripps Networks Interactive (NYSE:SNI).
| | | | | |
| --- | --- | --- | --- | --- |
| Company | AMCX | DIS | DISCA | SNI |
| Market Cap | 4.09B | 99.89B | 27.35B | 9.57B |
| Total Debt | 2.23B | 17.46B | 5.24B | 1.38B |
| Total Cash | 313.25M | 3.21B | 1.3B | 437.52M |
| 2013 Projected Revenue* | 1.5B | 45.16B | 5.58B | 2.49B |
| ROIC | 8.3% | 10% | 8.3% | 25.2% |
| ROIC (5-yr. Avg.) | N/A | 8.9% | 7.5% | 19.5% |
| P/E (TTM) | 30.09 | 17.85 | 30.18 | 14.48 |
| P/E (forward) | 15.61 | 14.26 | 17.74 | 15.88 |
| Net Profit Margin | 10.09% | 13.07% | 21.02% | 29.54% |
| Dividend/Yield | NA/NA | .75/1.4% | NA/NA | .60/1% |
(Numbers from Yahoo! Finance, MSN Money, as of 3/2/13)
AMCX is by far the smallest media company out of the four, with a market capitalization just over $4 billion. The closest company in terms of size is Scripps Networks, with a market capitalization of $9.57 billion; well over double the size of AMCX. Although AMC Networks is the smallest listed media company, its debt is the largest in proportion to market cap, as its $2.23 billion in total debt is equal to 54.52% of the company's total market capitalization. It is important to recognize that all listed media companies carry considerable amounts of debt, as it appears to be an unfortunate part of the industry. However, at levels equal to over half of the company's current market cap, AMCX's debt load is particularly worrisome.
The company's return on invested capital is also unimpressive when compared to peers; at 8.3%, it ties Discovery Communications Inc. for worst ROIC out of all listed companies and even fails to beat the industry average of 8.9% as well as the S&P 500 average of 9%. Additionally, AMC Networks has the lowest net profit margin out of all listed companies; at 10.09%, it again fails to beat the industry average of 13.39% and the S&P 500 average of 12.56%. AMCX's net margins are, however, moving in the right direction as the company's current net margin of 10.09% compares favorably to its 5-year average net profit margin of 6.7%.
In terms of valuation, AMC Networks appears very expensive on a trailing twelve-month basis with a P/E of 30.09, as does Discovery Communications with a current P/E of 30.18. However, AMCX is the second cheapest stock on a future twelve-month basis with a relatively attractive forward P/E of 15.61.
On a growth performance basis, AMCX has done very well for investors, providing above-average stock returns fueled by a combination of consistently solid revenue growth and volatile EPS growth, all the while remaining relatively fairly valued compared to peers on a forward-looking basis. Looking forward a few years, the growth is projected to continue.
Content:
As technology advances, newer and more integrated media entertainment platforms are created, allowing the viewer to consume programming like never before. From rental kiosks outside of grocery stores to streaming and video-on-demand services inside the home, from tablets to smartphones to gaming consoles, from big box retailers to digital storefronts, viewers have unprecedented access to vast amounts of programming. With all of the improvements made with regard to viewer access over the years, there has been only one constant, the demand for popular content.
Every media company will eventually live or die by the content that it creates. To quote Bill Gates, circa 1996, "Content is king." There simply is no substitute for popular subject matter in the media world and since the demand for it will never diminish, it is the primary aspect by which we as investors must analyze all media stocks, particularly with regards to growth stocks as it is a company's ability to consistently create new and popular content that is of utmost importance.
AMC Networks is no stranger to popular content; AMC channel is home to three of the more popular drama series to ever grace basic-cable, Mad Men, Breaking Bad and The Walking Dead. Receiving numerous Emmy Awards and Golden Globes as well as consistently high ratings, these shows have made the AMC channel a force to reckon with. AMC is by far the company's most popular channel both in terms of ratings and subscriptions, with an estimated 98.9 million subscribers as of December 31, 2012.
However, certain types of television content simply lend themselves better to continued success than others. Drama is not one of them because most drama series primarily revolve around characters in a central, closed universe and as such are not likely to spin off additional series. While capable of commanding extreme viewership numbers, continued success in popular drama is hard to maintain for long, as it demands constant creative talent and innovation. AMC's heavy reliance on drama, although impressively managed so far, is somewhat of a liability for the company going forward.
The reason I am invested in Discovery Communications is because the company's content lineup is diversified, robust and has what I feel is a competitive advantage in the content creation sector, the unique ability to continuously generate new and appealing content at low costs. Discovery, along with Scripps Networks Interactive, operates primarily in the nonfiction/documentary-drama television format, which lends itself much easier to content replication and global repackaging (click on my previous article Scripps Networks Vs. Discovery Communications for more information). In short, it is easier to spin off nonfiction/reality shows than it is drama; both DISCA and SNI have built very successful and sustainable business models doing just that.
Growth Catalysts:
President and CEO of AMC Networks Joshua Sapan knows full well that it is the company's content offerings that are of chief importance to AMCX's continued success. In the company's most recent earnings conference he explained, "Our overall strategy remains fairly simple and straightforward. I think it can best be described as being content-driven. As the overall pay TV ecosystem continues to evolve, we believe that we will be increasingly defined by the content that we create."
AMC's currently airing drama series The Walking Dead is a massive success. Its mid-third season premiere broke cable ratings records on February 10, with 7.7 million viewers in the coveted 18-49 age group the highest in basic-cable history, and 12.3 million total viewers, the series' highest total to-date. The show has built incredible momentum, as each season manages to pull in more viewers than the last. Viewership numbers for the currently airing third season (ages 18-49) have increased approximately 50% over the prior season, making The Walking Dead the # 1 television show currently among the key age group.
The series has also had great success on numerous other media formats (video-games, social games, books) but perhaps most impressive is how well management at AMC has branched their most popular series out into other television formats, most notably talk/reality. The Talking Dead, a one-hour live talk show about anything and everything related to The Walking Dead universe, premieres directly after live episodes of the hit drama series and actually manages to maintain a significant portion of the drama series' viewership. The Talking Dead mid-second season premiere, which immediately followed The Walking Dead mid-third season premiere on February 10, drew an impressive 4.4 million viewers, which means the live talk show retains approximately one quarter of The Walking Dead series' total viewer number.
The Talking Dead marks not only management's successful ability to capitalize on popular shows and create extra revenue streams, it also marks a recognition by management for a need to diversify the AMC channel lineup. In the company's latest fourth quarter 2012 earnings call, CEO Joshua Sapan explained, "We look to build off the success of these scripted dramas by introducing nonfiction or unscripted original programming on the channel as well." Sapan went on to explain that AMC has recently dedicated an entire Thursday night of programming to the company's "expanding lineup of original unscripted series." AMC's recent reality series Comic Book Men is one example of management's efforts at diversifying the channel's lineup.
This is a huge deal for the channel and the company going forward because it is recognition by management of the fundamental need for programming diversity at AMC. In addition to opening up new markets for the company, different types of programming will remove some pressure from the channel's main dramatic attractions. The continued success of AMC Networks as a media company, as well as the success of the growth stock, will be dependent upon management's ability to expand the reach of its current channels by opening up new programming formats.
Management has also done well expanding its global footprint as of late. CEO Sapan recently stated that, as of December 2012, AMC Networks has channels in over 20 countries across the world. While only generating $114.5 million in 2012, equal to 8.46% of the company's total 2012 revenue of $1.352 billion, AMCX's 'International and Other' business appears to be a viable driver of growth for the long-term, as the company's global exposure is still very small.
Growth Risks:
Currently, AMC Networks is entirely too dependent upon the AMC channel lineup, a lineup that is beginning to show its age. Mad Men is entering its sixth season and one has to wonder just how long the series can remain as popular as it has been in the past, both critically and commercially.
Breaking Bad is about to sing its swan song, as the second half of the series' fifth and final season is set to air in mid-2013. Although the producers of the show are already scheduled to premiere a new scripted original series on the company's Sundance channel, it remains to be seen if the talent behind Breaking Bad can rekindle their success and whether it will resonate with viewers as well as its predecessor has. Also, with Sundance channel available to only 50.2 million viewers, which is about half that of AMC's 98.9 million, the series will be at a disadvantage in meeting the success of Breaking Bad.
The Walking Dead is best described as a runaway locomotive, a success story that is hard to quantify as it manages to keep getting stronger in all regards. In late December, the series was renewed for its fourth season, which is reportedly set to premiere in October of this year. There is no indication that the series is slowing down as it manages to increase ratings despite serious behind-the-scenes turmoil, losing first the series' co-creator and producer Frank Darabont mid-second season and then his replacement Glen Mazzara mid-third season. While this speaks to the enormous popularity of the show to continue without pause, it begs the question, just what is AMC doing behind the scenes and will it eventually affect the quality of content and ultimately the show's popularity?
While AMC's other dramas have fared relatively well, they are nowhere near the high ratings levels of the company's more popular dramas. The network's Western themed drama Hell on Wheels, set for a late 2013 third season premiere, has most recently struggled in the ratings department without the lead of The Walking Dead to boost it. While an average of 2 million plus total viewers is certainly no slouch in terms of ratings, it is not enough to carry robust growth by itself for the AMC channel. More importantly, it illustrates just how important The Walking Dead is for AMC. The network's reliance on a single series for a good chunk of its ratings is a bit concerning.
Also worrying is that cable providers are fighting back against AMC Networks. In December, Time Warner Cable Inc. (TWC), the nation's second largest cable company, threatened to drop AMC Networks' IFC and WE TV channels from their lineup. Management at TWC stated bluntly that distribution on Time Warner "is not a birthright."
This illustrates a second major problem for AMC Networks going forward, its lack of channel diversity, especially compared to peers. While management has succeeded, for the most part, in providing broad channel acceptance in the past, rising costs at cable providers may be putting an end to the leniency. AMCX can try to bundle its weaker channels (WE TV and IFC) with its stronger channels (AMC and Sundance) but in situations like the one involving Time Warner, where the two channel packages are under different contracts, the cable providers seem to have the upper hand. This is why superior channel lineups, like those of Discovery and Walt Disney are paramount, because it gives the content creators an edge.
While Time Warner and AMC Networks reached a temporary agreement in late December to leave IFC and WE TV on the air for the start of 2013, a final deal has yet to be finished and it is not known whether it will have a serious financial impact on AMCX. However, without AMC channel backing up its weaker sibling channels, the final deal is not expected to be a positive for AMCX and serves to illustrate the problems the small media company may continue to face in the future.
Conclusion:
AMC Networks is a tough growth investment to judge, in that it has the possibility to be either a great long-term growth story or a treacherous one. The company's ability to generate critical and commercial success in prime time drama is almost unmatched in basic-cable standards and their ability to capitalize on that success through clever use of marketing and other media formats is impressive. The Walking Dead seems to have found a sweet spot with viewers and there are no signs of a decline in popularity happening anytime soon. I expect AMCX will continue to benefit from the series' immense and increasing viewership numbers.
Management's eagerness to move its most popular channel beyond just drama is encouraging, as it shows a willingness to embrace new audiences and create additional revenue streams. Additionally, the largely untapped international market appears to be a viable area of growth for AMCX going forward, as there is little reason why the company's original scripted series would not find receptive audiences overseas.
However, the company also faces very serious challenges from both a content creation standpoint and a distribution standpoint. As of right now, AMC Networks appears too dependent upon its namesake channel and the handful of aging shows that drive the channel's robust ratings. The majority of the company's new shows are either unproven or not popular enough to significantly drive growth for AMCX by themselves.
The company's lack of programming diversity is dangerous and leaves AMC Networks at a distinct disadvantage compared to the majority of its peers. Looking ahead, cable providers, now more mindful of costs than ever, will most likely look to exploit that disadvantage in the future.
As such, I can recommend AMC Networks only as a speculative growth play for the foreseeable future. The company's popular and currently unmatched basic-cable programming lineup should continue to drive revenue/earnings growth in the short-term. The company's small international exposure and willingness to expand into new programming markets makes it an interesting long-term candidate as well. However, the lack of clarity regarding new content and its acceptance among viewers combined with the company's lack of programming diversity makes it tough to estimate future long-term growth with any degree of certainty.
I believe there are more consistent growth alternatives to AMCX in the content creation sector and they all come with less risk and greater visibility. As much as I enjoy The Walking Dead, I fear that AMCX could soon be joining its most popular series' protagonists in a desperate fight for survival.
Disclosure: I am long DISCA, DIS. I wrote this article myself, and it expresses my own opinions. I am not receiving compensation for it (other than from Seeking Alpha). I have no business relationship with any company whose stock is mentioned in this article.