A simple truth about retail is that when sales begin to slow, stores are quick to run specials, discounts, etc. to drive traffic. So a sign of strong sales is higher prices. That's why there is such a high correlation in the Consumer Price Index (NYSEARCA:CPI) for footwear and shoe retailers like Foot Locker (NYSE:FL) as shown in the chart below.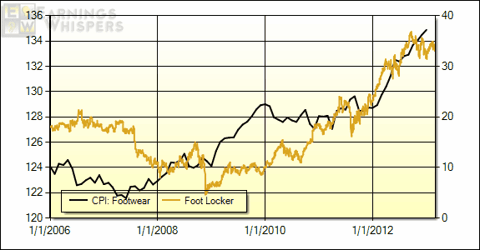 Click to enlarge
If footwear prices are going higher, then it usually means shoe sales are strong. The CPI for footwear has ticked higher for six straight months to a new all-time high as of January 2013. The CPI is up approximately 0.9% from where it was in October and is 4.8% higher than it was in January 2012. It just so happens that Foot Locker is getting ready to report results for its fiscal fourth quarter, which ended in January. So it is an important sign that footwear prices increased each month during the quarter - an important quarter at that where the company has historically sold the most during the year. There is a lag in the chart above as the stock reflects prices as of March 1, 2013 and the CPI is dated in January, so perhaps the CPI is about to roll over, but for now it is at an all-time high which supports the stock going to a new high. The trend is your friend until shown otherwise.
Of course, the CPI measures all footwear prices, not just what Foot Locker sells, but as we pointed out ahead of Finish Line's (NASDAQ:FINL) earnings release in January, athletic footwear is where the strength is but specifically it is basketball footwear that is leading the way. Foot Locker is one of the primary beneficiaries of this trend that Finish Line has missed so far because it has been more focused on running shoes and apparel. Finish Line's CEO said in January they saw "a slowdown in running and a pickup in basketball"... and as Foot Locker CEO Kenneth Hicks said last quarter "we know a little bit about basketball". Furthermore, according to Foot Locker CFO Lauren Peters, basketball is becoming increasingly important in Europe and they are at the beginning stage of this growth where Foot Locker excels. Considering European sales lean more heavily on retro styles such as Jordan, it may have gotten an added boost from coverage of Michael Jordan's 50th birthday to boot.
For the fiscal fourth quarter, Mitch Kummetz at Robert W. Baird said they expect basketball shoe trends to drive upside to estimates and another analyst said he believes Foot Locker "likely trended well ahead" of estimates led by basketball. Chistopher Svezia at Susquehana Financial said he expects Foot Locker to beat estimates due to an acceleration in basketball. Taposh Bari at Goldman Sachs also said strong basketball sales should result in upside to estimates for Foot Locker. More so, Sam Poser at Sterne Agee & Leach and Paul Trussell at Deutsche Bank both said they recommend owning shares of Foot Locker into its earnings release on the possibility of an upside earnings surprise. The consensus earnings estimate is $0.72 per share and the Earnings Whisper ® number is $0.78 per share and the stock made our long play list on Monday morning, March 4, 2013 ahead of earnings on Friday.
On the chart below for Foot Locker, we see earnings estimates that are trending higher and an earnings beat should push those up to new highs. As estimates have trended higher, so has the stock but prices have consolidated since the September high. What we don't show on this chart is that this consolidation has come after a breakout above a multi-year top at $30 from back in 2005. We can make the case that this has a longer-term upside move to the $47 area on a breakout, but for now the stock needs to push and hold above $35 to confirm the breakout of consolidation. There is resistance around $36, but the fundamental trend suggests a move at least back to the $37.50 area and probably to new highs on an earnings beat as it is our basic trading view that stocks of companies with estimates going to new highs also see their price go to new highs. Trend line support is around $32.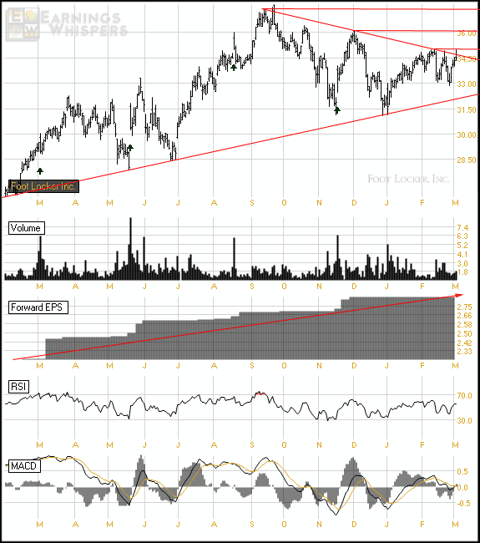 Click to enlarge
Fundamentally, the stock has averaged a forward PE multiple of 13.1 over the past decade and a half and using current fiscal year estimates, this implies a price of $37. Those estimates are expected to go higher, supporting the stock going to new highs, but after the company reports, investors will begin to look towards the fiscal year ending in January 2015, where estimates currently sit at $3.11. Slapping the 13.1 multiple to next year's estimates suggests the stock should be able to work its way up to near $41 using current estimates and even higher if the company beats estimates. Back in 2005 when the stock failed to push above $30, consensus estimates for 2006 were $2.22, so the stock is 15% cheaper today around $35 than it was in 2005 below $30.
Foot Locker is scheduled to report earnings before the market opens on Friday, March 8, 2013 with a conference call at 9:00 AM ET, which will be available here.
Disclosure: I am long FL. I wrote this article myself, and it expresses my own opinions. I am not receiving compensation for it. I have no business relationship with any company whose stock is mentioned in this article.
Additional disclosure: Depending on the price action, I will look to exit either near the close on Thursday or during a short-term timeframe after the company's earnings release.