Cue the one obligatory comment from someone that can't read between the lines; I can see it now in the comments section already:
THERE'S NO WAY COMCAST CAN TAKE OVER THE EARTH! WHERE'S YOUR QUANTATIVE REASONING BEHIND THIS! WHERE'D YOU LEARN HOW TO INVEST?! YOU'RE AN INSULT TO WRITING TITLES! YOU DON'T SQUEEZE THE TOOTHPASTE FROM THE BOTTOM OF THE TUBE! YOU GO MORE THAN 3,000 MILES BETWEEN OIL CHANGES, BLAH, BLAH, BLAH.
Relax folks, the title is a joke, there's no way Comcast (NASDAQ:CMCSA) is going to take over the free world as we know it -- or is there?
Let's look at the facts, Comcast from 1999 to 2010:
Comcast's book value has nearly doubled in the past 10 years from $8.19 a share in 1999 to $15 a share this year. Revenues grew six-fold from $6 billion to almost $36 billion in 2009. Net profit margins, which were 4.2 percent, doubled to 8.4 percent; operating margins improved 31 percent; return on equity doubled to 6.7 percent while return on capital almost tripled to 7.0 percent. And just last year, the board instituted its first dividend of 25 cents a share. And that record is not unimpressive.
And now from 2010 and moving forward.
Comcast first peaked my interest when I was living in a city in the Midwest a few years ago. Comcast was the cable/Internet provider of choice there, and thusly became a mandatory way of life for most city goers. Their logo was plastered everywhere, they occupied enormous buildings for doing business in the city, and they covered the local sports teams on their own station "Comcast SportsNet." They were integrated with the local newspapers so they'd have their logo and column in them and the local newspapers would sponsor programming on their sports station. Whether you were watching the baseball game, driving behind a city bus with a billboard on the back of it, or yanking your bills from your mailbox; Comcast was there, lurking, somewhere in your day.
As years progressed, the integration with the local sports teams and news media increased seriously. The Comcast logo was on everything you touched if you picked up a newspaper sports section, they were constantly in the news as one of the better places to work in the city and I found myself wondering if it'd be worth picking up some Comcast stock. So, years ago, I picked up a couple of OTM calls as a play position. They wound up expiring worthless, and looking back I can only wish I had bought LEAPS.
I've done a recent analysis on Comcast, and here are 4 reasons I remain bullish on Comcast and convinced they're a sure thing for eventual world dominance.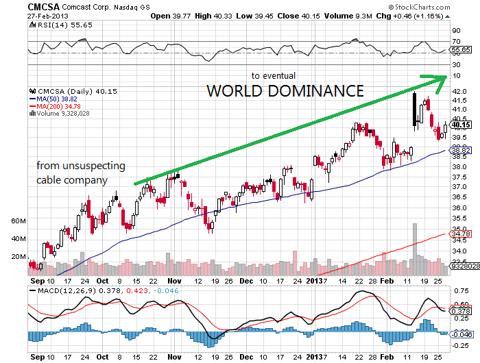 Click to enlarge
1. The Company's Recent Purchase of NBC Universal Says They Mean Business
It's official -- Comcast has moved to the big leagues of media and television entertainment. It is no longer a small company minding its own business; Comcast has made it clear with the acquisition of NBC that they are aiming to be the biggest, best and most profitable in the industry.
Comcast finished a big move in February 2013 expanding through the TV media sector when they purchased NBC Universal for $16.7 billion. With NBC comes its profitable lineup and the "iconic" Rockefeller Plaza offices in New York. The New York Times reports:
Mr. Roberts called the Rockefeller Plaza offices "iconic" and said it would have been "expensive to replicate" studios elsewhere for the "Today" show, "Saturday Night Live," "Late Night With Jimmy Fallon" and other programs produced there. "We're proud to be associated with it," Mr. Roberts said of the building.

With the office space comes naming rights for the building, according to a General Electric (NYSE:GE) spokeswoman. So it is possible that one of New York's most famous landmarks, with its giant red G.E. sign, could soon be displaying a Comcast sign instead.
What better way to go get started on a path to world domination than seizing control of a $21 billion mass media conglomerate?
2. They Are Dominating Time Warner Cable (TWC) and DirecTV (DTV)
This is an easy one to speak to, not just from an analysis standpoint, but from a customer standpoint.
Ed Liston, in his article "Comcast More Aggressive Than Ever," does a bang up job comparing Comcast to its main competitors:
Comcast lost more than 17,000 pay-TV subscribers in the fourth quarter of 2011, compared to only 7,000 in 2012 resulting in a slight growth of almost 3% in the pay-TV revenues in 2012. The success was underpinned by the Xfinity Streampix and rapid growth in other services.

Performance of the company's broadband business was robust with an addition of 350,000 subscribers in the fourth quarter. Revenue per subscriber grew considerably over 2012 as many customers upgraded to premium packages leading to a noticeable increase in the ARPU (average revenue per user).

Time Warner Cable, one of the main competitors of Comcast, offers services in the field of cable TV, broadband Internet services and digital phones. It is the second largest cable provider in the US and generates roughly 46% of its total revenues through cable TV operations. Its current market cap is $26 billion. It reported a total revenue and EBITDA of $21 billion and $8 billion respectively in 2012.

Another top line competitor is DirecTV. DirecTV offers satelliteTV, HD and DVR services to the US and Latin American markets. It has market cap of $29.7 billion, and it reported a total revenue and gross profit of $30 billion and $14 billion respectively for 2012. It generates roughly 50% of its revenues through US satellite TV. The HD and DVR services are starting to generate robust revenues, and going forward it is expected to lead the way and become the key revenue generating stream.
Nothing screams world domination and superpower quite like crushing your opposition. Don't believe me? Ask Donald Trump or one of the two billionaires that are betting billions of dollars over Herbalife (NYSE:HLF).
For years, Comcast has remained conservative and under the radar, like a prize fighter -- patiently biding his time and saving up energy for the later rounds. It looks like Comcast has decided it is time to finally start flexing their muscles.
3. They Have a Strong Balance Sheet
David Shauber, Jr. does a superlative job looking into Comcast's balance sheet in his article "Who Has the Better Balance Sheet?". He points out the strength of Comcast's cash position by saying :
Comcast reported $12.5B in cash and short-term investments on its balance sheet. This is well above the $1.7B that the company reported in 2011. This is due to four different things. First, the company used $6.4B in cash for acquisitions in 2011, with $6.2B going to General Electric for a 51% stake in NBC Universal. In 2012, the company received $3.0B from A&E Network, which redeemed NBC Universal's 16% interest in it. It also received $2.3B from wireless spectrum sales to Verizon in 2012. To top that off, the company borrowed $4.5B worth of long-term debt in 2012.

In 2012, Comcast paid out $1.6B in dividends and spent $3.0B on stock buybacks. These activities were well-supported by the company's free cash flow of $7.9B. The company plans to repurchase another $2.0B worth of stock in the coming year.
After an intense look and extremely cogent analysis of Comcast vs. DirecTV balance sheet-wise, Shauber concludes that Comcast has the better balance sheet of the two.
In any world domination conquest, a massive cash position is necessary. You need to have resources and assets that you can draw on to enforce supreme executive power. Comcast's share buybacks and massive cash position are yet another reason I believe it to be poised for taking over the planet.
4. They Are Infiltrating Every Medium Possible
In Philadelphia , Comcast recently sanctioned the opening of Xfinity Live! From their website, Xfinity Live! is:
XFINITY Live! Philadelphia is a dining and entertainment district located in the Wells Fargo Complex. Venues include The Philly MarketPlace, Spectrum Grill, Broad Street Bullies Pub, PBR Bar and Grill, Victory Beer Hall and the NBC Sports Arena.

The expansive outdoor area of XFINITY Live! Philadelphia is centered around the XFINITY™ On Demand Theater, a 24-foot wide, Sony LED video board, which shows both sports game and family friendly movies. Adjacent to the XFINITY™ On Demand Theater, the NBC Sports Field, an outdoor miniature artificial turf field, which hosts numerous activities and free concerts.

Through a partnership with Sony, XFINITY Live! Philadelphia opened with state-of-the-art audio and video systems, including Sony flat panel televisions, to ensure everyone in the venue has a high definition view of the game.
Xfinity Live! has been strategically placed in an area of Philadelphia that sits between their baseball stadium, football stadium and basketball/hockey center. In addition to those sports, these buildings host concerts, festivals, other sporting events and are constantly buzzing with large crowds.
In Philadelphia, Comcast is becoming a way of life -- similar to the way I was watching Comcast grow and develop in my own city. If Comcast can successfully cross industries and mediums like this in every city, their potential for growth (past the point of becoming the dominant force in media) is going to be exponential.
Expanding into sectors that aren't necessarily your own; the fourth big sign that Comcast is taking over planet Earth.
Conclusion
This investor remains extremely bullish on Comcast. They occupy a relatively small portion of the country for cable and Internet services, and have plenty of space and opportunity to expand. On the heels of Comcast making what appears to be a concerted and aggressive campaign to expand, going long looks to be the favorable position for investors.
By dominating their sector and expanding into others with a strong cash position and a foundation of sturdy fundamentals, Comcast will continue to grow. A short position is off the table here for the long term as I remain bullish on Comcast going forward. Best of luck to all investors.
Disclosure: I have no positions in any stocks mentioned, but may initiate a long position in CMCSA over the next 72 hours. I wrote this article myself, and it expresses my own opinions. I am not receiving compensation for it (other than from Seeking Alpha). I have no business relationship with any company whose stock is mentioned in this article.