At the beginning of the year I put together a portfolio of 5 Natural Gas Transportation Stocks for 2013. I am taking a cue from fellow Seeking Alpha author Tom Konrad, who issues monthly performance updates on his 10 Clean Energy Stocks for 2013 portfolio, and will be publishing monthly updates on my natural gas transportation portfolio throughout the year.
The year-to-date performance of my natural gas transportation portfolio is shown in the following chart.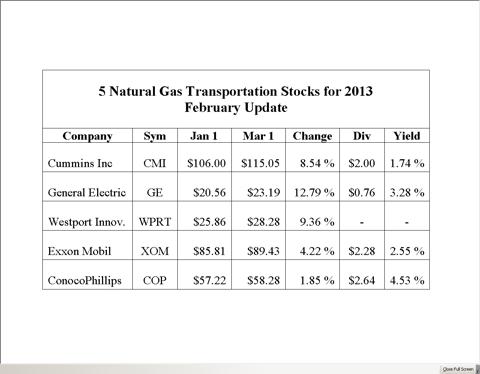 Assuming equal weight investments, the portfolio is up 6.36% YTD, excluding dividends. Dividends paid year-to-date are:
CMI: $0.50 paid on 3/1/13
GE: $0.19 paid on 1/25/13
XOM: $0.57 paid on 1/30/13
COP: $0.66 paid on 3/1/13
That's a total of $1.92 in dividends and raises the portfolio's YTD performance to 7.01%. As I mentioned when I unveiled this portfolio, dividend income was an important factor when making the stock picks. Since the portfolio is largely composed of large industrial companies (Westport being the only exception), its performance should be compared to that of the S&P 500. On that basis, the portfolio beat the S&P 500's 6.21% YTD gain.

Cummins Inc. (NYSE:CMI) has had a good start to the year and is up 8.54% YTD. The company announced Q4 and full year 2012 earnings on February 6. Despite weakness in demand due to a slowing world economy, CMI was able to improve gross margins in Q4 and delivered record gross margins for the entire year. Net income for the full year was $1.66 billion ($8.74 per diluted share).
Goldman Sachs recently upgraded Cummins to a "Conviction Buy" with a price target of $144. Goldman cited a number of catalysts for CMI:
New product cycle to drive over $1 bn sales and $1 EPS upside potential to consensus 2014 estimates
Navistar product announcement, China new standards implementation
Core global truck markets are in the early stages of cyclical recovery and they see 9% upside potential to 2013 consensus estimates. Monthly reports for truck production and freight volumes are positive
Leading global truck and off highway engine market position drives opportunities for further new product sales upside
The big event for General Electric (NYSE:GE) was selling its remaining stake in NBC Universal and related assets to Comcast (NASDAQ:CMCSA) for $18.1 billion. CEO Jeff Immelt commented on the deal:
This transaction allows us to significantly increase the cash we plan to return to shareholders in 2013, to approximately $18 billion, and to continue to invest in our industrial business. By adding significant new capital to our balanced capital allocation plan, we can accelerate our share buyback plans while investing in growth in our core businesses."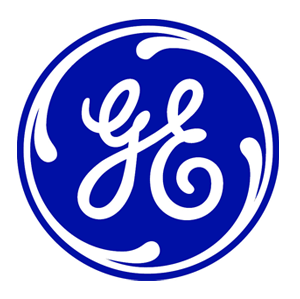 As a result, the GE Board of Directors increased GE's share repurchase authority to $35 billion, with approximately $23 billion of authorization remaining as of the announcement date. With this authorization, GE plans to accelerate its share repurchase program to approximately $10 billion in 2013.
One reason Westport Innovations (NASDAQ:WPRT) was up 9.36% YTD was the announcement on February 5th that Cummins Westport had received orders for 900 natural gas bus ISL-G engines. The company is supplying engines for two of the largest natural gas transit fleet orders in North America to date: LA and San Diego.
John Drayton, Manager for Vehicle Technology for LA Metro, had this to say:
We have had a good working relationship with Cummins Westport. There are more than 1,500 natural gas buses in our fleet running on CWI engines. LA Metro is dedicated to being 100 percent natural gas, and CWI is a valued partner in that.
Likewise, Julio Ortiz, Director of Maintenance with the San Diego Metro Transit System said:
San Diego's transit system has been on the path of natural gas transportation for a long time, and our fleet is composed of 80 percent CNG vehicles. We have always been a good customer of CWI."
Westport said there are currently more than 7,000 natural gas buses in municipal service across North America.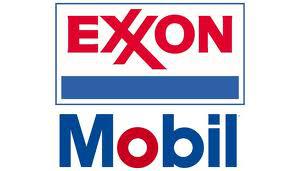 Exxon Mobil (NYSE:XOM), the #1 producer of natural gas in America, announced its 2012 reserve replacement totaled 115%. Liquids replaced at a ratio of 174 percent, bringing the company's total proved reserves base to 51 percent liquids. It was the 19th consecutive year the company's reserve replacement ratio exceeded 100%.
Exxon also announced a comprehensive agreement with Russian energy company Rosneft. Highlights of this agreement are:
Companies to add seven Arctic license areas covering approximately 600,000 square kilometers (150 million acres) in the Chukchi, Laptev and Kara seas
Rosneft is provided the option to acquire a 25 percent interest in Point Thomson natural gas and condensate project in Alaska operated by Exxon Mobil
Companies to jointly study potential for LNG project in Russian Far East
ConocoPhillips (NYSE:COP) held its first analyst meeting since the spin-off of Phillips 66 (NYSE:PSX) on February 28th. You can view the slide presentation here. This was an extensive and detailed presentation. I encourage all current and prospective COP investors to view the slides and listen to the webcast. While COP's uncoventional strategy is well known, 2013 will see a pickup in its Gulf of Mexico drilling program.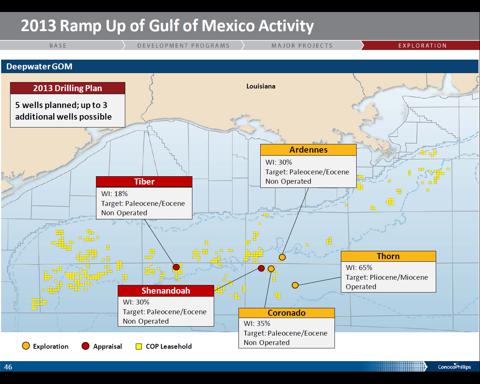 After the presentation, Credit Suisse was positive on COP and raised its price target to $70:
COP laid out a cash flow and production plan that is in line with our forecasts and could deliver 6-8% CAGR in cash flow and a 4-5% dividend yield (with underlying dividends growing over time also) - a good outcome that is not priced into the stock. We think COP could be even more assertive - streamlining the portfolio to improve focus and to reduce the share count which would increase the contribution of a high impact exploration program. COP could also monetize logistics assets within the business via an MLP without sacrificing control. This would cement the new CEO's commitment to assertive value creation (a frequent investor complaint about the E+P industry). We are increasing our price target from $65/sh to $70/sh to account for NAV upside from shale. There could be further upside to our NAV from the exploration program over the next 2 years.

The companies mentioned in this article stand to profit as natural gas takes its rightful place at the top of the energy food-chain. Natural gas is abundant the world over. It is clean - emitting no toxic particulates, 50% less CO2 than coal, and 30% less CO2 than gasoline. US natural gas is very cheap - selling at less than 1/3 the price China and the EU pays.
Advantage US
The US has an enormous advantage over every country on Earth: its extensive natural gas pipeline distribution system combined with huge natural gas reserves and the technology to access those reserves. The outlook for natural gas transportation looks fantastic.
Disclosure: I am long COP, XOM. I wrote this article myself, and it expresses my own opinions. I am not receiving compensation for it (other than from Seeking Alpha). I have no business relationship with any company whose stock is mentioned in this article.
Additional disclosure: I am an engineer, not a CFA. Please do your own research and contact your investment adviser. I am not responsible for investment decisions you make.