Let me get this out of the way; Yes, I throw away my phonebook. Yes, I know you throw away yours. Yes, Yellow Media has declining revenues. Yes, management does not appear to have been shareholder-friendly historically.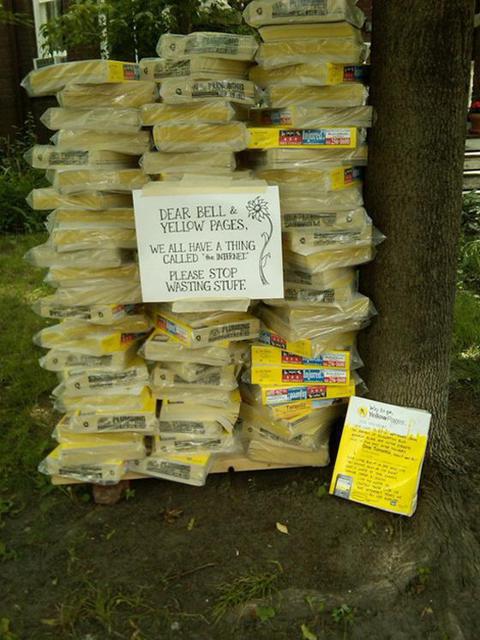 Click to enlarge
Still with me?
Background
Yellow Media (Canada) (OTC:YLWDF) is the typical Yellow Pages that we are all used to, with print directories and advertising as the major revenue/profit source. Its main business is in decline, and they have refocused efforts on growing their online advertising/social for local businesses.
Declining Revenues
Splitting their revenues generally into Print and Online, 2/3 of their revenues and profits are still in the Print side. Print has been declining 16% per year while Online has been growing 11% per year. This decline is certainly material and major; however, it's important to note that isn't a stampede out of Yellow's client roster. While this decline will continue, at some point the growth in online will begin to offset. Assuming current trends continue, stabilizing in approximately 2016 or 2017. Fortunately, for ease of analysis, both online and print have similar margins of @ 45%.
Valuation: No need for growth at this price
As long as management doesn't do something stupid, this company throws off tons of Free Cash Flow and Net income. While revenues have been declining, and will continue to decline in the near to medium term, this is a business that has a fairly variable cost structure. Unlike a steel mill, where a 10% decrease in net income becomes a 50% decrease in net income; Yellow Media has much lower operating leverage. Therefore, while Yellow's revenues have been dropping, so have its costs.
Stripping out all of the "one time" charges and expenses, the last quarter Yellow Media made about $1.40/share on a stock price of $7.30 (which includes costs that will not hit in the future). Next quarter, assuming the same revenue declines I get to a gain of $2.50/share. Assuming constant and continuing revenue declines, over the next year we project earnings of $11.20/share, on a stock price of $7.90. With $900M in debt outstanding and $204M of Equity, we get an Enterprise Value of $1.1B. Using the same assumptions for 2013, we get to EBITDA of about $540M for an EV/EBITDA ratio of 2.
Comparables: The cleanest dirty shirt
Dex One (DEXO), a competitor and comparable with a questionable balance sheet (bonds trading at less than 50 cents on the dollar) is trading at a 3.7 EV/EBITDA and SuperMedia (SPMD) of 2.5 EV/EBITDA. Dex and SuperMedia are currently walking down the merger aisle, and the thoughts of increased volume and cost sharing may be artificially keeping their price up, however, their balance sheet is much riskier than Yellow post recapitalization (see below) and deserves a lower pricing because of that. I'm excluding creating a comparable price of Yellow as I believe there are too many differences in the 3 companies to make them comparable. There are also significant one time charges that cloud the EBITDA numbers as well. However, even if it traded up to comps it would still be worth my time.
Background: Why is this opportunity available?
Management has done questionable things in the past, which created an excellent opportunity for us with a lot of non-economic shareholders currently outstanding. For a background, read this, keep in mind that this was written in late 2011, so while it gives great background leading up to the summer 2012 restructuring, it does not give details during that time.
In essence, like many declining firms, Yellow Media tried to buy growth with its cash by making acquisitions. These did not work out. At the same time, they financed a portion of these acquisitions and had a lot of debt coming due (about half due in 2013). I cannot find the reason why they choose to have a significant amount of debt come due at once, but I have to imagine there was a very good reason for them to violate a Corporate Finance 101 rule to spread debt due dates. Regardless, this did not work out. They managed their balance sheet very poorly and choose to recapitalize in the summer of 2012. Leading up to this, the company took a huge write-down in the spring of 2012.
What I can't figure out, and would love to hear comments on is just why the equity holders got shafted as much as they did. It appears that up and down the capital structure, no one (except for BMO Capital) was a fan of the recap, including the Senior Secured debt holders. Certainly the equity holders weren't fans. In return for reducing their debt by more than half and pushing out the redemptions, the bondholders took over 85% of the equity value, leaving the previous equity holders burnt with only 15% of the company. Although the company is much less risky with its cleaned up balance sheet, an 85% dilution seems excessive. It appears from news articles at the time that management was pushing this through- likely to insure continued jobs.
In return, we now have a cleaned up balance sheet. What was over $2B in debt/preferreds is now $900m. The interest charges have been reduced significantly. What was over 500M shares outstanding is now 28M, with 85% of the value taken over by the bondholders.
Importantly, the first debt doesn't come due until 2018. Previous shareholders and some of the debt holders also received 3M warrants with a Strike of $28. I have not conducted analysis on a diluted basis due to the warrants as my current exit price is south of their Strike Price.
So, why is the opportunity available?
Stockholder composition: 85% of the stockholders were previously debt holders. Both by preference, and many times by mandatory provisions of their employ, many debt holders will not be interested in holding stock.
Low Analyst coverage: There will not be much investment banking to be had by this company, so the Sell Side is not incentivized to cover them.
Confusing financial statements: The recap creates all sorts of 'one time' expenses and charges that are clouding the income statements. These will start to drop off with their 2013 Q1 financials.
Overstating revenue declines: As Yellow sold a few of their businesses to pay down some debt, their revenues will thus obviously go down. I believe investors are not separating the organic decline with the amount that was sold off in their rate of decline analysis.
Previous stockholders are (understandably) very emotionally charged towards the company and management.
Also, there is no hope for a dividend in the near term. In the indenture to both the Senior Subordinated bonds Due 2022 and the Senior bonds due 2018, payments for both dividends and buybacks are restricted until they've been paid back. My simplified models show those should be paid back between 2017-2018.
Protection from further Stupid Acquisitions: Handcuffed by a Mandatory Redemption Clause
Management has made questionable M&A and corporate finance decisions. So, the major risk I see is that they make more stupid acquisitions. The recap transaction, however, stipulates that 75% of the free cash flow that the company creates, above a cash balance of $75M goes directly to paying bondholders off. This has the wonderful effect of reducing interest, providing us with protection, and focusing the company. This is one of the most important facts to our investing thesis.
Risks:
Aside from all the typical risks of a cyclical company, additional concerns include;
Declines in the print business accelerate: A significant recession may get more of their current clients to reevaluate their Yellow pages spend. However, if I model 25% print decline for the first year, and then 'stabilizing' to the 16% decline, it still appears to be about 2017 when we stabilize total revenues.
Growth in the online slows materially: Holding the decline in print at 16% yoy and dropping online growth moves the revenue stabilization to about 2021.
Confusing financials: While I believe this is part of the reason for the opportunity, it would be hubris to assume that we cannot be confused. In short, turnarounds are excellent sources of investments because they are difficult to navigate.
Management team: While the mandatory redemption clauses in the debt covenants would make it very difficult to repeat their mistakes, management could figure out a way to destroy shareholder value if they don't stick to their knitting.
Holding Period:
We believe the market will start to appreciate this story in three segments; first, when we get the first quarterly reporting (April 2013), second, when current shareholders quit pressuring the price (who knows when), and third, once we get a full year of financials so the "ratio & sort" investors see a low PE. We have a fairly high conviction on this holding, however, this isn't a stock we want to fall in love with forever.
Trading:
YLWDF is the grey market. There is more volume than is shown. E-trade, for example, makes a market and that will not show in the volume. It is the same cusip as Y.to and your broker may automatically route it to the best price (many times to Canadian market (if best price)). It is converted into U.S. dollars.
Disclaimer: All stocks have risks, including the complete risk of capital. Mid cap stocks have additional volatility and liquidity risks. This company recently underwent a recapitalization and is considered a "Turnaround" with declining revenue; which has additional risks of lack of visibility as well as all typical stock risks. This company is located in Canada, with virtually all revenues and expenses denominated in CAD and has additional foreign exchange risk. This company and stock is an Aggressive holding. This document is not intended to be investment advice and we recommend all parties consult with their Financial Consultant.
Disclosure: Myself and my clients are currently long OTC:YLWDF but retain the right to increase, decrease, eliminate, or go short this position at any time. I wrote this article myself, and it expresses my own opinions. I am not receiving compensation for it. I have no business relationship with any company whose stock is mentioned in this article.