This article was written back in August 2012 highlighting Qualcomm's (NASDAQ:QCOM) potential as an income stock. When a company is expected to grow its earnings at 15% each year over the next 5 years and operates in the high-tech industry, it is natural for income investors to look away.
But, Qualcomm has once again served notice on why it might be one of the best stocks to own with a 40% dividend increase and a higher buyback program announced recently. It might be one of the few stocks in the market that offers a unique combination of a) earnings growth, b) an average but increasing dividend, c) a management which seems shareholder friendly. When companies like Apple (NASDAQ:AAPL) and Google (NASDAQ:GOOG) need to be reminded time and again to share a good percentage of their profits with the investors, Qualcomm stands out as a technology company that is more willing to share a bigger chunk with its investors.
New Dividend and Yield: At the current share price of $68, the new dividend of $1.40 per share gives Qualcomm an annual yield of 2% for one of the very few times ever as shown below.
(5 Year Yield: click to enlarge)

Click to enlarge
(Source: YCharts.com)
Payout Ratio: A company's ability to sustain/increase its dividend over a period of time is much more important than having a high current yield. Qualcomm's dividend increases have been well backed up by increasing earnings per share. The new payout ratio still sits comfortably at 36%, leaving plenty of room for future increases.
Dividend Growth: With this recent monstrous 40% dividend increase, Qualcomm's 5 year dividend growth rate has jumped to 17%, from12% at the time of the original article linked above. Dividend growth investors look at a minimum of 5 consecutive dividend increases and Qualcomm has been increasing its dividends since 2003.
Extrapolation: As in the original article, the table below assumes a dividend growth rate of 12% for the next 5 years. Since Qualcomm operates in a highly disruptive industry, it would be wise to not assume a longer time period. With the new dividend in place, the yield on cost could potentially double in 5 years. 12% is a reasonable assumption given Qualcomm's recent history and cash on hand.

(Source: Finance.yahoo.com)
Cash Strength: Qualcomm's cash on hand now represents 23% of its stock price, up from the 21% at the time of the original article. As can be seen below, Qualcomm is at the right place at the right time. At a time when everything is going mobile, Qualcomm has 75% of its stock price value derived from Mobile chipsets and royalties. Its cash almost makes up the remaining 25%. The cash not only allows Qualcomm to reward shareholders as they have done frequently but also keep moving towards future growth.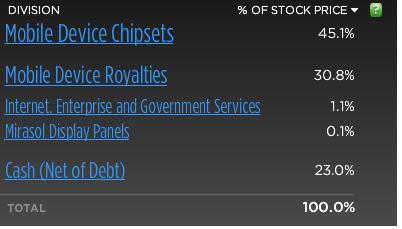 (Source: Trefis.com)
Not a One Trick Pony: Qualcomm usually is associated with Apple, mainly because both are leading players in the mobile space. Even though Apple reported stellar 2013 Q1 results, there were concerns about slowing iPhone sales. This prompted investors to worry about Qualcomm's results as well since Qualcomm is a major supplier for Apple. But Qualcomm brushed aside the estimates by dishing out strong results backed up by Samsung (OTC:SSNLF) and Sony (NYSE:SNE) sales. As this article reports, perhaps Qualcomm is the best bet on the mobile market right now as it supplies to all leading device manufacturers.
Conclusion: With the smartphone revolution just getting started in most of the developing countries, Qualcomm seems like a safe bet for the time being. Apple and Samsung could fight all they want for world supremacy but as long as they still need the chipsets, Qualcomm is a great play on growth, current yield, and future dividend growth.
Disclosure: I am long AAPL. I wrote this article myself, and it expresses my own opinions. I am not receiving compensation for it (other than from Seeking Alpha). I have no business relationship with any company whose stock is mentioned in this article.