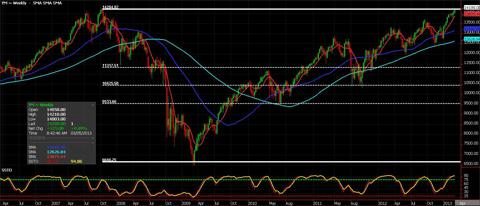 I am always reticent when doing analysis on a market at an all-time high or all-time low when constructing a trade. See above: history in the making, as the Dow is at all-time highs as futures inch towards their 2007 highs. In the last 11 weeks after challenging the 100 day MA in mid-November, futures have appreciated 14%. This would be banner performance for an entire year, forget about in 1 quarter.
Off the 2009 lows, stocks have advanced 119%. In the last 15 weeks, there have only been 2 negative weeks. In my 12-year career, I cannot remember such a one-sided trade. This is a crowded trade, and if we dig deeper, I just do not see the logic in the elated bullish sentiment. I have been wrong for several weeks, and by positioning clients in a small bearish trade, it has been a losing proposition. If not speculating, at a minimum, I would say investors with sizable holdings should lighten up or institute some kind of hedge.
A number of people do not adhere to technical analysis, but looking at the chart above, I think there is compelling evidence to see the Fibonacci levels come in at key support and resistance levels in this chart. I do not know the catalyst, but I do expect to see prices roll over in the coming days/weeks, and at a minimum, make their way to the 38.2% Fibonacci level. This would represent a near 3000-point correction in the Dow, and likely a 300-point-plus decline in the S&P… trade accordingly.
Risk Disclaimer: The opinions contained herein are for general information only and not tailored to any specific investor's needs or investment goals. Any opinions expressed in this article are as of the date indicated. Trading futures, options, and Forex involves substantial risk of loss and is not suitable for all investors. Past performance is not necessarily indicative of future results.
Disclosure: I have no positions in any stocks mentioned, and no plans to initiate any positions within the next 72 hours. I wrote this article myself, and it expresses my own opinions. I am not receiving compensation for it. I have no business relationship with any company whose stock is mentioned in this article.