One area I have been looking to invest in is convertibles (bonds or preferred stock) – the yield component is appealing in distressed securities, and the embedded call option can offer upside exposure to some decent businesses. Although I've been enjoying the benefits of having a higher cash balance and little equity exposure, I hold cash to make strategic purchases, not as an end itself.
Those of you who have read what I've written regarding Primus (PRS), (NYSE:PRD) know that I'm a fan of "stress testing" in circumstances where it's possible – basically, seeing what kind of hit is priced into a company's stock. In this case, the company had a nice dividing line between its traditional core assets and a handful of newer investments that have been problematic.
The company is Entertainment Properties Trust (NYSE:EPR), a REIT that primarily owns movie theaters occupied by tenants like AMC (AMC-OLD). As the chart below indicates, sellers have been firmly in control here since the start of October. The common is down 50% year-to-date.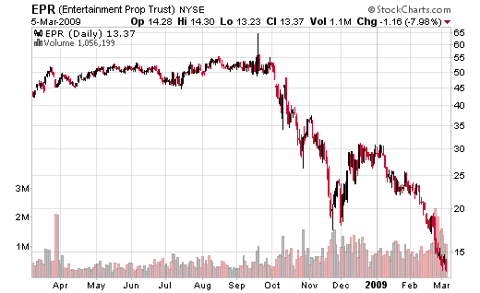 Click to enlarge
This selling comes as movie theater box office receipts are up around 20% year-over-year. We're only two months into the year, but revenue growth like that is extraordinary, all things considered. As a REIT that earns 75% of its rental revenue from theaters, having financially healthy operators is a must – and one of their largest tenants, AMC, has seen its debt rally significantly of late. Consider the three bonds below:
AMC 8.625% 2012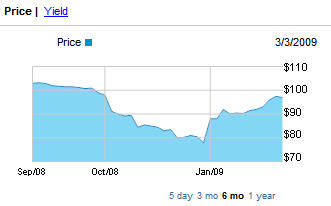 AMC 8.00% 2014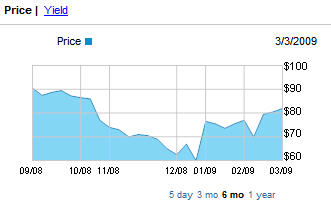 AMC 11% 2016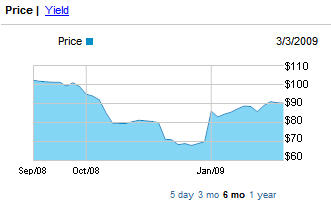 These do not give the impression that AMC is in any way unhealthy – especially when considered in light of an index of similar corporate bonds.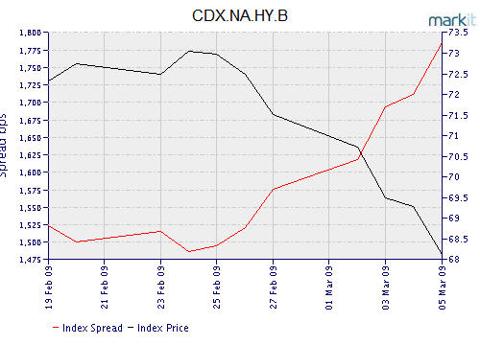 Click to enlarge
These movie theaters are Entertainment Properties' core business, and the returns have been solid. But, for better or worse, the company has diversified beyond theaters into a number of other areas, including movie-anchored complexes with retail shops or restaurants, in addition to financing vineyards, ski slopes, a casino, and a waterpark.
What if you write everything but the theaters down?
Some of the largest projects Entertainment Properties has been financing are now having their economics called into question, and this opens shares up to pressure, as only 55% of total revenues come from the nicely performing theaters. So what would the company's finances be like if theaters were the only viable business, and everything else was worthless?
My starting assumptions were fairly straightforward – take only the rental revenue from theaters, and assume that all mortgage/financing revenues go to zero. At the same time, assume expenses like SG&A, interest, and property operating remain the same. After factoring in some minimal income from joint ventures related to movie theaters, Entertainment Properties is left with about $6.5 million in distributable income. This is a huge drop from the $130 million earned in 2008, but it's still positive – and that's after wiping out all sources of earnings related to the non-core theater business, while assuming expenses do not decrease at all.
What is "distributable income," and why does it matter? In addition to mortgage financing and common stock, Entertainment Properties has done four preferred stock offerings as well, with an aggregate par value of $416 million. They are:
Name, Last Close, Yield, Call Date
EPR-B: $8.53, 22.71%, January 2010
EPR-C: $6.60, 21.78%, January 2012
EPR-D: $8.25, 22.35%, May 2012
EPR-E: $10.10, 22.28%, April 2013
The average preferred is trading around 33 cents on the dollar and yields 22%. Two other factors to consider about the series of preferreds: first, they are cumulative (missed dividend payments accrue); and second, two of the four have a convertible option. With the coupon yields flat across the board, the call option is essentially free.
Preferred Conversion Ratios ($25 Par):
C Series = 0.3572
E Series = 0.4512
All together, these four preferreds require distributions of $30.2 million per year – so "distributable income" would be insufficient to fully fund this, covering just over 20%. That is not great, but considering the axe that has been taken to results, it is hardly the sign of an overvalued company. Even so, with insufficient residual earnings to pay the cash dividend in this scenario, does the balance sheet offer anything to fall back on?
Assuming EPR has land holdings with some value
The working assumption here is that Entertainment Properties does not have intrinsically worthless land holdings, but that its retail tenants could be in for severe short-term pain (hindering rental revenue) and that mortgage financings were a wrong-place wrong-time investment.
There are $508 million in mortgage notes held, which we assume will be written off to zero. They break down as:
Kansas Water Park Resort, $134.9 million
New York Casino, $134.2 million
Various Ski Resorts, $132.5 million
Toronto Retail Center, $103.3 million
Other investments, also written off to zero for this stress test, include:
Vineyards, $207.5 million
Public Charter Schools, $169.8 million
Writing down the "retail" part of the theater-anchored retail complexes leaves somewhat over $1.32 billion in assets, all related to the core movie theater business. With outstanding liabilities of $1.34 billion, there is no book equity left – common or preferred – so we can turn out the lights on this example.
But what if there is some value in any of the $1.3 billion dollars in real assets that were written down to zero in the prior example? Then, we might have something interesting here. Stay tuned for part two.