By Mick Weinstein, Editor-in-Chief of Seeking Alpha
We updated Seeking Alpha's homepage design over the weekend in a way that, I believe, represents a huge step forward for both our site's development and the direction that all online media could take.
You'll notice two main changes: we've widened our popular Market Currents (which provides near-real-time coverage of the market) so it's easier to read, and we've redesigned our central column to allow clearer organization around themes.
We're doing something unique in this central column - here's a model element with red gloss to explain: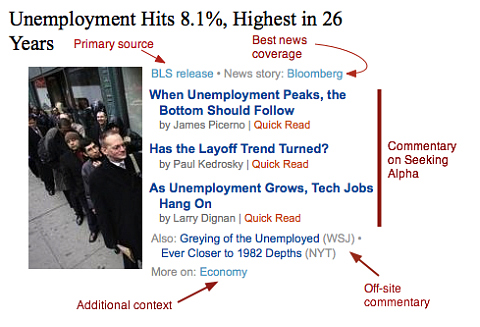 I'm convinced that readers of market news and analysis want more than any single website can provide - on its homepage or anywhere on its own site. We want everything seen here: links to primary sources, a limited number of concise news sources on the issue (more than one only if they are differentiated), and a few voices of commentary that are genuinely insightful, informed and unique. We want a smart editor to curate these links, telling a full story around the theme, without making the obviously false implicit claim that the editor's own site contains everything one desires reading on the matter.
Yet most media sites aren't prepared to either (1) do the editorial work of pulling these links together in a truly helpful way, or (2) link out to other sites, at the risk of losing traffic.
So publishers at these sites are in conflict between what their readers want on the one hand, and what they're prepared to offer, on the other. That's a recipe for failure. In response, readers are resigned to surfing among many different sites to get a full story. Only the relatively few power-users who use RSS readers can accomplish this on one screen, but even that takes a lot of work. In contrast, we think our homepage represents a new, user-centered approach to market coverage.
Certain media outlets have taken a step in this direction, but I don't think they've been aggressive enough to satisfy users. For example, The New York Times Online has 'Times Extra' as an option for its homepage, but the supplementary links there are automated and therefore not so helpful. The Huffington Post links out from its homepage, but doesn't provide a full collection of helpful links around themes. And then there are the straight link aggregators like TechMeme, which do a fine job of identifying important stories, but - by virtue of being at least partially automated - are less successful in weeding out unhelpful or redundant links, or providing background reading on the matter.
At the same time that we're providing this user-centered homepage, we're investing heavily in our community and exposure for our contributors on Seeking Alpha. The centerpiece of these homepage elements remains, therefore, the outstanding commentary that you'll find on our site. But when commentary from an author with recognized expertise or unique insight exists elsewhere and is unavailable on Seeking Alpha, we think both our readers and our contributors appreciate the value that link brings to the discussion.
I look forward to hearing your feedback on our new homepage. Please leave comments below.