Thus far in 2013, the major retail stocks have enjoyed a fun ride along with the general market. Shares of Amazon (NASDAQ:AMZN), eBay (NASDAQ:EBAY), Wal-Mart (NYSE:WMT), Costco (NASDAQ:COST), and Target (NYSE:TGT) rose 5.9%, 7.6%, 5.1%, 2.7%, and 8.4%, respectively, from Dec. 31, 2012, to March 1, 2013. However, several major factors are sending contradictory signals and making the outlook for these retailers unclear for this spring.
The U.S. Federal Reserve is expected to keep interest rates low and pump extra money into the domestic economy. In fact, in Fed Chairman Ben Bernanke's latest statements before Congress he was firm about his opinion that low interest rates are providing vital support to a still-fragile economy, and he didn't see much risk of inflation now. The Fed's loose monetary policy undoubtedly is good for retailers, as it will continue to provide a steady supply of fresh money for consumers to spend on goods and services.
However, at the last Fed meeting, several members did not fully agree with the chairman and expressed concerns about the potential costs and risks of easing interest rates. The key here is the lower than 2.5% inflation rate that the Fed attached to its current bond-buying program. Since core CPI increased at an annualized rate of 1.9% in January, there is no immediate threat of the Fed ending the program. However, if housing prices and gasoline prices keep rising, at some point they may start pulling up the prices of other goods and services. As history has taught us, inflation can have a snowball effect once the ball starts rolling. When this happens, the Fed will be forced to cut the money supply and deliver a blow to consumers' sentiment and their spending.
As for consumers' sentiment, which is one of the most important barometers of future consumption, the latest reading indicated that this sentiment is still strong, primarily due to a decline in jobless benefits. However, this trend may reverse in the spring as more people feel the pain of tax-rate increases and the effects of higher gasoline prices. Many consumers have now expressed their concerns about inflation due to their anticipation of limited income growth.
As for gasoline, rising prices are a negative for retailers because their transportation costs are increasing directly for the goods delivered using their vehicles, or indirectly through potential increases in rates for goods delivered by third-party carriers. We suspect that the rise in gasoline prices over the past year was one of the main forces behind the decline in Wal-Mart's operating margin, which dropped from 5.9% in the quarter ended July 31, 2012, to 5.4% in the quarter ended Oct. 31, 2012.
Yet there is a bright spot for those retailers -- Wal-Mart, Costco, and Amazon -- that derive a portion of their revenue from China. According to the latest statistics, retail sales in China jumped 15% year on year during the week-long Chinese New Year Festival, which started Feb. 10, 2013. Although the growth rate of 15% year over year is lower than the rate of 16.2% year over year logged last year, the growth rate is a good number and shows that China's domestic consumption is increasing at fast pace. As such, those retailers with operations in China will most likely continue to make a healthy contribution to their U.S. parent companies' revenue. However, because revenue from China is only a small portion of these retailers' total revenue, it will not completely offset the other negative factors that affect these retailers.
Because of the looming uncertainly, most retail stocks are now reflecting investors' indecisiveness. Take Amazon, for example. Last Friday, Amazon's shares rose $ 1.47, or 0.56%, with a volume of approximately 3.0 million shares, to close at $265.74. For the previous week, this stock was roughly flat, with a daily trading volume below its 50-day moving average. As shown in the graph below, although the on-balance volume (OBV) for the stock rose in line with its prices over the past three trading days, the moving average convergence/divergence (MACD) was still weak.
We believe Amazon's stock will likely move between its technical support at around $250 and its technical resistance at around $270, with above-average, short-term volatility. If major negative news hits the market, there is a possibility that the stock may pull back to around $240. We therefore suggest that investors use extra caution if trading this stock. Range-bound trading may be a plausible strategy for the time being, until the trend becomes clearer.
Click to enlarge image.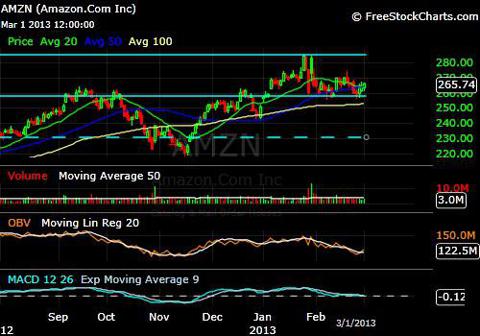 Disclosure: I have no positions in any stocks mentioned, and no plans to initiate any positions within the next 72 hours. I wrote this article myself, and it expresses my own opinions. I am not receiving compensation for it (other than from Seeking Alpha). I have no business relationship with any company whose stock is mentioned in this article.
Disclaimer: MaxSoar is a professional financial analysis firm. We research and analyze a broad spectrum of financial assets including stocks, bonds, mutual funds, real estate properties, and private companies. This article was written by one of our analyst. Maxsoar did not receive compensation for this article (other than from Seeking Alpha), and we have no business relationship with any company whose stock is mentioned in this article. Use of MaxSoar Financial and Investments LLC's research is at your own risk. In no event should MaxSoar Financial and Investments LLC or any affiliated party be liable for any direct or indirect trading losses caused by any information in this report or on its website MaxSoar.com.