In Samuel Beckett's "Waiting for Godot" play, two men wait vainly for someone named Godot to arrive. While waiting, they go through the motions and countless stories. This is not unlike a few tens of analysts and hundreds of fund managers when it comes for Amazon.com's (NASDAQ:AMZN) margins. They, too, wait for those to arrive. And in the meantime they go through countless stories as well.
Of course, up until now waiting for Amazon.com's margin Godot has been quite profitable for those doing the waiting. But why hasn't this particular Godot arrived yet?
There is an explanation
Due to Amazon.com's clever accounting, Amazon.com shows a few businesses such as 3P (third party) selling and AWS (Amazon.com Web Services) as if these have 100% gross margins. Since these businesses are growing faster than the whole, it wasn't hard for those waiting for Amazon.com's net and operating margins to grow to readily spin up a story where Amazon.com's gross margins would keep on growing and, with many operating costs supposedly being fixed, at some point such growth would lead to the arrival of Godot-like profits.
The problem with this, of course, is that Amazon.com's operating costs are not fixed, and both 3P and AWS's gross margins are not 100%. In fact, it can easily be shown that several costs below the COGS (Cost Of Goods Sold) line are rising along with the 3P and AWS businesses.
To show this for 3P sales, one just has to take into account that Amazon.com just accounts for the commission it gets from 3P sellers, and not the value of the entire sale. However, the value of the entire sale does affect several costs below the COGS line, such as:
 
Fulfillment - even if the sale is not fulfilled by Amazon.com, Amazon.com still has to pay the credit card processors a commission on the entire sale value;
Marketing - if a customer coming from an affiliate link decides to buy something from a 3P merchant, Amazon.com has to pay the affiliate's commission on the entire value as well.

What this has meant, is that both of these lines have been rather stable when compared to the total GMV (Gross Merchandise Value) which Amazon.com retails, be it the goods it sells itself (1P) or the goods sold by third parties (3P). And there is no reason to doubt this will change any time in the future. (See chart below)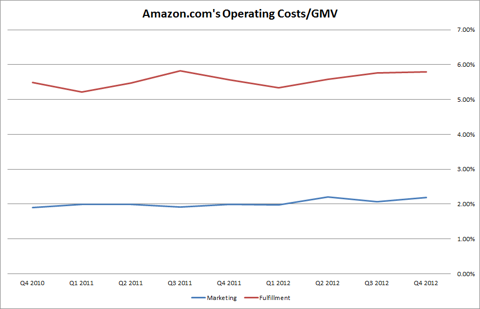 At the same time, AWS is also not a 100% gross margin business. It just happens that Amazon.com accounts for the costs of running AWS in the "technology" line. Thus, as AWS grows faster than Amazon.com's overall business, so too does this line grows faster and represents a higher percentage of the total revenues. Will this change in the future? Only if AWS starts growing slower or Amazon.com decides to invest a whole lot less in AWS.
Amazon.com's margin Godot will not arrive
Knowing what I said, we can thus predict when Amazon.com's margin Godot will arrive. And the answer, as far as we can tell and with Amazon.com's business structured as it is today, is "never".
The answer is never because while the gross margins will continue growing faster than revenues due to Amazon.com's accounting for 3P and AWS, so too will the operating costs. And while most research in the Street accounts for the gross margin growing faster, almost none accounts for this mechanical increase in operating costs relative to revenues. Yet both gross margins and these costs increase for the exact same reason!
In short, while some increase in Amazon.com profits can be expected (I myself expect Amazon.com to earn around $0.70-$0.75 EPS for 2013), the huge ever-growing EPS consensus estimates the Street puts forward to justify Amazon.com at $273 are simply unattainable.
What's most likely is thus that analysts will keep on ratcheting their estimates lower much like they've done for every quarter since Q4 2010. And at some point, the mechanics I explained here might dawn on the market. And then, nobody will want to hold Amazon.com at $273. Or $200. Or $150.
Another prediction
When Amazon.com reports Q1 2013, it will once again guide lower for revenues for Q2 2013. It might also guide lower on EPS. I am less certain on EPS just because the downward revisions have already been so massive over the last 2 years. I should remind everyone that Amazon.com earned north of $2.50 per share in 2010 and is now expected to earn just $1.47 per share in 2013. Also, Amazon.com actually posted a loss for the entire 2012, a year where, back in 2010, it was expected to already be earning $5.50 per share. So how believable are those estimates, say, for 2014, where the consensus is for Amazon.com to earn $3.61 per share?
Conclusion
Amazon.com's margin Godot has not arrived and will not arrive because of a simple dynamic: While gross margins will continue to increase due to the way Amazon.com accounts for 3P sales and AWS, for the very same reason the cost lines for fulfillment, marketing and technology will also continue to increase faster than revenues, eliminating all or most of the expected earnings upside.
With this knowledge, one can safely continue to say that Amazon.com is the most overvalued large capitalization stock in the market, and also one of the companies with the poorest earnings prospects in the entire S&P500. All the while, its revenue growth is also fading fast. In time, Amazon.com won't be safe to hold even at half the present quote.
Disclosure: I am short AMZN. I wrote this article myself, and it expresses my own opinions. I am not receiving compensation for it (other than from Seeking Alpha). I have no business relationship with any company whose stock is mentioned in this article.