Chevron Corporation (NYSE:CVX) shares dropped to about $100 in November last year, however, the stock has been in a solid uptrend ever since. Chevron is one of the world's largest oil and gas companies and it is also one of the most profitable. Central banks around the world are printing money and continuing with easy money policies, and this should support strong oil prices since investors tend to bid up hard assets like oil when paper money weakens. Also, oil is likely to see increased demand in an economic recovery and from emerging market countries. That means oil and companies like Chevron could be poised for a secular bull market.
Chevron has a number of high-potential oil and gas projects around the world. These projects are poised to boost growth prospects and Chevron has set goals to increase production by about 20% between now and 2017. Production and earnings growth should lead to a higher share price in the future. Rising profits can also set the groundwork for future dividend increases.
Chevron has a strong history of raising the dividend and it has increased the dividend for 25 consecutive years. In early 2006, the quarterly dividend was just 45 cents per share but it has doubled since then as the company now pays 90 cents per quarter. Furthermore, it has plenty of room for additional increases in the future. Analysts expect this company to earn over $12 per share in both 2013 and 2014. That puts the payout ratio at just about 30%, which is very conservative.
Chevron has a strong management team and is led by CEO John Watson. This company also has a very strong balance sheet with about $22 billion in cash and just around $12 billion in debt. This solid financial position allows the company to take advantage of opportunities and it also reduces risks for investors.
Investing in a major oil company has some of the typical risks such as the potential for a decline in oil prices, operational risks, and plenty of potential for litigation whether or not it is justified. Chevron has recently faced some legal claims over an oil spill in Brazil and a judgement in Ecuador for environmental damage. However, Chevron appears well-positioned to defend against these claims or to settle for a nominal amount.
Oil prices have declined in the past couple of weeks and yet Chevron shares are trading at the very upper end of the trading range as shown in the chart below. This stock could now be due for a pullback especially since it appears to have resistance at about $117. It traded at this level in September, and within weeks, it declined sharply before finding support around $100. Because of this, it makes sense to wait for a significant pullback which would be a solid buying opportunity for long-term and dividend investors to consider.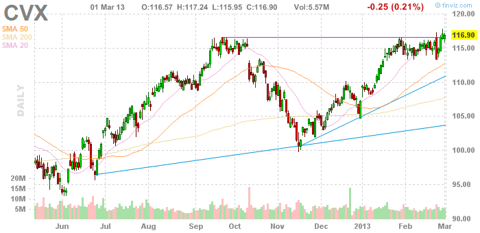 Here are some key points for CVX:
Current share price: $116.90
The 52 week range is $95.73 to $118.53
Earnings estimates for 2013: $12.34 per share
Earnings estimates for 2014: $12.40 per share
Annual dividend: $3.60 per share which yields 3.1%
Data is sourced from Yahoo Finance. No guarantees or representations are made. Hawkinvest is not a registered investment advisor and does not provide specific investment advice. The information is for informational purposes only. You should always consult a financial advisor.
Disclosure: I have no positions in any stocks mentioned, and no plans to initiate any positions within the next 72 hours. I wrote this article myself, and it expresses my own opinions. I am not receiving compensation for it (other than from Seeking Alpha). I have no business relationship with any company whose stock is mentioned in this article.