I have been looking into General Motors (GM), annual report ever since it was released in February, and have previously reported on how the company derived its net income from taxes and its subprime lending; now, I will delve into its production and sales.
In the last two years GM has produced more cars then it has sold. This information can be found on pages 2-3 of its annual report filing with the SEC. I made the following table from the information on these pages.
One can see that over the last two years GM has produced 444,000 more vehicles than it has sold, in anticipation of future demand. But just where do these vehicles go if not sold?
First, an investor must take care of the note GM makes on page 5:
GMNA vehicle sales primarily represent sales to the end customer. GME, GMIO and GMSA vehicle sales primarily represent estimated sales to the end customer. In countries where end customer data is not readily available other data sources, such as wholesale or forecast volumes, are used to estimate vehicle sales.
Therefore, we will just make analysis of General Motors North America (GMNA) since the other data is not as reliable, from GM's own admission. This then leaves us with an excess of 382,000 vehicles to find.
So, where did the vehicles go? Into U.S. dealer inventory. Each month this information can be found in a press release (PDF) on this web page. If one looks up every press release, as I did, then one will find that 206,025 vehicles went into dealer inventories as shown below: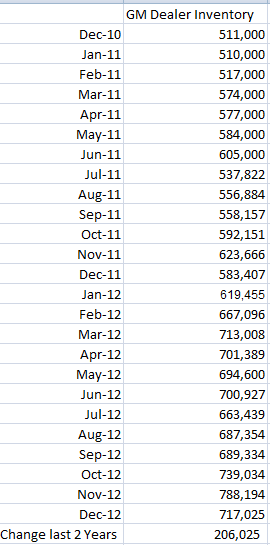 This then leaves us 176,000 vehicles, which is very likely the amount that sit with Canadian, Mexican, central American dealers, and GM's own inventory.
Some investors might not have a problem with dealer's adding inventory, however, they have not analyzed the amounts in relation to underlying sales. From 2010 to 2012, GMNA's vehicles sold increased from 2,626,000 to 3,019,000 or a 15% increase. One can find in the segments tables that GM's U.S. revenues went from $73,015 mm, in 2010, to $86,937 mm in 2012. This is an increase of 19.1% The increase in U.S. dealer's inventory over this same time period was 40.3%.
If GM's U.S. dealer inventory rose at the same pace as sales the inventory would have been approximately 608.6 thousand. The last 2 fiscal years enabled GM to "refill" the inventory channel to help sales growth; but now there is an indication that GM knows this distribution channel is getting full. This is because GMNA production for the last three months, when combined, fell from year ago levels (see above press release link). This would make it appear that GMNA's management is not as bullish on momentum, production investing as in previous years. If this trend continues through March, bears will have an edge when GM reports earnings next quarter.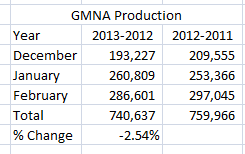 Disclosure: I have no positions in any stocks mentioned, and no plans to initiate any positions within the next 72 hours. I wrote this article myself, and it expresses my own opinions. I am not receiving compensation for it (other than from Seeking Alpha). I have no business relationship with any company whose stock is mentioned in this article.