The following article is written in response to some intriguing discussions that evolved from my original article on Sears (NASDAQ:SHLD), Sears Is Headed Lower. In contrast to my bearish outlook on the company, the bulls on this stock have consistently raised the issue that the "real value for Sears is in their real estate holdings and brand portfolio". They are concluding that this is not properly accounted for and hence Sears is undervalued with major upside potential. Since my original article didn't cover this in depth, I decided to take a closer look and follow up with Sears Is Headed Lower Part 2. This article will explore in detail the Sears portfolio of real estate, brands, and what real value they provide to shareholders.
In an effort to be objective, I will state that the argument does hold weight and I agree that the real estate and brand portfolio held by Sears is valuable; however, I maintain my bearish outlook on the company as I believe there is a lot of misconception on how this so called "hidden value" supports the stock at current levels. As noted in my original article, any benefits flowing to the company from segments outside of its retail store operations are being mitigated by the companies core business practices as they have consistently lost revenue, growth, and profits over the last several years.
Before we jump in, I feel its necessary to disclose that I did initiate a short position within 72 hours after my first analysis was published. I maintain my recommendation for a short position based on the fundamental issues the company faces. In evaluating the real estate and brands, I found additional support for my case and maintain that the stock is headed lower.
To begin, we will start by looking at what's known as "Case Study III," which is a report that was published by Fairholme Capital Management in August of 2012. This so called case "study" is viewed by those who are bullish as definitive research that Sears is undervalued. However, my view differs drastically and I consider this piece of "research" to lack credibility. A copy of that report can be viewed by clicking the link: The Fairholme "Case Study III". While I have a tremendous amount of respect for the fund's manager, Bruce Berkowitz, I would like to remind investors that this report was published for the benefit of the fund, not common shareholders. I will go into further detail on that point later. Next to ESL Investments (the hedge fund owned by Sears CEO Edward Lampart), Fairholme Capital is the second largest shareholder of Sears common stock and the third largest fixed income holder, with $44,000,000 in bonds. See the top two common stock holders below.
| | | | |
| --- | --- | --- | --- |
| Ownership | Shares | % of Total Outstanding | Reported |
| ESL Investments | 60,136,171 | 56.51% | 01-09-13 |
| Fairholme Capital | 18,146,573 | 17.05% | 12-31-12 |
I point this out because one crucial thing to keep in mind is this. The real estate and brand portfolios will need to be monetized or liquidated to realize any value. To do this without the profits being mitigated by losses, they would have to be restructured via a spin off or something of that nature. The "case study" estimates that the real estate and brand portfolios are close to a combined value of around $12 billion. So let's say for example, the two segments were to be separated from . At the current shares outstanding number of around 106.4 million, that would put the share value of the separated RE and brands around $114 per share. Sounds good right? Wrong! Here's why. Just two entities own close to 75% of all shares outstanding. This is more than enough to pass a tender offer through a shareholder vote to buy the remaining shares outstanding. With the distressed state and price of Sears common stock, and the diminishing of the company's core business, they could continue to let Sears become the next J.C. Penney (NYSE:JCP) then pass a shareholder approved tender offer at a few bucks higher. If Sears were to reach that point, which I predict it will, and management announces an offer, they will be seen as "saving the company" and doing the best job possible for their shareholders by not letting the stock price continue to diminish. So now they own it all. They break off the profitable segments, leaving all the debt behind in Sears Holdings, making them defunct. The top insiders are now holding private equity valued at $114 per share that they purchased for less than $45 per share. That leaves a huge amount of money on the table missed by shareholders who were forced to take a tender offer at a much lower price, while the top insiders acquired massive holdings at a huge discount to par value. This benefits ESL investments and Fairholme Funds along with a few others, but does not benefit the common investor.
The above statements are purely hypothetical and just one possible scenario, however, I point this out in hopes to send a message to those who are bullish on this stock. If you believe you will see any great benefit from the hidden value of Sears real estate and brands, by acquiring their common stock, your most likely in for a very disappointing reality. Many other reasons support this argument, so lets dive in.
Getting back to the "case study," there are several things in the paper itself that contradict its own findings. I won't go slide through slide, but here are the key points to consider:
Looking at slide two, it's important to note the statement that market must recognize this value. My belief is Sears must capitalize on this value for that to happen. The market is not going to recognize it just because it's there. Let's be honest, real estate is viewed very differently these days. And second, "investing is about what you give", sorry, I just can't get on board with that and don't see how it has relevance to the slide.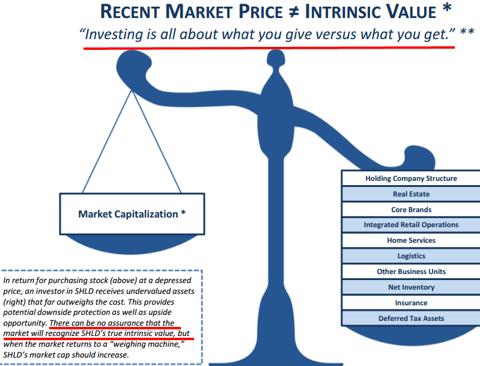 On slide 4, note the phrase "stand-alone basis". Remember that even monetizing this so called intrinsic value will not be enough to support the price of Sears as long as it's tied to their failing core business.

Slide 5 is one of my favorites as it essentially makes part of my case for me without intention. See the slide below.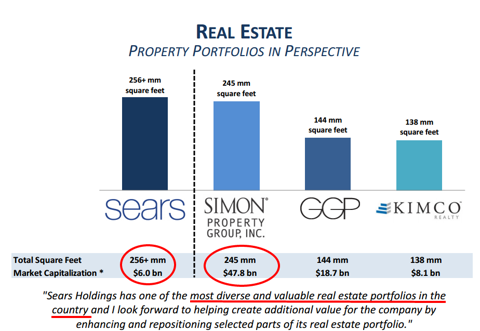 If I am going to make an investment in a real estate company, I would much rather own Simon Property Group (NYSE:SPG). The numbers say it all. Simon has a cap of $47.8 billion on 245mm sqft, vs. Sears with a cap of $6 billion on 256mm sqft. While Sears manages over 11 million more sqft., their real estate is worth 88% less than the competition. Stacking them against Kimco is even more dismal. So while the Sears' real estate may be valuable, no I do not believe or agree that they have "one of the most diverse and valuable portfolios in the country".
Moving to slide 11, they begin to discuss the "Brands"

First of all, I think it's time to re-evaluate the dollar value of the brands if it hasn't been done since 2005. However, the brand value is something that I cannot argue with. Some of the Sears created brands like Craftsman for example, are very valuable. They have a great product that can compete with other lines in the same business. They have good quality and good reputations behind them. But taking a piece from my original article, this is going to be mitigated by the companies retail operational losses and I am just not ever going to shop at Sears or K-Mart when I can get a comparable product from a more desirable competitor like Lowes (NYSE:LOW) or Home Depot (NYSE:HD). I would also note that aside from Kenmore, Craftsman, and DieHard, the other "brands" do not hold much benefit. A Land's End polo costs twice as much as a Faded Glory polo from Wal-Mart but is manufactured with the same quality level. It's cheap, old, and is not going to be a profitable segment in my opinion. They do note that some of the tools and appliance brands demonstrated success selling in Ace Hardware and Costco. To that point, I have to ask, what's the hold up? If you're not selling Craftsman at a desirable rate in your ancient Sears show rooms, get on the ball and get a distribution deal done with your competitors who can actually sell the product. But that doesn't appear to be a focus for management, much to shareholders' disappointment. So while the brands do have a lot to offer, I'm afraid the Sears shareholders may never reap the rewards.
Slide 12 gives an overview of "Proven Leadership". Hold on a minute. All the hires listed have been in these roles for less than 24 months, and if the last eight quarters of performance is an indication of things to come, "proven" is not the word I would use to describe Sears management team. It's a contradiction in itself. The only thing Sears management has proven thus far, is they have a lot of personal funds and they can buy their own stock.
On slide 8, we're given an idea of the Capital allocation. There is something critical to note here, being liquidity.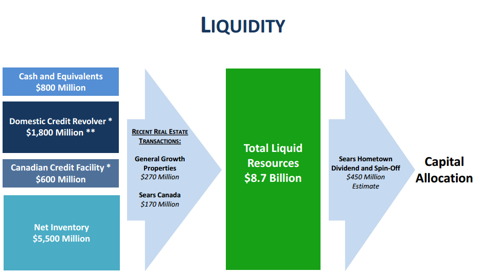 Key Points for Investors to Note:
They claim $5.5 billion in inventory as a part of their liquidity. While I will go ahead and use that in my ratios, take heed of the fact that I am arguing Sears has somewhat of an inability as of late to actually sell that inventory, which is what makes it liquid. The only other way to truly extract liquidity is to borrow against it. However, to be fair, I will use their inventory in my figures.
Of the total 8.7 billion in liquidity, credit, leverage, and debt, which costs the company additional money in the form of interest, accounts for 27% of total liquidity. If we did not include inventory, it would account for 75% of total liquidity. That's not a sign of financial strength by any means.
The planned dividend and Sears Hometown spin off would cost the company an estimated $450 million. That is roughly 56% of their total cash on hand which in itself only accounts for 9% of their total liquidity.
If they used that cash, liquidity would now be contingent on the company's ability to turn over inventory, which it's already struggling to do and borrow money. How that benefits shareholders is beyond me.
This does raise another issue. The dividend shareholders would receive with the spin-off is positive, however, it puts a further debt obligation on stock. From what we can deduce by analyzing the company's liquidity, they could face a serious problem if they have to "borrow" against their inventory or tap their credit lines to meet a different debt obligation. The old "robbing Peter to pay Paul" routine. All of this will only further the dilution of the company's stock price and send investors running for the hills. Now in regards to the Sears Hometown spin-off, I see it as a coin toss. While shareholders would receive shares of the new company, there is no way to properly value those yet on a stand-alone basis and no way to predict how they will perform detached from the parent company. If things turned out to be business as usual, shareholders could be left with nothing more than a thin promise of a dividend, two really crappy stocks, and the headache of calculating spin-off capital gains at tax time.
Moving on to the last slide of the "case study", a picture of potential catalysts are shown. Here is another good example of why I feel this study lacks credibility. You can't tell me a multi-billion dollar fund company doesn't have access to more updated data. The charts were obviously stopped at certain dates in the past to make them look better, but not factual as it relates to current market conditions. Having said that, my opinion is this report does more harm than good and gives shareholders a misguided idea that "Sears will return to the glory days".
The bottom line, it's all an illusion designed to keep people interested in the idea that Sears has real value. In doing so, they are helping the stock support current price levels to avoid downside risk, while the majority insiders figure out what they are going to do now that they own roughly 75% of the company. But my honest opinion is, they have no idea how they want to proceed right now and if they do not act quickly to bring their promises to a reality, they, along with the average investor, stand to lose considerable money as the stock continues to head lower.
It's important to note that many of the Sears locations are quite large and valuable, however, they need to sell or lease that space to turn a profit. For the mall locations and the large free standing locations, there are only certain types of businesses that are going to occupy that space. Mainly, other retail department type stores or large discount retailers. With current trends in that industry and many competitors electing for less stores, who is left to occupy that type of space? That's a major hurdle for their real estate division and I believe it will take years before they will be able to extract any value, short of a fire sale of the mall-based properties to competition like Simon Group. They do have some competitors like Lowe's, Home Depot, Target, Wal-Mart and others that are increasing stores and some of the locations could become of interest to them. However, these companies already do such a great job in geographic real estate management that many of them have it down to a science. Getting a good deal for a low price is the only way I see the former Sears locations being attractive to them. The last is re-development of the properties, which can take even more time than a straight buyout real estate deal. Unfortunately, time is the one thing Sears does not have if they wish to maintain current price levels.
So what does all this mean? Here is my take. The top few majority holders of Sears do stand to make a healthy profit over the next decade if they can successfully pull of the radical changes in structure via breaking the company up. They obviously have the voting power to make it so. However, I believe this is exactly their intention. When all is said and done, ESL, Fairholme, and a few others will have profited enormously from the purchase, restructure, and sale of a once great company, leaving the common stock as we know it plagued with debt shifted from these transactions and ultimately worthless. However, I could be wrong. If that's the case, then they really do plan to attempt a turnaround and make Sears profitable once more. Many of the challenges that lay ahead for this scenario are again, covered in my original article, but hear is a quick fundamental recap on the state of the company:
The company currently holds 4 billion in liabilities with Debt to Equity ratio of 1.03. Sears has Current Ratio of 1.04 suggesting that it may have difficulties paying its financial obligations when they are due.
The company has a Profit Margin -7.1% which suggests that it does not properly execute on its current pricing strategies or is unable to control all of the operational costs. This is way below average for the industry. Similarly, it shows Operating Margins of -0.88% which suggests for every $100 of sales it generates a net operating loss of -0.01.
The company has a return on total assets (ROA) of -0.93% which means that it has lost $0.93 on every $100 spent on an asset. It shows return on stockholders equity (ROE) of -48.62% meaning that it created a substantial loss on money invested by shareholders.
The company rocks an astounding Z-Score of 1.60
For those who don't know, an Altman Z-Score is a multi-point model that measures a company's financial health. The score is used to predict the probability of a company going into bankruptcy or serious financial distress within next 24 months. Companies with Z-Scores above 3.1 are generally considered to be stable and healthy. Scores that fall between 2.0 and 3.1 lie in the middle and fluctuate usually on their seasonality. Scores of less than 2 indicating the high probability of financial distress. Scores of less than one indicated the company will most likely approach bankruptcy. This puts the probability of serious financial distress for Sears at around 40%, which is 67.3% higher than that of it's industry average.
Using the Z-Score and distress probabilities when compared to some of its peers, we see that Sears, which currently trades around $44-$47 per share is more in line with a company such as JC Penney, which currently trades around $15-$22 per share. By comparison, other competitors such as Lowe's or Nordstrom (NYSE:JWN) trade around $38-$54 with very health competitors like Home Depot trading around $70 per share.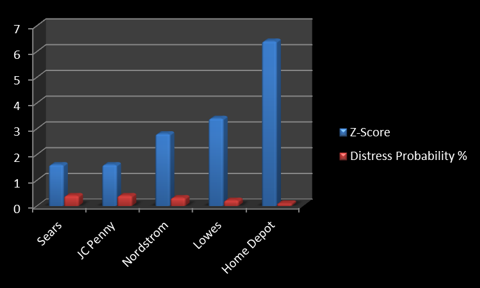 Re-stating from my original article:
Sears Holdings Corporation (SHLD) is one of the most intriguing stories in the market. This is a company that has been plagued with problems for years now. In my opinion, this is perhaps the most overbought and oversubscribed stock in the market and I see no recovery anytime soon. One of the biggest problems facing Sears in my opinion is the simple lack of need for the company to exist. Pay close attention to any announcements and earnings out of the company as these can fuel speculation and drive prices higher. I would, however, view any short-term price increase as temporary and an opportunity to add to a short position as I believe the stock is ultimately headed lower and is reaching a point where it can no longer support current levels without serious long-term fundamental improvements.
In conclusion and after evaluating the prospect that the company's real estate and brand portfolios have serious value and warrant a higher stock price, I am in complete disagreement. Regardless of what value it may hold, I believe management has neither the foresight to monetize the assets for any benefit beyond themselves, nor any realistic plan to do so. Combine that with all the other issues that plague their core retail business and I maintain my bearish outlook with a short recommendation on the stock. For those who may think the real estate and brand portfolios of Sears will drive the price back to its glory days, or even help it support current valuations, I highly urge you to consider the arguments made in my analysis and wish you the best of luck.
Disclosure: I am short SHLD. I wrote this article myself, and it expresses my own opinions. I am not receiving compensation for it (other than from Seeking Alpha). I have no business relationship with any company whose stock is mentioned in this article.