David Einhorn is the founder of Greenlight Capital, a value-oriented, research-driven investment firm with a market-beating long-term track record. He is also author of Fooling Some of the People All of the Time.
The Manual of Ideas estimates that David Einhorn's top three ideas at this time are Allegheny Energy (AYE), CommScope (CTV) and SPDR Gold Trust (NYSEARCA:GLD). Our analysis is based on a recent Form 13F-HR filed by Greenlight with the SEC. We also consider his past 13F-HR filings, recent 13G and 13D filings as well as the latest market prices of the portfolio holdings. Please see below for an explanation of the MOI Signal Rank™ methodology.
click to enlarge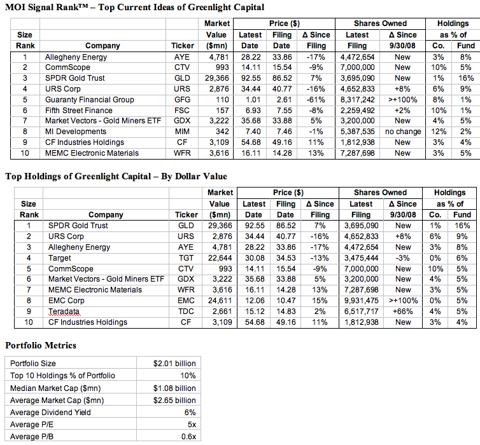 Sold-Out Positions
New Positions
Many of the following positions may be viewed as "token" investments, as they comprise a negligible percentage of Greenlight Capital's portfolio. Please revisit the MOI Signal Rank table above to view the new positions we deem to reflect a high level of conviction by David Einhorn.
AerCap Holdings NV (NYSE:AER)

Aircastle Ltd (NYSE:AYR)

Allegheny Energy Inc (AYE)

Amkor Technology Inc (NASDAQ:AMKR)

Anixter International Inc (NYSE:AXE)

Aspen Insurance Holdings Ltd (NYSE:AHL)

Beazer Homes USA Inc (NYSE:BZH)

Belden Inc (NYSE:BDC)

Brandywine Realty Trust (NYSE:BDN)

Cadence Design Systems Inc (NASDAQ:CDNS)

Carpenter Technology Corp (NYSE:CRS)

CF Industries Holdings Inc (NYSE:CF)

Colonial Properties Trust (NYSE:CLP)

CommScope Inc (CTV)

Corning Inc (NYSE:GLW)

Crosstex Energy Inc (XTXI)

Danaos Corp (NYSE:DAC)

Dow Chemical Co/The (NYSE:DOW)

Duke Realty Corp (NYSE:DRE)

ENSCO International Inc (NYSE:ESV)

Focus Media Holding Ltd (NASDAQ:FMCN)

Foster Wheeler AG (FWLT)

General Cable Corp (NYSE:BGC)

Health Net Inc (NYSE:HNT)

Huntsman Corp (NYSE:HUN)

JA Solar Holdings Co Ltd (NASDAQ:JASO)

Lawson Software Inc (NASDAQ:LWSN)

Liberty Media Corp - Interactive (LINTA)

Market Vectors - Gold Miners ETF (NYSEARCA:GDX)

McDermott International Inc (NYSE:MDR)

MDC Partners Inc (NASDAQ:MDCA)

MEMC Electronic Materials Inc (WFR)

Mercer International Inc (MERC)

Oshkosh Corp (NYSE:OSK)

Patriot Coal Corp (PCX)

Patterson-UTI Energy Inc (NASDAQ:PTEN)

ProShares UltraShort 20+ Year Treasury (NYSEARCA:TBT)

Sears Holdings Corp (NASDAQ:SHLD)

Sinclair Broadcast Group Inc (NASDAQ:SBGI)

Smithfield Foods Inc (NYSE:SFD)

SPDR Gold Trust (GLD)

Sunstone Hotel Investors Inc (NYSE:SHO)

SUPERVALU Inc (NYSE:SVU)

Teekay Corp (NYSE:TK)

Western Digital Corp (NYSE:WDC)

Williams-Sonoma Inc (NYSE:WSM)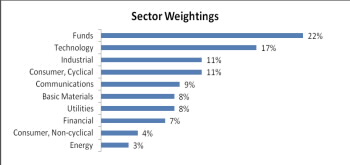 About MOI Signal Rank
MOI Signal Rank answers the question, "What are this investor's top ideas right now?" Rather than simply presenting each investor's largest holdings as of the recently filed quarter end, MOI's proprietary methodology ranks the companies based on the investor's current level of conviction in each holding, as judged by The Manual of Ideas.
Our proprietary methodology takes into account a number of variables, including the size of a position in an investor's portfolio, the size of a position relative to the market value of the corresponding company, the most recent quarterly change in the number of shares owned, and the change in the stock price of a position since the most recent quarterly filing date.
For example, an investor might have the most conviction in a position that is only the tenth-largest position in such investor's portfolio. This might be the case if an investor invests in a small company, resulting in a holding that is simply too small to rank highly based on size alone. On the other hand, such a holding might represent 19.9% of the shares outstanding of the subject company, suggesting a high level of conviction. Our estimate of the conviction level would rise further if the subject company has a 20% poison-pill threshold, thereby suggesting that the investor has bought as much of the subject company as is practically feasible.
Disclosures: Long MIM.