At Bespoke Premium, we created an index that measures default risk for the global financial sector based on CDS prices for a number of banks and brokers. We highlight this index on a regular basis so members can keep a close eye on the numbers, which are very important to follow in the current market environment.
Below we highlight a table of the current CDS prices for a number of global banks and brokers along with the recent change in their stock prices. The CDS prices represent the cost per year to insure $10,000 worth of debt for five years (or 10,000 euros for European firms). As shown, default risk for Citi (NYSE:C) and Bank of America (NYSE:BAC) are up by far the most year to date at +200%. Not surprisingly, their stock prices are also down the most. American Express (NYSE:AXP) and Wells Fargo (NYSE:WFC) have had the 3rd and 4th biggest spikes in default risk at around 140%. However, AXP is down much less than Citi, BAC, and WFC this year.
On the positive side (if you can call it that), Deutsche Bank (NYSE:DB), Goldman Sachs (NYSE:GS), and Morgan Stanley (NYSE:MS) have seen the smallest rise in default risk in 2009, with Morgan Stanley rising the least at 14.57%. Morgan Stanley is also the only company on the list whose stock price is up this year (7.11%).
click to enlarge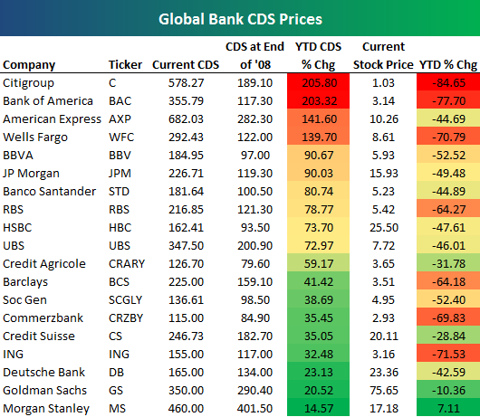 Click to enlarge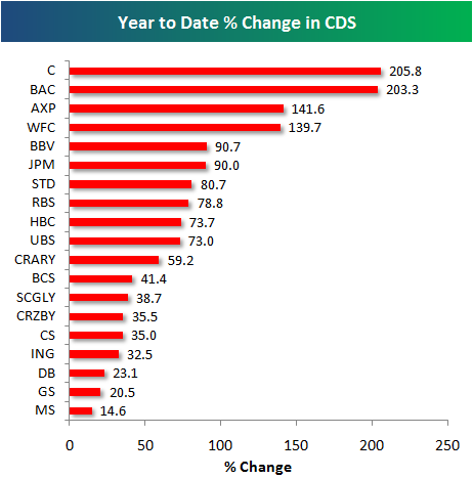 Click to enlarge