The Gist
Citigroup inc. (NYSE:C) is up nearly 9% year to date. On an annualized basis this would be a 50% return. Therefore, if Citigroup keeps up this same pace over the next two years it should provide a 100% return or a double in other words. Furthermore, Citigroup has provided a 46% return over the last six months. See chart below.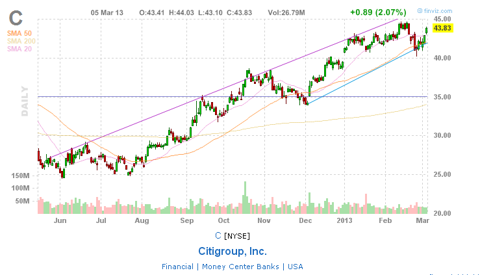 I posit Citigroup can double within the next two years. The stock is still in good shape both fundamentally and technically and has significant catalysts for growth going forward. Moreover, in a market where the Dow has now achieved a new all-time high, Citigroup hasn't really participated. The stock is still languishing near its lows set in 2009. See chart below.
I posit as the market rips higher the smart money will begin rotating into stocks that have not participated in the rally, yet have solid upside potential such as Citigroup.
Nevertheless, let's not get carried away just yet. We need to perform further due diligence to make sure we haven't taken a rose colored view of the situation. Please review the following analysis of Citigroup for an in-depth examination of the stock's upside potential.
What About The Fundamentals?
Citigroup is still trading at a 30% discount to book value. Moreover, most fundamental ratios are improving and currently make Citigroup appear undervalued. The company has a forward P/E of 8.26. The company has a PEG ratio of 1.39 down from 1.61 at the beginning of the year. The net profit margin is 11.27% improving from a net profit margin of 10.95% last quarter. Earnings Per Share (EPS) are growing 37% quarter over quarter as well. EPS growth is a key fundamental catalyst to drive the stock higher. Citigroup's fundamental picture is solid and improving. You can't ask for much more than that.
The Balance Sheet
Citigroup's balance sheet is much improved over the last four years. The Fed stress tests have whipped most of the U.S. banks into shape. The bank had $481 billion in cash and cash equivalents. The balance sheet is robust.
Price To Book Ratio Analysis
The stock is currently trading for 69% of book value. Currently, Citigroup trades for a lower book value ratio than JPMorgan (NYSE:JPM) and Goldman Sachs and Morgan Stanley (NYSE:MS). Only Bank of America trades at a lower book value than Citigroup at 52%.

Price To Earnings Ratio Analysis
Citigroup is trading for the lowest forward price to earnings ratio compared to the other major banks with a forward P/E 8.26. Even so, most of the other banks on the list have similar P/E ratios with the exception of Goldman Sachs at 10. The difference is Citigroup still has notable upside potential with the rigorous and detailed turnaround plan concocted by Corbat.

Citigroup is firing on all cylinders. EPS is expected to grow substantially over the next five years
What About The Technicals?
Technically, the stock is in a well-defined uptrend. The stock had a downturn coinciding with the election, yet has snapped back significantly in recent weeks. The golden cross was achieved at the beginning of October. This is a bullish indicator that has served me well. The Golden Cross is a significant event as many technical traders use this as a bullish signal to buy. Furthermore, the stock just recently successfully tested support at the 50-day sma which is a big positive.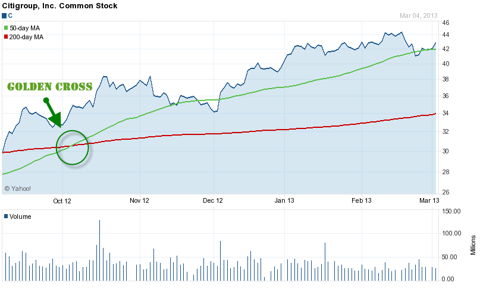 What About The Growth Catalysts?
U.S. Housing Recovery
Citigroup is well positioned to take advantage of the uptick in the U.S. housing market. The U.S. housing market is on the mend.
According to the National Association for Business Economics (NABE) Outlook Survey, "U.S. housing market recovery will continue next year, with strong gains in residential construction and home prices." The National Association for Business Economics forecast gross domestic product would grow at an average annual rate of 2.1 percent in 2013. It predicted a 2.2 percent rate in 2012. This should more than underpin Citigroup's top and bottom lines.
Impending Fed Stress Test Results
Citigroup has a fortress balance sheet with $481 billion in cash and cash equivalents. Trailing twelve month operating cash flow is approximately $18 billion. The bank is successfully cutting costs and improving its capital position. This may allow for an increase in the dividend and initiation of a share buyback program, if the Fed approves. Citigroup will seek permission for its first share buyback since 2007 as part of the latest Federal Reserve "stress tests," according to people familiar with the company's plans.
What About The Word On The Street?
According to a recent article penned by Bank of America Merrill Lynch (NYSE:BAC), Citigroup is one of the ten best stocks for 2013. Bank of America stated,
"Citi is an underappreciated beneficiary of the housing recovery and remains inexpensive and under owned by active managers."
Furthermore, Goldman Sachs Group Inc. (NYSE:GS) told clients to bet on Citigroup Inc. shares before its fourth-quarter earnings hit. New Chief Executive Officer Michael Corbat is cutting costs and withdrawing from some markets. Goldman added Citigroup to its conviction buy list.
On Tuesday Citigroup CEO Michael Corbat made his first major public presentation. He spoke at the bank's Financial Services Conference. The presentation focused on tactics, not a grand strategic plan. Corbat described the bank as having to fight with one hand tied behind their back with one-third of its capital tied up in activities contributing nothing to earnings. Corbat stated:
"The good news is this should wind down over time, meaning the bank will have significant excess capital. In the meantime, optimization of capital is a must."
Corbat is effectively cleaning house and righting the ship in my view. He is focused on setting financial targets, cutting expenses and other tactical moves at this point. This is good news. Citigroup needs to have good spring cleaning so to say.
The stock is currently trading 6% below the consensus mean price target of $49.25, by 28 analysts. The high target price is $60.
What About The Downside Risks?
The U.S. housing market could suffer if currently delinquent loans become foreclosures. There are a vast number of loans still on the books where people are several months in arrears. If the economy takes a downturn and some of these people get laid off, they may default completely.
The Eurozone sovereign debt debacle could finally implode causing another credit crunch large enough to disrupt the global economy.
Also consider if the U.S. government does not solve the debt limit debate and the U.S. falls into another recession.
What is The Bottom Line?
Citigroup is trading at a low price to earnings multiple even when taking into account lower earnings expectations and is trading at several multiples below its long-term norm. On top of that the Fed may allow the banks to return excess capital to investors in 2013. The sector is flush with liquidity and cash.
I see opportunity ahead for Citigroup with a new management team in place. With the yield curve steepening and Citigroup cleaning house, I posit the bank will become lean and mean and the stock will appreciate.
Citigroup is still oversold and under owned on top of strong fundamentals and catalysts for growth. The stock is a solid buy at this level if the U.S. housing market continues to improve. My target price is $60 within the next twelve months with a potential double over the next two years. The risk/reward ratio favors long trades at this point. I posit many investors will soon begin locking in profits on their winners and rotating into stocks like Citigroup which haven't joined the party yet.
If you choose to start a position in any stock, I suggest scaling in to reduce risk. Furthermore, always strive to have a well-balanced diversified portfolio containing several asset classes.
Disclosure: I am long BAC. I wrote this article myself, and it expresses my own opinions. I am not receiving compensation for it (other than from Seeking Alpha). I have no business relationship with any company whose stock is mentioned in this article.
Additional disclosure: I am considering starting a position in Citigroup within the next 72 hours. Furthermore, this is not an endorsement to buy or sell securities. Investing in securities carries with it very high risks. The information contained within this article is for informational purposes only and is subject to change at any time. Do your own due diligence and consult with a licensed professional before making any investment.