For the last month we have been whipsawed with great stories, and with terrible stories, about the initial launch of the BlackBerry (NASDAQ:BBRY) Z10. Without getting technical in this article, the fact of the matter is that the success or failure of the product, as well as the ultimate future of the company itself, depends upon the reception (no pun intended) the phone receives right here in the United States.
We can discuss how China has surpassed the world in smartphone sales and ownership (it has), and how the emerging markets could drive the future growth of just about any company's business (it should), but let's face the facts; the USA is where a global product either succeeds or fails, period.
The Numbers
Well, this is a tough one. There have been no sales figures released by the company, and all we have to go by is speculation and retail store surveys. Quite frankly, I do not know what to believe at this point, which is why we need to look at "The Numbers" a little differently for now.
Some information was offered recently by Richard Piasentin, who happens to run the U.S. business for BBRY. He stated at an industry event that a lot of early buyers of the Z10 had actually switched from other platforms and phones, creating new users.
This becomes important because it could mean that in the early going, BlackBerry is actually taking sales away from existing smartphone devices. If this is true, then the product could gain important traction because much of the anticipated sales were thought to be harvested from the existing 80 million BlackBerry "die hards" from around the world.
Prior to the industry event, analysts, such as UBS analyst Amitabh Passi, said; "The Z10 is a good product but likely to mainly appeal to BlackBerry loyalists," he wrote in a note to clients. "We remain skeptical existing iOS and Android users will switch to BB10 in meaningful numbers." Now, the tune is somewhat different;
Piasentin, who runs the company's U.S. business, said more than 33% of Z10 buyers in the U.K. are also new to the platform. A company representative added that the figures from the U.K. and Canada were based on preliminary data gathered from early sales.
If 1/3 of the sales are being taken from the competition, that could mean that the 80 million existing users are waiting for the yet to be released Q10, which apparently appeals to those folks who already use a BlackBerry phone.
The Q10, which features a QWERTY keypad that is popular with a core base of BlackBerry users, is expected to launch later in the year, though no specific plans have yet been announced by the company.
The keypad has always been the thing that attracted BlackBerry users in the first place. Many, especially business folks, dislike the touchscreen apparently. Since much of the hardcore usage of the BlackBerry was corporate messages, emails, texting, and phone calls, that keypad seems to still hold a place in those folks' hearts. While nothing is set in stone, it appears that the Q10 will be launched in May or June of this year.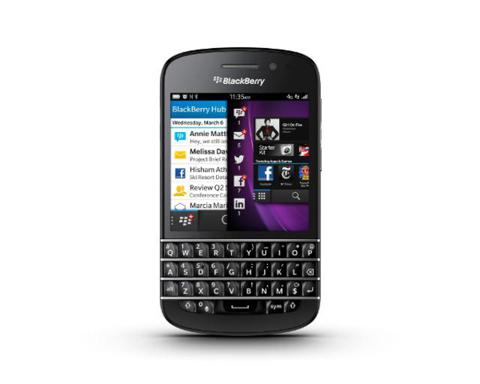 The touchscreen phone seems to appeal to the internet surfing, game playing, photo taking users.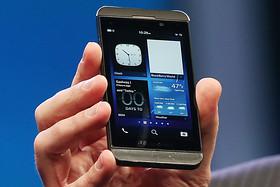 Even by simply looking at these two devices, we can visualize where many of the sales, no matter what the numbers turn out to be, will be coming from.
The Z10 sales will more than likely come from the existing world of touchscreen smartphone users.
The Q10 will more than likely come from existing BlackBerry users. Most of whom are in the corporate world. (Most of the 80 million current subscribers)
So, the numbers. Take a look at the following chart from the IDC just today:
Top Five Countries Smartphone Shipments and Market Share, 2013 and 2017 (Units in Millions)
| | | | | | |
| --- | --- | --- | --- | --- | --- |
| Country* | 2013 Unit Shipments | 2013 Market Share | 2017 Unit Shipments | 2017 Market Share | 2017/2013 Growth |
| 1. China | 301.2 | 32.8% | 457.9 | 30.2% | 52.0% |
| 2. USA | 137.5 | 15.0% | 183.0 | 12.1% | 33.1% |
| 3. United Kingdom | 35.5 | 3.9% | 47.5 | 3.1% | 33.8% |
| 4. Japan | 35.2 | 3.8% | 37.7 | 2.5% | 7.1% |
| 5. Brazil | 28.9 | 3.1% | 66.3 | 4.4% | 129.4% |
| 6. India | 27.8 | 3.0% | 155.6 | 10.3% | 459.7% |
| Others | 352.5 | 38.4% | 568.1 | 37.5% | 61.2% |
| Total | 918.6 | 100.0% | 1516.1 | 100.0% | 65.0% |
If the Z10 can sell just 3% (2012 market share) of the 2013 shipments of smartphones, that would mean roughly 2.5 million units sold in the first few quarters, without even an increase in overall market share. Most of the Z10 sales would presumably come from everywhere in the world where the touchscreen devices already are entrenched.
In the U.S., T-Mobile, AT&T (NYSE:T), and Verizon (NYSE:VZ) are the major players set to launch the Z10 in about 3 weeks (Sprint has opted out for now). With a subsidized price tag of about $199.00, I believe there will be a full court press by these 3 carriers to promote the heck out of the new phones. As a matter of fact, T-Mobile has plans to pre-launch the phone to corporate customers with some unique selling features:
T-Mobile USA Chief Executive Officer John Legere has vowed to shake up the industry with measures such as selling phones on installment plans, rather than the typical approach of subsidizing the devices in return for two-year commitments. In business services, where AT&T and Verizon dominate, Sickinger sees an opportunity to build on T-Mobile USA's 5.5 percent market share. The arrival of new devices like the BlackBerry Z10 will help win business customers, he said. T-Mobile also will offer Apple's iPhone later this year for the first time. "I'm glad to see BlackBerry launch a relevant product," Sickinger said. "BlackBerry stands to do very well in 2013 with T-Mobile."
If T-Mobile follows through, you can rest assured that T and VZ will not just sit around and watch.
Getting back to the numbers though, if we take the 2.5 million units potentially sold in 2-3 quarters in 2013 of the Z10, and add it to the numbers that the Q10 could bring in, what could we come up with?
Using the 80 million users of BlackBerry phones right now, if we use a very conservative percentage of 5% who will purchase the newer Q10, most of whom might be corporate users, we come up with roughly 4 million Q10s sold in just 2 quarters (the Q10 is scheduled for May/June, and the Z10 for the end of March).
That would mean, if all of this comes to fruition, that BBRY would have brand new sales of about 6.5 million units in little more than 1/2 year. Obviously nothing to jump up and down about, but if we place an average price tag of about $300 bucks for the 2 new phones ($700 for the world outside of the U.S. and $200 for the U.S.), we come up with about $2 billion in NEW revenue and place a low gross profit margin of just 35%, which puts about $700 million in gross profits for the company, in just one or two quarters. Projecting ahead, that could mean an annualized increase in revenues of about $10-15 billion and profits of about $1-2 billion in 2014, or even sooner.
So Is BBRY A Solid Investment?
As most of you know, I have the stock in our aggressive growth portfolio, "The Young and Restless". That does not make it a slam dunk by any means, but the idea of this portfolio is to have stocks with some sort of track record, a decent balance sheet, and the potential for strong capital appreciation.
The "Young and Restless" portfolio consists of BlackBerry, Amazon (AMZN), Google (GOOG), Facebook (FB), Netflix (NFLX), Yahoo (YHOO), Achillion (ACHN), and Zynga (ZNGA).
Blackberry has a long way to go, but if the new products are remotely successful, the combination of a new growth spurt and a clean balance sheet offers a higher risk profile investor an opportunity for a rising share price.
It might also be a shorter term holding if the products fail, or if any increase in share price is deemed to be temporary.
There Are More Than Enough Headwinds
There is no question that buying shares of BBRY is a speculative play. What I happen to like about it is that the company has a very solid balance sheet. It has roughly $2.75 billion in cash, zero debt, and a price to book value of just .73!
When one considers all of the penny stocks that are touted, with no cash, oodles of debt, and no product, it does not take a brain surgeon to see that for a speculative play, BBRY could prove to be a money maker for those willing to take the risks:
BlackBerry is far behind every other smartphone maker to begin with.
The iOS and Android operating systems are the products that have the market rock solid.
Even Microsoft (NASDAQ:MSFT), with its Windows phones, has surpassed BBRY in overall market share, and is selling better every month.
Even if the numbers I am using actually come to fruition, it does not mean that BBRY would be able to compete anyway.
There are more issues of course, but suffice it to say that being a speculative purchase, BBRY has many challenges ahead. If the initial challenge of the new products happens to be positive, BlackBerry could come back from the dead, and shareholders could see a strong increase in the value of the stock, even if it is short lived.
Of course it is still, all about the USA.
Disclaimer: Please do your own research prior to making any decisions. This article is the opinion of the author and is not a recommendation to either buy or sell this stock, or any other security.
Disclosure: I am long BBRY, T, ACHN, ZNGA. I wrote this article myself, and it expresses my own opinions. I am not receiving compensation for it (other than from Seeking Alpha). I have no business relationship with any company whose stock is mentioned in this article.