"Be sure you put your feet in the right place, then stand firm." - Abraham Lincoln
With the Dow crossing intraday new highs, there sure is a lot of excitement going on. It's been a long-time coming following the financial crisis to get to this point. Since I began making the correction call January 25, the S&P 500 has rallied a bit over 2.5%, while at the same time yields have fallen in Treasuries. I have stated before that our inflation rotation models used for managing our mutual fund and separate accounts have been defensively positioned since then, and we have benefited from the trade as stocks attempt to power higher.
But the correction case is not over. The disconnects within and across various asset classes have widened, and inconsistencies are everywhere. At this point in the cycle, yields should be falling, and yet the yield curve appears to be flattening again. Furthermore, if we are in the midst of a breakout moment, inflation expectations should be increasing consistent with a risk-on environment. Newsflash, folks - that isn't happening.
Take a look below at the price ratio of the SPDR Barclays TIPS ETF (NYSEARCA:IPE) relative to the PIMCO 7-15 Year Treasury ETF (NYSEARCA:TENZ). As a reminder, a rising price ratio means the numerator/IPE is outperforming (up more/down less) the denominator/IPE.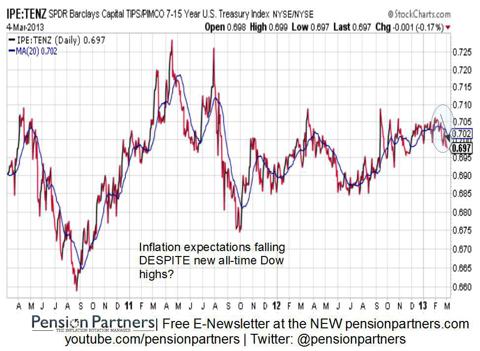 The trend in the ratio is one way of tracking the direction of inflation expectations. So here's the big question: why is the ratio falling (deflation expectations rising) if all is well and we are about to surge to higher highs in the near-term in stocks? Shouldn't the trend be stable to up? To me, nothing has changed. Intermarket trends still suggest that this is a much more fragile environment than the Dow 14k would have most believe. As such, I will not back down - the Gray Haired Bears can re-appear at any time. This is not about being stubborn. This is about listening to price. Caution remains warranted - the deflation pulse is beating.
Disclosure: I have no positions in any stocks mentioned, and no plans to initiate any positions within the next 72 hours. I wrote this article myself, and it expresses my own opinions. I am not receiving compensation for it (other than from Seeking Alpha). I have no business relationship with any company whose stock is mentioned in this article.
Additional disclosure: This writing is for informational purposes only and does not constitute an offer to sell, a solicitation to buy, or a recommendation regarding any securities transaction, or as an offer to provide advisory or other services by Pension Partners, LLC in any jurisdiction in which such offer, solicitation, purchase or sale would be unlawful under the securities laws of such jurisdiction. The information contained in this writing should not be construed as financial or investment advice on any subject matter. Pension Partners, LLC expressly disclaims all liability in respect to actions taken based on any or all of the information on this writing.