By: Jayson Derrick
Target (NYSE:TGT) is set to open 3 stores earlier than anticipated in Canada as part of a trial run before the retail giant opens 124 locations across Canada as part of a $1.5 billion international expansion. This marks the first time the company is operating outside of the US borders; a plan 3 years in the works which was dubbed "operation bacon".
Target is loved by Canadians as the company is known for affordable prices in products ranging from fashion, home décor, food, electronics and entertainment. Target's parking lot in Plattsburgh, New York is full of cars from neighboring Quebec as shoppers take advantage of the 1 hour drive down from Montreal to enjoy every day low prices. Canadians are already familiar with the brand, so the company should have a very smooth opening process. There are already 30,000 Canadian holders of the REDcard, a loyalty membership card that provides a 5% discount on purchases.
In 2011 Target has purchased the leaseholds of a failing and unpopular retailer, Zellers and will be spending $10-12 million per location to provide consumers with an upscale shopping experience, something that is missing in the discount retailer market within Canada. 61% of Canadians indicated a desire to shop at Target according to a research survey conducted by KubasPrimedia, much higher than the 50% score Wal Mart (NYSE:WMT) received in 1994 prior to their expansion. In fact, Target Canada already has more 'likes' on Facebook than Wal Mart Canada in what can only be seen as an extremely positive message of what is to come.
Target recently released fourth quarter results showing that the company had launch expenses of $148 million. Removing this cost, earnings per share came in at $1.65, above forecast of $1.47. Revenue increased 7% to $22.73 billion in a very positive note. The company also announced that revenue at stores open at least a year rose 0.4%. This figure is a great indicator of a retailer's health because it excludes results from stores recently opened or closed.
With extremely bright outlook for the fiscal year 2013 ($4.85-$5.05 per share versus consensus $4.87) Target is a great company in a great financial position. A fragile economic environment in which customers seek value should continue to drive sales and earnings growth. P-Fresh, 5% REDcard Rewards are differentiating factors that will help the company succeed in Canada in 2013 and beyond.
A 12 month price target based on applying a P/E multiple of ~14.5x yields a share price range of $70.32-$73.22.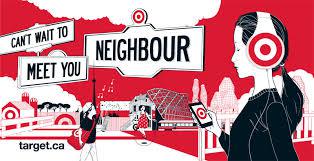 Target is heavily advertising the slogan "Can't wait to meet you, neighbour" in TV and print ads across Canada.
Disclosure: I have no positions in any stocks mentioned, and no plans to initiate any positions within the next 72 hours. I wrote this article myself, and it expresses my own opinions. I am not receiving compensation for it (other than from Seeking Alpha). I have no business relationship with any company whose stock is mentioned in this article.