I set up my laid-back portfolio (LBP) on Feb. 23, 2012. Here I outline how I chose Vanguard Natural Resources, LLC (NYSE:VNR), my last entry, which I fictitiously purchased on Jan 18, 2013, at $28.78, including the customary $20 as transaction fees.
Portfolio Performance Review
The table below shows portfolio performance since inception and comparison with the major indices.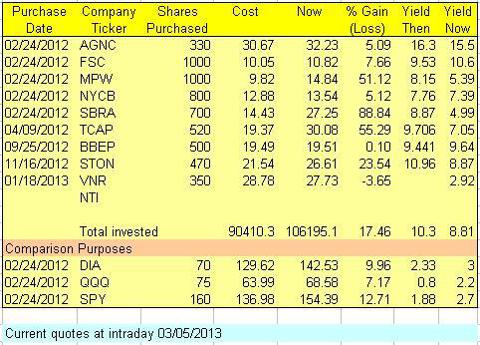 (Cost is comprehensive of $20 commissions.)
We can see that the portfolio is doing well. Both weighted-average yield of investment securities held and capital appreciation are outperforming the market.
A focus on dividend yield shows the following: With the 10-year Treasury at 1.88% and the portfolio average yield at 8.81% at the time of writing, the spread is quite wide. More good news is that the portfolio is holding four companies that raised their dividends since inclusion, while none cut it so far.
A Bit Of Macro Perspective: We Are In A Bubble
I recently came across this comment from Jeremy Grantham, of GMO fame. He basically says that his fund is selectively buying forestry and farmland because their price is just about right, while all other global assets are once again becoming overpriced. I'm quoting:
(...) Asset prices are not uniformly overpriced: emerging markets and, we believe, Japan are only moderately overpriced. European stocks are also only a little expensive, but in today's world are substantially more risky than normal. The great global franchise companies also seem only moderately overpriced. Forestry and farmland, which is not super-prime Midwestern, is also only moderately overpriced but comes with our nook and cranny sticker attached. But much of everything else is once again brutally overpriced. Notably, U.S. stocks (ex "quality") now sell at a negative seven-year imputed return on our numbers and most global growth stocks are close to zero expected return. As for fixed income - fugetaboutit! Most of it has negative estimated returns on our data, and longer debt, as always, carries that risk that may be slight in any period, but is horrific if it occurs - accelerating inflation.
Forestry? Farmland? Dear reader, when is the last time you bought some forestry and/or farmland as an investment? The above are my rhetorical questions for today. It's clear, in my opinion, that markets are in a bubble. When is it going to bust? Not anytime soon, not while the FED keeps interest rates so low.
On the other hand, high-yield dividend companies are doing well, since investors are hungry for yield.
A Diversified Portfolio
Laid-back dividend investing means that I don't want to spend too much time researching dividend-paying companies. I look for sustainability of dividends. But I also want to have some sector diversification.
To date, the LBP includes one mREIT, American Capital Agency Corp. (NASDAQ:AGNC); two BDCs, Fifth Street Finance Corporation (NYSE:FSC) and Triangle Capital Corporation; two REITs, Medical Properties Trust (NYSE:MPW) and Sabra Healthcare (NASDAQ:SBRA); a bank, New York Community Bancorp (new ticker is NYCB); two energy MLP, BreitBurn Energy Partners (BBEP) and Vanguard National Resources; and StoneMor Partners, L.P., one of the largest companies in the death care industry.
I'm about to introduce you to a company whose units I own (just a few, in fact, so to have some skin in the game) since last week.
Northern Tier Energy, LP
Northern Tier Energy, LP (NYSE:NTI), is an independent downstream energy limited partnership with refining, retail and pipeline operations that serves the PADD II region of the United States. It operates its assets in two business segments: the refining business and the retail business. (source: Seeking Alpha).
NTI is an MLP. A quick note: MLP companies have units (as opposed to shares) and pay distributions (as opposed to dividends). It's the fourth MLP I put in the portfolio. I know, many complain about tax recording, but I don't think that should be a reason to pass on such a big yield. Also, MLPs is where dividend yields are now.
NTI is a variable distribution MLP. In good times, the payouts would rise; in bad times, they would fall.
With these caveats in mind, the annualized distribution yield of NTI is currently 17.2%. Nowadays, there's an endless quest for yield. I think that 17.2% is too rich a yield to pass up.
As you can see in the chart below, investors are literally chasing the stock.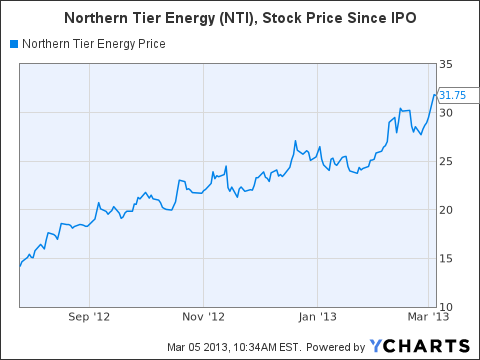 It is my opinion that the run is far from over. I think that many investors still are on the sidelines, because NTI's history as a public company is short. Also, news and commentary are in short supply - as you can verify browsing the financial news websites. With no history and no ground to make a judgment, many buyers don't feel comfortable buying. As time passes, and as NTI declares more juicy distributions, the units price will go further up. In the meantime, we are going to enjoy a very good yield.
Conclusion
NTI is thus my next selection for my Laid-Back Portfolio. As usual, I'll (fictitiously) buy $10,000 worth of NTI units one day after publication on Seeking Alpha at mid-day prices so that I don't have an unfair advantage over you, the reader.
Disclaimer: Material presented here is for teaching and entertaining purposes only. It is not intended to be taken as financial advice, a recommendation to buy or sell the stocks mentioned above. Investing includes risks, including loss of principal.
Disclosure: I am long AGNC, FSC, NTI, STON, TCAP, VNR. I wrote this article myself, and it expresses my own opinions. I am not receiving compensation for it (other than from Seeking Alpha). I have no business relationship with any company whose stock is mentioned in this article.
Additional disclosure: I will not alter my positions within 72 hours of the time of publication of this article.