I have been bullish on Qualcomm (NASDAQ:QCOM) for quite some time. My latest recommendation, given in my recent article "Qualcomm Impresses At Mobile World Congress 2013," was the following:
Would I buy the common stock here now? No. Wait for a pullback or, for those of you not afraid of options, sell some $65 strike May 2013 puts for $2.55/share.
While I was hoping for a pullback before recommending pulling the trigger on the common (the stock has rallied ~2% since then), the short put recommendation has returned 38% in a matter of 4 days, with contract prices dropping from $2.55 to $1.58. I believe that investors who continue to hold the short on these puts will see a 100% gain on their positions, as the broad market continues to rally and as Qualcomm continues to do (mostly) good things on the cash return front and enjoys its status as Wall Street's semiconductor darling.
Dividend Increase: A Welcome Development
The company announced on 3/5 that it would be increasing its quarterly dividend payout from $0.25/share to $0.35/share. At the most recent close of $67.97/share, this represents a ~2.1% yield at these levels. While not exactly the most enticing yield in this space, the positive sentiment surrounding the stock, coupled with the strength that it will see over the full year (thanks to monopoly position in LTE + steadily growing license revenues), it is an icing on a quite delicious cake.
At these levels, Qualcomm is returning ~37% of its projected 2013 GAAP EPS in the form of a dividend, which is still quite conservative given that it spends very little on CapEx and has significant cash on the balance sheet. OpEx is accelerating primarily due to increased R&D investments, which is certainly not something to be frowned upon in this fiercely competitive landscape, but revenue growth keeps ahead of it.
Buyback: Pointless
Qualcomm just put in a $5B buyback program, supplanting an earlier $4B program that still had $2.5B left. One problem I have with the company is that as a result of its very liberal share based compensation packages (which is what allows it to post such high Non-GAAP EPS numbers), the float has managed to creep up at an accelerated pace over the last year, cementing the notion that the posturing provided by the "buybacks" is utterly meaningless: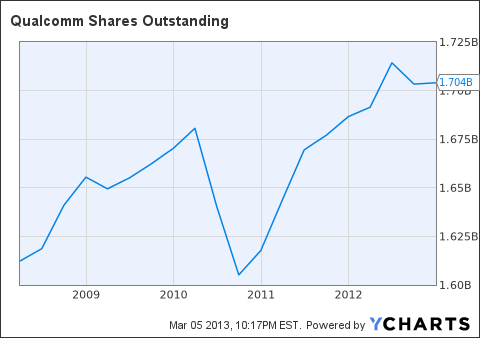 QCOM Shares Outstanding data by YCharts
Right now, Qualcomm is a Wall Street darling that profits from a fat patent licensing income stream and generates excitement by touting its massive design win momentum for its apps processors/modems. It doesn't need to buy back shares because the stock really doesn't need any help getting propped up. EPS estimates are handily smashed each quarter, so buybacks aren't needed to reduce float to boost EPS. The buyback may be more useful as growth slows and hype shifts, but right now the buyback is in place mainly for show.
Unless this buyback reduces the float, it's utterly pointless. And even then, the stock has so much positive sentiment and momentum that the float could balloon and nobody would really care as long as smartphones are "all the rage."
Conclusion
Dividend increase is nice, especially for long-term/income investors who were previously put off by the low yield. However, the company is still in "growth mode" and is still well loved by the market, so the dividend is nothing compared to the capital gains that are still to be had by buying the common stock/shorting puts/buying calls on dips.
Disclosure: I have no positions in any stocks mentioned, and no plans to initiate any positions within the next 72 hours. I wrote this article myself, and it expresses my own opinions. I am not receiving compensation for it (other than from Seeking Alpha). I have no business relationship with any company whose stock is mentioned in this article.