Lately you may have heard analysts repeat how cheap stocks are. According to the average analyst expectations, the S&P 500 trades for only 13.7x next year's earnings.1 The implication is that modest expansion to 14.5x earnings could mean that the market has a good deal further to rise.
Unfortunately, I am here to throw a little cold water on the bulls. According to the Wall Street Journal's Market Data Center the S&P 500 is trading for 17.9x trailing twelve month (TTM) earnings. In my opinion, no credence whatsoever should be placed on estimated forward earnings. Because analysts have never been able to forecast downturns in corporate profits ahead of the market, their estimates of forward price to earnings only serve to make the market appear cheaper than it is. Because we cannot know with any precision what earnings will be over the next twelve months, we should instead defer to past earnings that are at least known with a good deal of precision.
One year ago, the S&P 500 traded at 15.9x TTM earnings. But at that time it was also projected to trade for 13x forward twelve-month earnings. This means that if the S&P 500 had met expectations from one-year ago, it should be trading for 14.4x TTM earnings (the S&P 500 traded at 1369 one year ago with a forward earnings estimate of ~105). So why does the S&P 500 now trade for 17.9x TTM earnings? This is because earnings did not go up: they went down. Will market pundits be correct this year? Possibly, however, earnings must rebound very strongly for the S&P 500 to be trading for 13x forward earnings. While this could happen, an investor today should not assume that it will happen. Forget 13.7x next year's earnings: the S&P 500 trades for 17.9x last year's earnings.
Figure 1: P/Es and Yields on Major Indices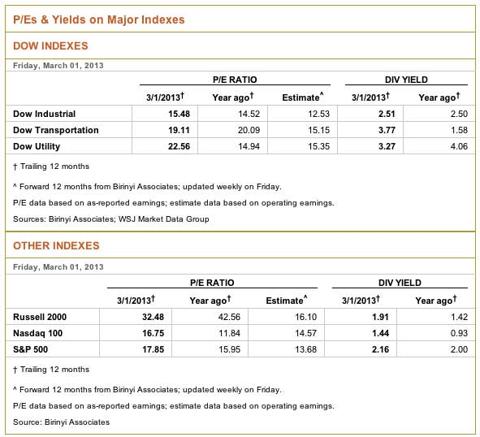 Below is a graph of the TTM P/E of the market for the past 140 years. I want to be clear that the trailing TTM P/E of the market does a very poor job of predicting whether the market will go up or down. There is nearly zero correlation between the TTM P/E and forward stock market returns. However, there is also no reason to characterize the present valuation of the market as cheap. Other metrics support this view: by Q Ratio, Shiller CAPE, Market Cap to GDP or TTM earnings the market is aggressively valued compared to history and approximates the peaks of previous secular bull markets (1929, 1969). The only way stocks are cheap is in relation to bonds, which remain near their peak valuations for all of recorded history. Furthermore, the mean TTM P/E of the market over the past 140 years is 15.5x, while the median is 14.5x. Thus by TTM P/E the market is again overvalued relative to its historical average by 15% from its average or 23% from its median. This does not reveal where the market will go tomorrow, next week or next year. However, for the long-term investor the only saving grace for stocks at present time is the excessive valuation of bonds.
Figure 2: TTM P/E of the Market Since 1870 (click to enlarge)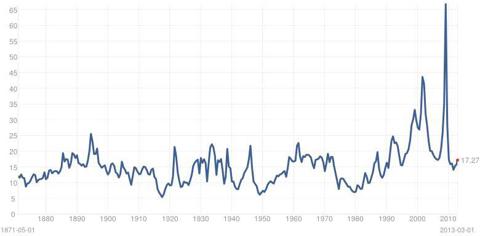 Conclusions:
It is entirely within the realm of possibility that valuations for stocks have bottomed. They could conceivably rise for the next ten years or given some market moving news they could fall again beginning tomorrow. However, in the interest of fair comparison, it is not reasonable to use optimistic estimates of what earnings may be over the next twelve months. Instead, the true earnings of the S&P 500 over the past twelve months should be analyzed. This is more rigorous, since past twelve month earnings are known with certainty while future earnings are not. Furthermore, a clear-headed knowledge of the market's valuation will allow investors to better identify undervalued stocks. If the average TTM P/E for a stock on the S&P index is 17.9x and a good investment candidate is identified at a lower multiple, then we have identified a worthy idea for further consideration. Because TTM P/E is still only a snapshot, this is only a starting point for more rigorous due diligence.
Several stocks that stick out as undervalued at the present time are: AFLAC (NYSE:AFL) at 8.2x TTM earnings; Deere & Company (NYSE:DE) at 11x TTM earnings; International Business Machines (NYSE:IBM) at 14x TTM earnings; 3M Co. (NYSE:MMM) at 16.5x TTM earnings; Target Corp. (NYSE:TGT) at 14.2x TTM earnings; and The Travelers Co. (NYSE:TRV) at 12.85x TTM earnings.
It is also worth noting from Figure 1 that the largest stocks listed on the Dow are significantly undervalued relative to the S&P 500. Because late in a bull market large blue chips typically outperform and because they have lower valuation and better momentum, I expect the Dow Jones Industrial Average (NYSEARCA:DIA) to outperform the S&P 500 (NYSEARCA:SPY) over the short to medium term.
At the present time, I still maintain that the market is very exposed. With cyclical sectors underperforming, I expect a modest correction (5-10%) within the next several months. However, I also have no reason to expect a more drastic price reduction for risk assets. As such, each pullback is still likely to represent a buying opportunity. Alternatively, it is entirely reasonable to ignore the price movement of the market altogether and simply buy the most attractive reasonably valued issues.
1. Dr. Ed Yardeni, who tracks analysts' forward earnings estimates for the S&P 500 recently reported the average analyst expectation to be $113/share by year's end implying a 13.6x forward earnings multiple from Tuesday's closing price of 1540. The 13.7x multiple refers to data in Figure 1, excerpted from the Wall Street Journal, according to Birinyi Associates.
Disclosure: I am long IBM. I wrote this article myself, and it expresses my own opinions. I am not receiving compensation for it (other than from Seeking Alpha). I have no business relationship with any company whose stock is mentioned in this article.