Medivation (NASDAQ:MDVN) is a late-stage biopharmaceutical company that is developing enzalutamide (marketed as Xtandi and formerly known as MDV3100) for the treatment of various stages of prostate cancer, such as CRPC, pre-chemo, hormone-sensitive and chemo-naive. The company has worldwide collaboration with Astellas Pharma (OTCPK:ALPMF) for the development, manufacture, and commercialization of Xtandi.
In August 2012, the FDA approved Xtandi for the treatment of metastatic castration-resistant prostate cancer (mCRPC) in previously treated patients who received docetaxel. With this approval, Xtandi is also likely to gain some "off label" use in pre-chemo patients, said a Sanford Bernstein analyst. However, most of the potential won't be reached until the FDA signs off on this indication, and until Medivation and its collaboration partner Astellas can market it as a first-line therapy.
Xtandi, which was launched in the U.S. in September 2012, had a successful launch with first full quarter sales of $57.4 million. Last Thursday, Medivation reported that about 90% of surveyed oncologists and 81% of surveyed urologists are aware of Xtandi since its launch, and between 40% and 50% of mCRPC product details to oncologists in the fourth quarter were for Xtandi. Management also reported that more than 98% of both Medicare and commercial insurance plans were covering Xtandi by year end 2012. Management stated that over 9,300 prescriptions (Rx) for Xtandi were generated in 2012, from more than 1,600 individual prescribers and more than 300 institutional accounts. The majority of prescribers of Xtandi are oncologists, with less than 2% of Rx attributed to urologists. Management noted that less than 25% of high-volume urologists see post-chemo patients, and that urologists in general limit their Rx to on-label indications, regardless of compendia listings.
Xtandi versus Zytiga
Xtandi, considered the closest rival of Johnson & Johnson's (NYSE:JNJ) Zytiga, is a prescription medicine that is used along with prednisone, to treat men with castration-resistant prostate cancer that has spread to other parts of the body. Both drugs are competing to get a bigger share of the prostate cancer market.
The Xtandi label has a number of advantages over Zytiga. These include the lack of food effect and monitoring requirements and no need for the co-administration of steroids versus Zytiga, which requires monthly monitoring for hypertension, hypokalemia, edema and liver enzymes and requires patients to have an empty stomach on the pre/post period.
In January, Johnson & Johnson reported that U.S. sales of Zytiga were down 16% sequentially for fourth quarter 2012. Meanwhile, Xtandi sales took off, recording $57.4 million in the first full quarter since launch in the U.S. It is striking to observe strong Xtandi launch momentum despite the price premium (Xtandi is priced at $7,450 per month while Zytiga is priced at $5,800 per month), likely resulting from Xtandi's more favorable profile.
Final conclusions
Xtandi's uptake is strong in the approved post-chemo mCRPC setting, and the off-label use in the pre chemo setting also needs to be considered as well. Now with Zytiga's formal label extension into the pre-chemo setting and consistently strong TRx in January (2.5% of January TRx, according to IMS data), it will be interesting to see whether Xtandi continues the strong momentum over the next two quarters. In addition, a Marketing Authorization Application for post-chemotherapy mCRPC is under review with the European Medicines Agency, with approval likely in H2:13. Moreover, data from the PREVAIL study in the pre-chemo setting due likely during second half 2013 will be another strong catalyst for Xtandi's uptake, if the study demonstrates an efficacy and safety profile for Xtandi that appears more favorable than Zytiga's.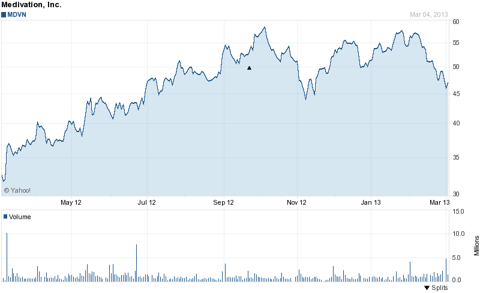 Disclosure: I have no positions in any stocks mentioned, and no plans to initiate any positions within the next 72 hours. I wrote this article myself, and it expresses my own opinions. I am not receiving compensation for it (other than from Seeking Alpha). I have no business relationship with any company whose stock is mentioned in this article.
Additional disclosure: Biomed Group is a group of investment professionals and writers. This article was written by Amit Cohen. We did not receive compensation for this article, and we have no business relationship with any company whose stock is mentioned in this article. This information is not to be construed as an offer to buy or sell any security mentioned on this article.