With the Dow Jones Industrial Average at all-time highs we are looking at the commodity markets and wondering what the heck is going on. If we do not see a rally in the physical commodities soon then we are going to have to begin to worry about the sentiment regarding the overall health of the world economy. We are looking at deploying the cash balance (now over 20% of assets) in our retirement portfolio on a pullback in individual stocks and have our list in order, although that 20% is not earmarked for commodities or noncommodity-centered stocks but rather value - which is tough to find in the current market.
Commodity prices this morning are as follows:
Gold: $1575.10/ounce, up by $0.20/ounce
Silver: $28.70/ounce, up by $0.096/ounce
Oil: $90.61/barrel, down by $0.21/barrel
RBOB Gas: $3.1489/gallon, up by $0.0007/gallon
Natural Gas: $3.534/MMbtu, up by $0.005/MMbtu
Oil & Natural Gas
Investors in SandRidge's trusts have had a rough go of it lately. It most certainly did not get any easier yesterday as the SandRidge Mississippian Trust I (NYSE:SDT) reacted to a downgrade by Wunderlich whereby the firm moved the units to a 'Sell' from a 'Hold' and issued a new price target of $13/unit, down from $17.50/unit before. The units fell $1.67 (11.49%) to close at $12.87/unit on volume of 2.1 million, which far exceeds what had been normal only a few weeks ago. We are going to add a new rule to our investing/trading rule book and that is to never invest in a trust where the assets are not proven and have no production history. Hindsight is 20/20 but foresight is priceless and being able to avoid potential pitfalls like this in the future will save many headaches.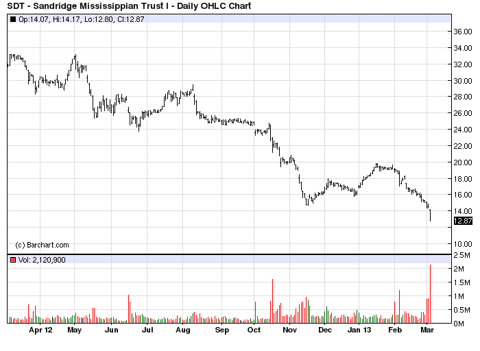 Chart courtesy of BarChart.com.
Going along with our theme from our other article this morning, we are looking at those stocks which are attractively priced right now but just waiting for that last pullback to pull the trigger. One name which we have constantly discussed is Halcon Resources (NYSE:HK) which has an excellent management team and has made no secret of the fact that they are here to create shareholder value as fast as possible with the ultimate goal of selling the entire company to a buyer in the next few years. Shares are still near their lows and if we can get a 5-10% pullback from the current $6.55/share then we would be happy buyers (assuming no geopolitical events or other meltdowns).
We missed the news when it happened about Magnum Hunter Resources (MHR) expanding their Senior Bank Credit Facility, but came across it in our pile of reports, press releases and conference calls to read last night. The expansion was based entirely on reserve growth and organic measurements within the company and Magnum Hunter now has $115 million of total liquidity. We have been wondering where their asset sales will take place in 2013 as it appears they are once again bullish on the Eagle Ford after solid results there but the press release did not give us too much information in that department saying only that the company, "still plans on monetizing assets in 2013." They also stated that the company presently has the ability to fully fund the, "2013 upstream capital budget program of $300 million." So it is bullish but also leaves numerous questions unanswered. The company remains one of the more intriguing plays out there due to the exposure to numerous high quality liquids targets.
Transportation
It should go without saying that we are not correct 100% of the time, and even when we are correct sometimes we are wrong due to timing and/or other issues. This morning we wanted to say that although we had the right idea on the transports and the potential to make some decent returns on them some of our readers actually hit the nail right on the head saying that it was time to buy when we were cautious and throwing the thesis out there. Union Pacific (NYSE:UNP) and CSX (NYSE:CSX) both hit new 52-week highs yesterday and the weakness the rails saw on the bad news from coal and the drop in those shipments has abated. It was one of those conservative trades we threw out there with the dividends to help drive results and we totally missed the boat. Were we lucky to have that capital invested elsewhere? Yes, but that is not the point. The point is we wanted to give credit where credit is due and point out that some of our readers were spot on at the time. This is why we appreciate your comments and try to interact as much as possible.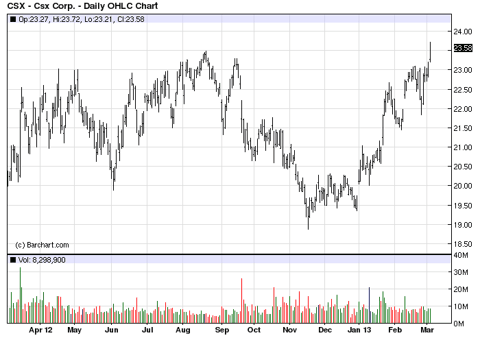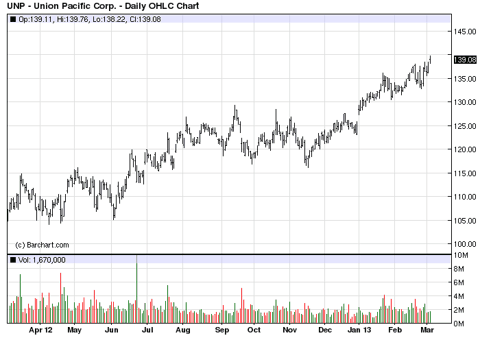 Charts courtesy of BarChart.com
Disclosure: I have no positions in any stocks mentioned, and no plans to initiate any positions within the next 72 hours. I wrote this article myself, and it expresses my own opinions. I am not receiving compensation for it (other than from Seeking Alpha). I have no business relationship with any company whose stock is mentioned in this article.