After weeks of prices grinding higher, the stock market finally sold off at the end of February amidst some "hawk-ish" rhetoric from the Federal Reserve. In about five trading sessions, the S&P 500 dropped nearly 50 points. This was the first legitimate correction in 2013.
Previously, I discussed the ominous signals coming from elevated sentiment surveys indicating an excess of bullishness. Typically, corrections in such environments can produce furious moves to the downside. Within an uptrend, corrections tend to be "V-shaped" or extended affairs in which lows are retested or broken.
Since the move lower, the market has quickly rebounded and made back many of the losses. Although, I remain optimistic about the market's prospects in the intermediate term as detailed here, I do not think this move higher is supported by market internals. In the short term, caution is warranted until market internals improve.
Weak Market Internals
Below is a chart of the S&P 500 year to date with some intermarket indicators below.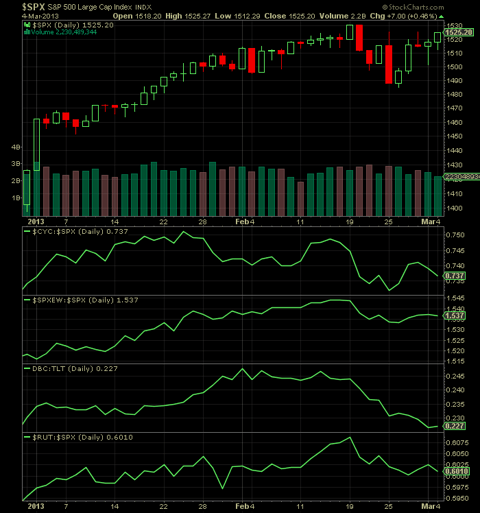 Click to enlarge
These intermarket indicators are various risk measures that give greater insight into market behavior than price alone. I view it as checking the market's health. The first measure comparing cyclical stocks to the S&P 500 is entrenched in a pattern of lower highs and lower lows. Long, sustaining rallies are typically marked with cyclical stocks outperforming due to optimism for future economic conditions.
The second ratio compares the equal weighted S&P 500 to the price weighted index. Outperformance in this indicator during an advance is a healthy sign of a market with broad participation, while underperformance reflects a market where money is flowing into fewer stocks. The Guggenheim S&P Equal Weighted ETF (RSP) and SPDR S&P 500 ETF Trust (SPY) are ETF equivalents for the two indexes above.
The third ratio is a risk measure comparing the performance of the PowerShares DB Commodities Index Tracking Fund (DBC) to the iShares Barclays 20+ Yr Treas. Bond (TLT). Commodities are a risk asset while bonds are a store of safety. This widely tracked indicator is plummeting mainly due to weakness in commodities. Markets can rise with this indicator falling but odds do not favor such an outcome.
The final ratio compares the Russell 2000 to the S&P 500. This combines elements of the cyclicals and equal weighted indices. The Russell 2000 is a broader measure than the S&P 500 as well as more leveraged to the economy. Again, this measure is also a warning sign that traders are feeling cautious. The iShares Russell 2000 Index ETF (IWM) is the ETF symbol for the Russell 2000.
Conclusion
Another factor supporting the case that this period of weakness is not over is that this correction came in the midst of almost record bullishness. Given the almost historical level of bulls to bears, a drawn out affair that rebalances sentiment seems more likely and in line with past corrections in the midst of elevated sentiment.
Despite my focus on the weakness of market internals, I do not think this is cause to begin fighting the trend and going all in on the short side. The purpose of my article is simply to illustrate that various measures of market health, which for some time were supporting the market's advance have begun to falter.
In such conditions, I believe that the appropriate response is to manage risk more aggressively on the long side in terms of tighter stop losses, more conservative profit targets or even hedging with shorts depending on one's trading style. I would recommend that longer-term oriented traders should remain patient and wait for lower prices and some fear in the markets before initiating positions.
I want to reaffirm that I am concerned in the short term but think that higher prices are in store over the intermediate term. Thus a correction in my view will be an opportunity to add exposure. It is also important to note that these measures should be used as a tool to adjust strategy and risk rather than a guide to future prices.
Disclosure: I have no positions in any stocks mentioned, and no plans to initiate any positions within the next 72 hours. I wrote this article myself, and it expresses my own opinions. I am not receiving compensation for it (other than from Seeking Alpha). I have no business relationship with any company whose stock is mentioned in this article.