Qualcomm Inc. (NASDAQ:QCOM) is a global leader in supplies of chips for cellphones. The 2013 outlook looks very promising with profits posted at a 36% YOY rise and revenues at 29% upsurge, completing nearly $2 billion revenue in the last fourth quarter. Qualcomm sustains global demand for its integrated circuit products. Its customer base includes giants such as Apple Inc. (NASDAQ:AAPL), Ingram Micro Inc. (NYSE: IM), Samsung (OTC:SSNLF) and BlackBerry (NASDAQ:BBRY). The company is capitalizing on the rise of smartphones and 4G. QCOM is set to begin trading ex-dividend March 06, 2013. A cash dividend payment of $0.25 per share is scheduled to be paid on March 27, 2013. 2013's expected earnings are at $4.35 a share. A new $5 billion share buyback program has also been initiated to replace its existing $4 billion program with $2.5 billion remaining for repurchases. The repurchase program has no expiration date. Qualcomm's daily earnings are at $65.86 - $66.65 with earnings at a 52 week range $53.09 - $68.87. The company expects annual earnings to be $24 billion.
Dividend Yield 1.50%
P/E Ratio 19.85 Trailing 12 months
Market Cap $114.5 Billion
Shares Outstanding 1.72 Billion
Public Float 1.70 Billion
Zacks Investment Research reports QCOM's forecasted earnings growth in 2013 as 21.97%, compared to an industry average of 15.5%. Adjusted earnings of $1.10 a share were based on revenue of $5.88 billion.
Data is provided by Zacks Investment Research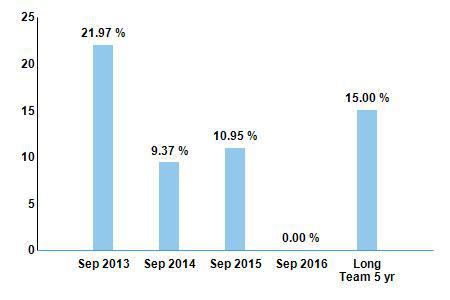 Second quarter expectations adjusted per-share profit of $1.10 to $1.18 a share on revenue of $5.8 billion to $6.3 billion. Fiscal first-quarter profit rose 36% with per-share earnings of $4.25 to $4.45 on revenue of $23.4 billion to $24.4 billion. Qualcomm's 2013 outlook expects adjusted earnings of $4.25 to $4.45 a share, up from November's forecast for $4.12 to $4.32 a share. The company shipped over 140 million MSM chipsets up 11% YOY. Its newest platform, Snapdragon, is already seeing industry-leading growth. There is an estimate of 420 different devices using Snapdragon with 400 models in the making.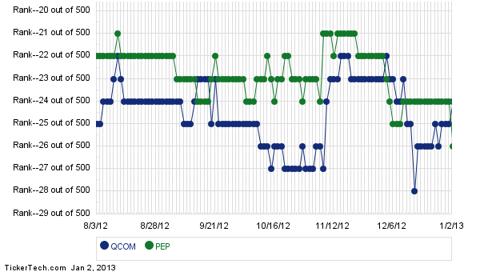 The company is one of the best in growth at a reasonable price. Opportunities in industry and its 4G efforts will be even more appealing to investors long term. "In general, the market's growing like crazy, " Qualcomm President Steve Mollenkof stated to CNET. The demand is strong for both high and low end phones. In the U.S., companies are increasingly including 4G LTE in their products and emerging markets are benefiting from transition to 3G from 2G. Qualcomm's 3G and LTE multimode chip shipments jumped 90 percent from the September quarter to the December period. Qualcomm is bullish on global demand for 3G and 4G devices with reported solid results last quarter and management providing a strong outlook for 2013 based on the rapid transition from 2G to 3G in China and India. Qualcomm presently has 50% market share in smartphone application processor and 86% market share in LTE cellphone modem markets.
Smartphone Global Mobile Growth
The mobile device market is the fastest growing market sector today being led by smartphone users worldwide. Wireless Intelligence had stated in its report "1.5 billion subscribers will be added to 3G networks in the next two years." The smartphone market is expected to grow to 18.3% compounded annually through 2016. It is estimated that 1 in 7 of the world's population owned a smartphone in the third quarter of 2012. Global growth has yet to penetrate in the market. It is forecasted the next billion growth of smartphones to be achieved in less than three years, by 2015.
"Worldwide smartphone sales rose 43% last year, down from 58% in 2011 and 72% in 2010, the year that they really took off, following increases of just 24% in 2009 and 14% in 2008," stated Gartner.
Qualcomm is poised to benefit from overall growth in the mobile devices markets. Growth in LTE will also be a strong performance driver. Look for developments with China Mobile (NYSE:CHL), the world's largest carrier with 670M subscribers but less than 20% 3G penetration. Qualcomm has also developed a chip that is compatible with China Mobile's proprietary TD-SCDMA technology to contribute to its growth and demand in the 3G market. Market growth factors will become even more competitive and the industry to drive valuation changes in both wireless carrier and wireless device stocks.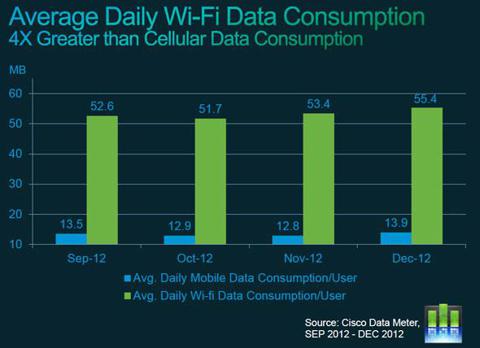 "North American mobile users will grow in five years from 288 million to 316 million, a compound annual growth rate (CAGR) of 1.9%. Globally, the number will jump by nearly 1 billion in that span, from 4.3 billion to 5.2 billion," per Cisco. The smartphone mobile device population in 2013, for the first time, will rapidly grow with traffic from smartphones greater than traffic from laptops, a main driver of mobile data traffic for years. North American mobile users for example averaged 752MB per month in 2012 and are projected to reach 6,171MB per month in 2017. Asia Pacific averaged 136MB per month last year and will hit 1,788 in 2017.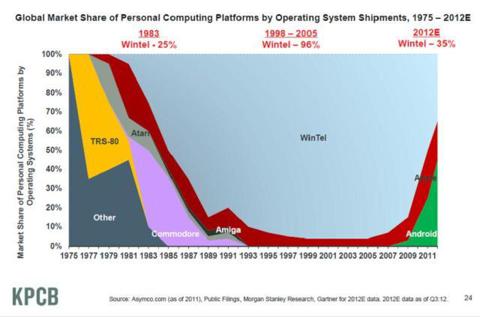 Risk & Competition
Qualcomm's largest competitors are Broadcom (NASDAQ:BRCM), Nokia (NYSE:NOK) and Texas Instruments (NASDAQ:TXN). Qualcomm has the highest sales growth, highest gross margin and highest operating margin. Broadcom and Nvidia (NASDAQ:NVDA) are both out with new LTE chipsets. Qualcomm is still the dominant supplier for LTE. ARM Holdings (NASDAQ:ARMH) drives 90% of the smartphone processing market, has 31% market share in mobile computing. ARM architecture is the foundation for Qualcomm, Nvidia, Texas Instruments and Broadcom, for which it earns licensing royalties. Intel is the greatest threat for ARM. The newest BlackBerry products introduced use Qualcomm chips.
Senior VP of Product Management, Raj Talluri of Qualcomm, recently stated the following on Snapdragon, "Despite any claims to the contrary by Nvidia, the Tegra 4 chip can't hold a candle to its upcoming Snapdragon 800 processor." Qualcomm's CMO Anand Chandrashekhar is confident in the ability of the new Snapdragon chips, believing Nvidia's Tegra 4 was inferior to even the company's Snapdragon 600, let alone the 800, which "completely outstrips it. System on Chip (SoC) has been the enabling technology behind the evolution of many of today's ubiquitous technologies, such as mobile wireless devices, high definition television and video systems, high speed data communication and ambitious automotive solutions unleashing new opportunities." Qualcomm at The Consumer Electronics Show revealed new processors to power next-generation devices including the two new families of its Snapdragon.
Broadcom and Nvidia, as well as Intel (NASDAQ:INTC), are just beginning to offer their own baseband chips. Qualcomm has leverage to these competitors as they have a learning curve to overcome. Qualcomm is winning by a greater margin over Intel, with first quarter indications as very promising for its investors. Their strategy is strong and the FY 2013 should be consistent. Qualcomm's competition either is behind or venturing into other areas apart from mobile processors.Texas Instruments is immersed with macro-economic issues with job cuts and a complete shift in focus to automotive and other segments.
The challenges impose slowing growth, as well as the upside being consequences of dynamic shifts in technology that either drive sales or constrain them. Smartphones did not go mainstream until more consumers from developed markets were able to use the Internet at faster 3G speeds, transforming technologies as a result.
Consumer Growth
Consumer growth expectations are demanding. Growth will arise from upgrading existing smartphones to latest models evolving from 3G-long-term evolution, or LTE. Consumer adoption presently is for younger and wealthier consumers that are technologically savvy, demanding LTE. Those organizations that continue to innovate and introduce new innovations will have competitive leverage to convince consumers to upgrade their phones.
The mobile market is evolving at a rapid pace. Further developing Qualcomm's new low-power display technology for mobile devices will help drive user adoption of smartphones and tablets as well as increase sales in mobile chipsets. Mobile market growth is being driven by demand from the developing world, led by rapid mobile adoption in China and India. Subscribers are expected to reach 6.9 billion by the end of 2013 and 8 billion by the end of 2016.
Growth and Earnings
Qualcomm is the second largest in the Communications Equipment Industry out of 184 companies. The company is known for its 1.7% dividend yield, which is the ninth highest in the industry, falling in the top 15% in terms of Price/Earnings to Growth ratio, sales growth and return on equity. Qualcomm earnings growth and long-term growth rate falls in the top 20%.
In 2012, good operating results were resulted for the second quarter. Compared with Q2 2011, profits more than doubled to $2.23 billion. Adjusted earnings weighed in at $1.01 per share, which topped the 95 cents per share consensus earnings estimate by 6%. Despite this strong bottom-line growth, the company dropped to a one-month low following this earnings announcement. That's because there are doubts about whether Qualcomm will be able to meet surging demand for its high-speed networking chips.
Qualcomm released a new range of radio phone chips for mobile cellular networks this week, increasing competition for other players in the segment. The chips, called RF360, will be addressing the headache of smartphone manufacturers that is band fragmentation, enabling smartphones to connect to all seven of the world's cellular modes: LTE-FDD, LTE-TDD, WCDMA, EV-DO, CDMA 1x, TD-SCDMA and GSM/EDGE. It also translates to improved radio performance and coverage, and possibly fewer voice dropouts and lost calls. In addition, the need for smartphone manufacturers to produce multiple versions of their smartphones to support multiple carrier frequencies will be eliminated, potentially cutting costs and logistics and increasing margins.
The company has development plans of another MEMS-based technology known as IGZO through a $12 million investment in Sharp on December 27th. Qualcomm would like to grow the commercial release of a low-power display that utilizes both Sharp's IGZO TFT and its own MEMS shutter system better than its competition. Qualcomm now has a 2.6% stake, cash of $60 million. A further $60 million investment is set for next year to make it the single largest shareholder in Sharp.
Below is a detailed chart of Qualcomm. Note that the larger pattern constitutes a bullish pattern of higher highs and lows, and this will remain intact as long as the price stays above the July 2012 low. An ability to hold above that level would also tell us the minimum upside target is in the $73.16 area.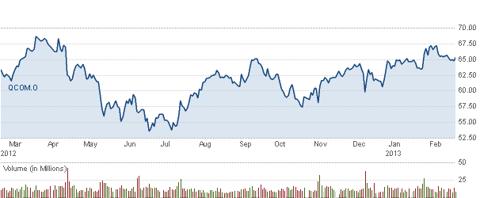 Qualcomm is ahead of its competition for its smartphones and high-speed wireless technology, long term evolution (LTE). The company is poised for strong growth in emerging markets China and Latin America. Qualcomm owns 48% of the smartphone processor market by revenue, and collects 3-5% of the sale price of CDMA-enabled devices because of their patents. Qualcomm is one of the companies with the biggest vested interest in the iPhone, as one of Apple's largest suppliers.
"Qualcomm processors currently power three of the iPhone's top competitors: HTC 8x, Nokia Lumina, and CDMA version of the Samsung Galaxy S III. If Qualcomm's new chip is adopted in more models, the stock could take off. The chips will be available in the first and second quarters of this year, so investors should watch for news" - CNBC.
Qualcomm's market cap is now $110.34 billion. Billionaire Ken Fisher's Fisher Asset Management owned 9.2 million shares at the end of September 2012. Another major holder of Qualcomm was Lone Pine Capital, which is managed by billionaire Stephen Mandel. With a massive conservative effect, the company is cautious given the current market conditions. Qualcomm's strategic outlook towards growth will have to move forward from its existing smartphones dominance to stay ahead in the future. This aspect is promising for the company as the demand for high-end smartphones and tablets is on the rise. Its tablet market share is currently at around 4% with growth expectations.
Investors interested in Qualcomm tend to have two simple requirements: patience and growth until a pullback in technology stocks occurs. The stock is volatile which makes good for conservative investors. ARM is up 56% over the past twelve months and 639% over the past five years. Qualcomm is up 5% over the past twelve months and 51% over the past five years. Expectations on earnings for the next year's growth are for accelerating earnings. For investors who like the mobile sector, ARM and Qualcomm have offered great returns.
Qualcomm is a global leader in supplies of chips for cellphones. Founded in 1985, Qualcomm is an American telecommunications company that specializes in digital wireless telecommunications products. So, this company has a hand in everything from mobile phone components to chat programs to operating systems. Over the past 10 years, the company has made at least nine high-profile acquisitions, increasing the company's exposure to various wireless technology applications. This company brought in just under $15 billion in sales in 2011 and employs 21,200 worldwide.
Disclosure: I have no positions in any stocks mentioned, and no plans to initiate any positions within the next 72 hours. I wrote this article myself, and it expresses my own opinions. I am not receiving compensation for it (other than from Seeking Alpha). I have no business relationship with any company whose stock is mentioned in this article.