Summary: It was a difficult week for closed end funds (CEF) as the average price decline of the fund types was 9.9%. (CEFs were down 6.4% YTD). The same pattern of price movement among the fund types continued to play out in a hostile equities environment. While all fund types declined bond oriented fund types declined the least. Preferred funds continued to be rocked by the instability in the banking system—posting a decline of 21%. With the exception of world equity funds, all equity oriented funds posted declines lower than the fund types' average.
click to enlarge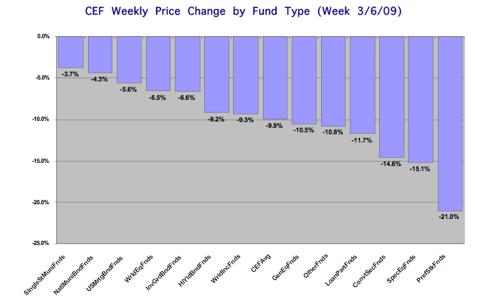 For the sake of weekly comparison, the SPDR S&P 500 (NYSEARCA:SPY) was down 6.8%. Vanguard Total Bond (NYSEARCA:BND) and iShares Muni fund (NYSEARCA:MUB) were essentially flat, off 0.5% and 0.9%, respectively. Gold (NYSEARCA:GLD) also failed to move the needle (down 0.4%) while oil, as measure by the US Oil ETF, advanced 3.5%. The biggest CEF gainer for the week was Morgan Stanley China Fund (NYSE:CAF), up 10.8%, and DWS RREEF Real Estate Fund (SRQ) was the biggest loser, off 36.5%.
One interesting observation: iPath Copper ETF (NYSEARCA:JJC) was up 9.2% last week, while the CEF Chile Fund (NYSEMKT:CH) was off 9.5%. A boost in cooper prices should have a positive impact on Chile's economy (mining 13% of GDP) if sustained. Chilean stock market was one of the few international equity markets up YTD (3/4/09), 8.3% is USD.
Disclosure: Long CH