The start of 2013 has treated the overall stock market well, but not some of investors' favorite dividend plays. It started with Cliff's Natural Resources (CLF), which slashed its dividend by 75% less than one year after doubling it twice within a year. That nice 4% yield that CLF had at the elevated levels of early-2012 as well as the 6-7% yield of recent months. Well, after the 70% stock price drop combined with the 75% dividend cut, the shares are now yielding a piddling 2.4%. Next up was supposedly-safe CenturyLink (CTL), the country's 3rd largest telephone company after Verizon (NYSE:VZ) and AT&T (NYSE:T). CTL ended a nearly 4-decade streak of dividend boosts by cutting its dividend by 25% and the stock swooned nearly point-for-point falling 22% the next day. A 7.2% yielder became a 6.2% yielder. And last week, Atlantic Power (AT) shocked investors (or did they?) with a 66% cut in its monthly dividend. AT shareholders suffered a 25% shellacking last week after the dividend cut, but the stock had already fallen 22% in the last month on expectations that something was wrong.
The old saying is the greater the yield, the greater the risk. There was no doubt that relative to the market's entire range of dividend payers as well as other more conservative names in their respective sectors, these companies were more aggressive in paying dividends. When financial prudence dictated reduced levels of cash for shareholders, the dividends were cut. We can argue about the timing, transparency, and necessity of the cuts - and folks are doing just that on Seeking Alpha - but they are now history and the question remains: where can investors find rock-solid dividend yields that are safe and growing?
If you believe that the economy will muddle through for another few years (or more), then a recent Morgan Stanley analysis showed that defensive, dividend-oriented stocks do well in a low- or slow-growth environment.
The importance of dividends in all but a rapidly-growing economy -- which seems unlikely with all the domestic and global debt overhangs -- is shown in this chart, which highlights how much dividends contribute to total return. If we are headed back to a stock market similar to that from 1946-1981 when bonds were in a secular bear market (which we have all been told is a certainty), then stock total returns will likely be more dependent on dividends. If rates don't rise because global growth stagnates, then even subdued stock returns are likely to have dividends comprise a large portion of the total return.
Here are 5 stocks that I have deemed worthy of inclusion for various income-oriented portfolios I manage over at here. Average yield is just under 5%, but more important, regular or near-regular dividend boosts are part of all of these companies' DNA. All of the portfolios emphasize dividends and 4 of the 5 stocks are in one or more portfolios. Each stock is from a different sector of the market: Energy, Telecom, Consumer Staples, Defense, and an MLP. Dividend coverage must be strong with the capacity to both maintain and boost future payouts.
Royal Dutch Shell (NYSE:RDS.B): Royal Dutch Shell is the 3rd largest oil company in the world, with operations in over 140 countries. The investment case for Royal Dutch is a company that has strongly recovered from its reserve debacle of a decade ago and has done the heavy CAPX lifting whereas others are having to ramp up their expenditures. As a result, Shell will be reaping the benefits from increasing free cash flow in the 2013-2017 period compared to peers. Operating cash flows should average $42-$50 billion annually (depending on oil and natgas prices) and CAPX should be in the $32-$35 billion range.
RDS should be a core holding in virtually any investor's portfolio, energy-themed or not. The company has the longest-life reserves of any major oil company.
Shell has started up 18 new projects since the end of 2009 which delivered $6 billion in cash flow in 2012, over 10% of the total and nearly 20% of total production. The three largest of these developments are Pearl GTL, Qatargas 4 LNG, and the Athabasca Oil Sands Project (ASOP) in Canada, which produced over 400 kboed in Q4 2012. Shell will deliver total 2012-2015 operating cash flows of $175 billion at $80 Brent and $200 billion at $100 Brent, a 30% to 50% increase compared with $143 billion over the prior four years at an average Brent price of $91/bbl. The $64,000 question is whether or not U.S./North American gas prices can move closer to $5/mcf than $3/mcf. That would be the icing on the cake for Shell investors.
The company is currently ramping up and hitting on LNG projects in Qatar and Australia, which are able to sell into the lucrative Asian market at $16-$18/mcf, instead of the sub-$4/mcf in the United States or even the $10-$12/mcf in Europe. The assets underpinning the LNG assets, along with oil sands and shale assets, are part of the LDRA (Low Decline Rate Asset) portfolio that Shell has accumulated in the last 10 years to re-build its reserves. While LDRA projects require a larger initial up-front CAPX expenditure, over the life of the project total CAPX are less. Plus, the long-life of the assets means that you don't have to go out and find another large resource base, risking dry holes, cost overruns, project delays, etc. The longer an oil company can mine existing projects and resource bases without having to go out and find new 'elephant fields', the better in reducing CAPX intensity and generating higher ROEs and free cash flow.
Shell's dual-class structure, a legacy of the Dutch and British histories of the combined oil giant, actually helps support dividend growth as sizeable share buybacks are complicated due to Dutch tax law. Until the 2 share classes are merged, sizeable buybacks are unlikely and shareholder rewards are likely to be solely from the dividend. Royal Dutch Shell's multi-decade dividend growth is impressive.
The greatest risk to the share price, probably more than even an oil price decline, would be a sizeable acquisition which might spook investors. Shell was a disciplined buyer in not overpaying to enter the monster Mozambique LNG field, but then turned around and appears to have overpaid for Repsol's global LNG assets. A deal for Anadarko Petroleum (NYSE:APC) would be a perfect fit, but hugely expensive.
After stalling for a few years, Shell increased the dividend earlier this year to an annual rate of $3.60. This is a payout ratio in the 40% range of earnings, giving investors a big cushion. Shell can likely maintain both the dividend and CAPX for up to 5 years even if Brent oil traded down to $50 per barrel, such is the strength of the balance sheet and the cash flows the company generates. Shell's rolling 5-year dividend growth going back to the 1970's has never averaged less than 3% so investors can expect consistent if not outsized boosts over time. The dividend has been raised an average of 5.7% over the last 30 years.
BCE, Inc. (NYSE:BCE): BCE, also known as Bell Canada Enterprises, has multiple subsidiaries including Bell Canada, the incumbent local exchange carrier for telephone and DSL Internet services in most of Canada east of Manitoba and in the Northern territories. Bell is also a major CLEC for enterprise customers in the Western provinces. Bell Mobility is one of Canada's "Big 3" wireless providers. Bell TV provides home satellite TV service. Bell Canada's principal competition is Rogers Communications (NYSE:RCI) and the company has over 13 million phone lines.
In addition to its core telecommunications operations, BCE owns Bell Media, which operates media properties including CTV Network. BCE also owns 18% of the NHL Montreal Canadiens and is purchasing a 37.5% interest in Maple Leaf Sports & Entertainment, owner of several Toronto professional sports franchises.
Bell serves approximately 2.1 million people via high-speed Internet DSL or fiber lines and had 7.4 million wireless customers (as of 12/31/11). It operates approximately 28 conventional over-the-air stations and 30 English and French-language specialty television channels as well as 33 FM and AM radio stations.
The Canadian telecom sector has less pricing pressure than the U.S. market and wireless penetration is at 78% vs. 100% in the U.S., so subscriber growth and stable-to-rising margins are likely for years to come. BCE paid $750 MM into its pension plan a few weeks ago so the plan is better-funded. A 1% rise in long-term interest rates would wipe out the funding deficit by 2015. In the meantime, the funding ratio shortfall is manageable. BCE's debt/EBITA leverage is in the 2.0x range, closer to AT&T and Verizon than some of the rural U.S. carriers north of 3x. BCE wants to get it into the 1.5 - 2.0x range but if the Astral Media (OTC:AAIAF) merger goes through, the leverage edges up and it will likely be at 2x in the 2015 timeframe.
Valuations for the Canadian telecom sector are well off their previous peaks of a decade ago.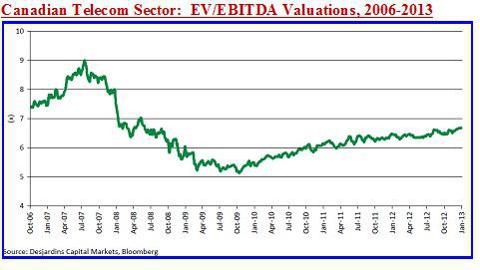 (Click to enlarge)
BCE pays a dividend of 5.2% and the FCF payout ratio is about 70%, though BCE management is being conservative in assuming the Astral merger does not go through. On dividend yield, BCE is yielding 40 bps over the U.S. RBOCs vs. the 3-year avg. of -20 bps.
BCE raised the dividend twice in the last 12 months, a nice surprise and an indication that management feels that pressures in wireline and margin expansion in wireless are both headed in the right direction. BCE trades at a 12% discount to the U.S. RBOCs on a P/E basis, and is just now approaching the lower level of the 12-18x P/E it traded at for most of the 2000-08 period before the Credit Crisis.
With more levers to generate cash, less competition, and better growth prospects, BCE is a solid alternative to the reflexive choice in the U.S. to simply buy the RBOCs for their dividends.
Philip Morris (NYSE:PM): Philip Morris is the largest private cigarette company in the world, with a 16% share of the global cigarette market, 29% ex-U.S. and ex-China. Only the monopoly Chinese National Tobacco Company, with exclusive control of the 2.4 trillion stick Chinese market, is larger. Philip Morris' 930 billion sticks sold in 2012 enabled it to have 15% or higher market share in 98 countries globally. PM aims to deliver double-digit local currency EPS growth over time. The company's stable of premium cigarette brands - led by Marlboro, the world's best-selling cigarette brand - allows PM the ability to adapt rapidly to changing consumer tastes and economic conditions.
While the valuation of Philip Morris has improved since it was moved out of Altria (NYSE:MO), it is still cheap relative to global consumer staples companies.
Because Philip Morris sells products in so many countries, it has a built-in-hedging in so far as no single country dominates earnings. Of course, a rising dollar against the largest market currencies (the euro or yen) can still influence short-term fluctuations in currency. Besides a rising dollar, other risks that bear watching include rising excise taxes (such as recently passed in the Philippines), the release of the European Community's draft of the Tobacco Products Directive, and the biggest threat (though of dubious legality) which is any attempt to expand the plain packaging initiative of Australia. For the most part, these are one-time negative events that once 'lapped' on an annual comp basis do not materially interfere with Philip Morris' ability to deliver double-digit EPS growth.
The big enchilada remains entry into the Chinese market. With over twice PM's current global sales, the Chinese market is heavily controlled by the Chinese government/CNTC. With good reason: the state monopoly generated $40 billion in cash flow to the Chinese government to assist with other spending/projects. That cash flow is growing 15% or more annually. PM is the only company manufacturing a brand (Marlboro) with any sizeable market share, a rounding error of 0.1% (about 2 billion sticks annually). China heavily restricts anybody but the CNTC from being allowed wider access to the Chinese consumer. If Philip Morris can establish scale in 5-10 years it will be an added volume grower to fast-growing Asian markets and possibly Africa. As these countries continue to grow faster than developed countries, their consumers have fast-growing incomes and trading-up to premium brands like Marlboro is increasingly fashionable. Smoking rates are also higher in these countries (in Vietnam and China, more than half of all adults smoke).
Philip Morris has raised its dividend every year since being spun off from Altria Group in 2008. The payout ratio is 62% of earnings. PM can borrow after-tax at far less than the dividend rate, which adds to cash flow and per-share cash flow (they recently did a 6-year bond offering at under 1% !).
While PM has been very generous in boosting its dividend, it has also been active in actually retiring shares outstanding.
PM does not just announce buybacks or take back stock grants or options, they are a corporate leader in actually retiring shares. In June 2012, PM announced its Board had approved a new three-year, $18 billion repurchase program, which began on Aug. 1, 2012 (subsequent to the completion of the company's previous $12 billion repurchase program). PM has indicated that it intends to repurchase $6 billion worth of shares in 2013 under the program.
Lockheed Martin (NYSE:LMT): Lockheed Martin is the largest defense contractor in the world. Unfortunately, it's primary customer is the United States government and the Department Of Defense, who have not been in a spendthrift mode the last few years or likely to resume spending in the next few years. International sales (17% of 2012 revenues) are picking up and set to represent ~20% of sales within the next few years. The company generated 2012 sales of $47.2 billion and operating margins of 11.8%. Products made by Lockheed include the C-130J transport, the F-35 Joint Strike Fighter, the Hellfire Missile, Patriot missile defense, Trident submarine missile, and dozens of other defense, electronic, and surveillance programs. LMT also houses the legendary "Skunkworks" research facility, where many top-secret projects came to fruition, notably the 1960's SR-71 Blackbird spy plane.
There is a lot of uncertainty regarding the defense budget and the winding downs of overseas contingency operations in Afghanistan and Iraq. But contrary to what most believe, defense contractors did better in the 1990's in absolute and relative terms (to the S&P 500) during the end of the Cold War than in the 1980's when the defense budget was being ramped up. This is not too surprising upon closer glance: military contractors tend to overbid for sexy, low-ROE projects that often have major cost overruns during military buildup periods. Conversely, when budgets are tighter and there is less competition for bidding, defense companies tend to focus on shareholder items like buybacks and dividends. Before it was acquired by Boeing (NYSE:BA) in 1997, McDonnell Douglas suffered a string of civilian aircraft order and military procurement bidding losses in the early-1990's. But the stock rose nearly 400% in 7 years before it was taken over by Boeing, whose shares had lagged badly, up just over 100%. The 2nd-rate company had done far better than the industry leader for its shareholders.
The total size of the J-35 Strike Fighter remains a big question mark, but any weakness in NATO partner nation appetite could be offset by other countries including Japan, Korea, Singapore, and/or Israel. Even if the program were cut in half (to ~1,500), it would still be worth 7.5 years of production at maximum production rates, and likely closer to 15-20 years.
What does this mean for LMT shareholders? Well, in the past five years, Lockheed Martin has returned over 100% of free cash flow to shareholders through dividends and buybacks; European defense contractors are much more stingy, returning only about 40%. With an annual dividend of $4.60, LMT is paying out just over 50% of earnings, but the dividend+share buyback yield is even more impressive.
At year-end 2012, the company made a sizeable contribution to their pension fund which will help GAAP earnings and cash flows going forward since the need for future sizeable contributions should be minimized. The share buybacks are the discretionary item, as LMT has prioritized the dividend with buybacks fluctuating as earnings and cash flow rise and fall. LMT management has stated that their goal is to return at least 50% of cash flow to shareholders annually, so the dividend would appear well-protected, with the buybacks being discretionary. Institutional investors, the bulk of LMT's investor base, have let the company know that they prefer dividends over buybacks and LMT management appears to have taken the message to heart. LMT is not likely to match the 12-year record of 20% CAGR in the dividend, but with plentiful cash flows and a large stock buyback program that can absorb some boosts, the dividend and growth appear well-defended from this defense goliath.
Plains All American Pipeline (NYSE:PAA): PAA is one of the largest and most successful MLPs in the country. Plains All American Pipeline engages in the transportation, storage, and marketing of crude oil, refined products, and liquid petroleum gas (NYSE:LPG) products in the United States and Canada. Transportation, Facilities, and Supply & Logistics are the main divisions. The Transportation segment transports crude oil and refined products on pipelines, gathering systems, trucks, and barges. PAA owns/leases over 16,000 miles of active crude oil and refined products pipelines and gathering systems combined with 25 million barrels of above-ground tank capacity. The Facilities segment provides storage, terminal support, other services for crude oil, refined products, and LPG/NG fractionation and natural gas processing.
PAA is well-positioned over the next few years based on its strong asset base that offers attractive organic growth opportunities. PAA continues to grow its rail crude transportation assets and closed on the acquisition of five rail terminals in Q4. Rail assets are currently in much demand and seeing a big investment inflow and large capacity build-out, and integration of these assets with the partnership's existing infrastructure will provide additional synergies.
The continued growth of both shale gas and oil is poised to accelerate over the next few years. PAA has competitive advantages via strategically-located crude pipelines and storage centers that allow it to capitalize on the supply and demand imbalances and oil/natgas differentials that regularly occur in the U.S. and Canadian crude oil markets.
Strategic interests in the Bakken, Permian, and Eagle Ford shales allow PAA to take advantage of the burgeoning crude supply and the growing need to get that crude to refiners or other end-users. About 60% of the partnership's 2012 cash flows were derived from stable, fee-based businesses such as crude oil transportation and terminal fees with the remainder coming from Supply & Logistics operations which have some exposure to changes in commodity prices. Cash flow and EPS growth going forward will be restrained by the 50/50 split of the incentive distribution rights. If basis differentials fall sharply or Seaway and other expansion projects move ahead of schedule and alleviate pricing gluts, PAA will no longer have those tailwinds to earnings and cash flows.
PAA reported a blowout Q4 2012 with EBITDA almost 15% above consensus. Distributable cash flow was 20% above consensus and covered the distributions paid by 1.7x, well above the 1.1-1.2x MLP average. PAA's previously announced Q4 2012 declared distribution per unit of $0.5625 was in line with expectations. PAA's 2013 EBITDA guidance of $1.975 - $2.075 billion and distribution growth of 9-10% is consistent with the upwardly revised guidance PAA provided. PAA has a history of steadily increasing its guidance throughout the year; they prefer to be conservative early before bringing out the good news.
Plains currently is paying an annualized $2.25 distribution, providing for a 4.1% yield. There are higher yielding MLPs (with greater risks) and faster-growing MLPs (also with risks) but few MLPs have the depth of operations, infrastructure, and well-regarded management that PAA brings to investors. An investment in PAA will invite a K-1, so make sure you are up-to-speed on investing in MLPs with all the attendant tax consequences.
I believe that many of the higher-yielding sectors that Seeking Alpha and other sites explore are appropriate for income-investors. mREITs, BDCs, and MLPs are excellent investments depending on their valuation and where they are in their business cycle. The problem is that their higher-volatility and risks get overlooked and investors tend to devise a portfolio entirely of such high-beta investments. At times they may act defensive - mREITs during 2008-09, for instance -- but other times a diversified portfolio of high-dividend yielders can act very non-diversified.
So it is imperative that you not lose sight of this fact and adhere to prudent asset allocation guidelines with safe, low-yielding assets that provide portfolio ballast. These include bond funds, CD's and treasuries, and even cash. And of course, traditional stocks that pay normal dividends but are abnormally attractive in a Fed world of ZIRP. These 5 stocks listed above are names that I believe can be considered core holdings, stocks not to be sold even during market sell-offs. Their rock-solid dividends will not likely be threatened by a financial or economic downturn and will provide yield support to breaking the stock's decline in such a selloff. Once things return to normal, these stocks should be able to grow their dividends in the mid-to-high single digit range.
No, not super-sexy. But sometimes Plain Jane is the prettiest girl at the investment ball.
Disclosure: I have no positions in any stocks mentioned, and no plans to initiate any positions within the next 72 hours. I wrote this article myself, and it expresses my own opinions. I am not receiving compensation for it (other than from Seeking Alpha). I have no business relationship with any company whose stock is mentioned in this article. Online model portfolios and managed accounts controlled by the author may have positions in all of the stocks mentioned. The author himself has no positions in any of the stocks mentioned.