By now it's highly unlikely that you've not heard about Michael Dell's bid to take Dell Inc. (NASDAQ:DELL) private. The controversy has dominated the financial press for a couple months, and there are many strong opinions in favor of and against the deal. However, it is my opinion that unlike in the failed Best Buy (NYSE:BBY) buyout, there is a possibility the current drama was very deliberately planned by Michael Dell and his advisors to ultimately allow him to take the company private well below what asset managers would like. While that may sound like a sensationalist claim, I think that going through the entire background of the deal at once makes the possibility appear far more realistic than any other alternative. To that end, I've provided a detailed recap of the deal history followed by a brief discussion of the political factors, as well as shareholder breakdown data. Please comment and critique as you see fit. The opinions expressed below are my own hypotheses based on personal research, and I would enjoy hearing other well-supported views.
I've included citations so that you can verify and evaluate for yourself. I will use Dell Inc.'s ticker, DELL, in all caps to refer to the company in order to avoid confusion.
January 12: Rumors of DELL acquisition leak, stock begins rise from $11.83.
January 23: SA article argues $15.95 as fair price for DELL.
February 5: DELL files 8-K announcing agreement to go private in an acquisition by Michael Dell & Silver Lake Partners at $13.65. DELL is advised by Goldman Sachs (NYSE:GS) and Evercore Partners (NYSE:EVR) will run a 45-day go shop to seek out counter-offers.
February 8: Southeastern Asset Management - the 2nd largest DELL shareholder - files 13D regarding a letter to DELL's Board of Directors stating Southeastern's intent to combat the acquisition, stating:
On February 5, 2013, the Issuer announced that it had signed a definitive merger agreement pursuant to which Michael Dell, together with Silver Lake Partners, intend to cash-out existing stockholders of the Issuer at a per share price of $13.65 in a "going private" transaction. In response to such announcement, on February 8, 2013, Southeastern sent a letter to the Board of Directors of the Issuer expressing its extreme disappointment in the per share price of $13.65, which Southeastern believes grossly undervalues the Issuer. The letter also expressed Southeastern's current intent to vote against the proposed transaction as currently structured. The letter further stated that Southeastern currently intends to avail itself of all options at its disposal to oppose the proposed transaction, including but not limited to a proxy fight, litigation claims and any available Delaware statutory appraisal rights. SEC Filing
February 12: Peter Misek, Jefferies analyst, suggests a bid increase to $15 is a possibility and such an increase would abate criticism. Also states that he thinks "$17 is unlikely."
Financial Times piece by Richard Waters unveils next largest outside shareholder, T Rowe Price, also opposes the deal. Brian Rogers, CIO of T Rowe, says he "believe[s] the proposed buyout does not reflect the value of Dell." At the same time, Southeastern Asset Management hires D.F. King & Co., the largest proxy solicitor in the world, to drum up votes against the deal. The combined hype drives DELL shares up past the buyout price of $13.65 to $13.78. Silver Lake counters by saying that without a buyout, the stock goes back to being "an $8 stock." (Interesting to note that DELL never dropped to $8. Its lowest point was $8.69.)
Waters notes that some of the opposition to the buyout don't think a price increase is happening. Richard Pzena, Pzena Investment Management (NYSE:PZN) founder, is then quoted as saying:"I think most of the shareholders who are voicing this strong opposition want more than $20. I just don't think that's forthcoming from this buyout group, so the most likely outcome is this [deal] won't happen."
February 14: Announcement DELL is planning shareholder meetings to assess LBO "demands." A majority of shareholders (not including Michael Dell and other Executives/Insiders) must vote in favor of the transaction for it to clear.
Investors expected to push for higher price; failing that a special dividend. Deal targeted to close in summer 2013.
More opinions on price emerge: SA author lays out the parameters of the proxy fight trade. Many think $15 or $17 take-out prices are the most realistic options, representing 8.7% and 23.2% premiums over the current $13.65 take-out price.
February 15: Additional arguments emerge on DELL's value. SA author contends the company is difficult to value at present. Southeastern has no such difficulty. They value the stock at $24. Piling on top, Richard Pzena claims $25 per share.
Ethics becomes a point of contention. An SA article discusses the possibly unethical nature of the DELL acquisition, and some interesting commentary discusses the possibility that an acquisition of DELL by a Chinese firm for ~$23 per share could be a viable counter-argument to the deal now. Opinions surface that Michael Dell knew that he couldn't buy the company at $13.65; intentionally under-bid so that he could "concede" investor demands and up his bid to only $15-18, well below the low-20s numbers thrown around by Southeastern and Pzena.
February 16: Ben Stein writes a scathing op ed arguing that this type of LBO is inherently the same as insider trading.
February 20: Motley Fool author argues DELL is worth at least $23 per share. Highlights trend of steadily inflating bid expectations.
February 21: Financing details for the DELL LBO announced. Interestingly, Michael Dell's bridge loans are very covenant-light, meaning that DELL hypothetically would not face typical levels of stringency. Without much imagination, it could be argued that the low-covenant financing leaves the window open for a bid price increase, and that it was deliberately planned that way.
February 22: In the process of banging his anti-Apple (NASDAQ:AAPL) cash hoard war drum, Hedge Fund icon David Einhorn shreds DELL as an example of shareholder-unfriendliness and cash management. Choice quotes include:
"Dell's go-private effort shows the disingenuous nature of hoarding cash."

"Michael Dell probably didn't mind the stock falling, [and] now he wants to take Dell private and, voila, the balance sheet will be fully utilized to finance his purchase of the company."

"In other words management actions show that when it is our money, it needs to be held conservatively and reserved for strategic flexibility, but when it is their money, they don't need so much rainy day cash and they would like to see the balance sheet working harder to generate the maximum return on equity."
March 1: Endless chatter from the peanut gallery highlights the stark silence from Michael Dell for over a month. Dan Primack, a writer for CNN Money, publishes a bold article entitled "Michael Dell needs to talk or quit." It says pretty much exactly what you'd expect it to.
March 3: Famed financial author William D. Cohan - whose work I quite enjoy - comes out swinging and finally takes a stand for the Goldman Sachs' and Michael Dell's of the world, defending the LBO price and even noting that Michael Dell offered the "nice gesture" of valuing his shares at a 2.2% (or $71mm) haircut. Sarcasm aside, Mr. Cohan does his homework and offers consideration for those viewing Michael Dell's bid as attempted robbery.
The special committee [had] met more than 25 times, according to Dell's public filings, including participating in six board meetings with only the independent directors present (meaning without Michael Dell, the board's chairman.) Working with JPMorgan Chase & Co., its financial adviser; Debevoise & Plimpton LLP, its legal adviser; and an unidentified management consultant who was hired to conduct a strategic review of the company, the committee spent five months considering a variety of alternatives to what Dell was proposing.
…
With all of that in mind, there are a few major takeaways that investors should be aware of.
First, at this point in time traditional valuation models are likely worthless in determining the potential execution price of this deal. Michael Dell would have no incentive to take DELL private if he believed he was only able of transforming the company within the current range of plausibility. Second, it is very clear Michael Dell has a strategy that he is confident in to bring his company back from irrelevance. However, that produces a clear conflict of interest between Michael Dell - who is attempting to capture all of the turnaround gains for himself - and his company's shareholders, many of whom invested in DELL during its recent dip for those very same turnaround profits.
Personally, I am not bullish on DELL by any means. It's been years since I could describe their products, business model, customer service, and anything else they do as anything other than obsolete and inferior to their fast-moving competition. Transformation into a services and small business hardware company may vindicate them, but I wouldn't bet on it. Even so, Michael Dell cannot play this game where he both believes himself (and tells his Private Equity partners) that he can flip this failing behemoth over a number of years - and that it is severely undervalued as a result - while also claiming that a purchase price of $13.65 per share is remotely near fair value to shareholders. To those who would point to cash flows or multiples to say that it is, I will simply counter that Michael Dell's unwillingness to improve his own company while it exists as a public company entirely negates a traditional valuation model. From the perspective of many, including David Einhorn, DELL has for all intents and purposes been sabotaged.
William D. Cohan's defense of the transaction takes advantage of the brilliant (and logically flawed) investment banking negotiation technique of re-framing the valuation in the most negative light possible for the seller. Unfortunately for him and that school of thought, this is the public market, not a Goldman Sachs IBD conference call. The traders (read: 2-ton Great White Sharks) determine the value of an asset here, and what that boils down to is game theory. Michael Dell believes his arguably deliberately depressed company is worth far more than it is trading at now. Regardless of what I or anybody else thinks, the fact that the market knows what Michael Dell thinks is all that matters, and the market is going to make him pay for it.
A problem is that Michael Dell isn't the only one who thinks DELL is worth far more than it's trading at right now. All of its major shareholders do. What's worse for Michael Dell's buyout bid is that the bulk of DELL's mutual fund holders are either index funds (who have no opinion on holdings), or long-term value/growth funds that had every intention of holding DELL for years back when it was at $9. That long-term perspective is what pumps out share values of $24, $25, $26 from institutional investors like Southeastern.
Even at a superficial glance, with no word from Michael Dell and shareholders piling up against him, it appears very unlikely that DELL can be taken private without a bid increase. The stock has been trading upwards of $14 when the bid is only $13.65. That being the case, the most frequent opinion out there is that Michael Dell will raise his bid to $15-$17, and he certainly could do that with his resources and the current low-covenant financing agreements. The numbers are slowly clamoring upward the more people continue to write about this with no resolution.
Without a resolution, it's only a matter of time until the lawyers come out to play, and they are going to rack up some seriously huge fees if that happens. At a minimum, Southeastern Asset Management is riled up enough to pursue serious legal action just based on the language in their filings and press statements. For Michael Dell, litigation should be a very real concern not only to this deal, but also to himself. When Ben Stein singles you and your company out as an example of corporate ethical rot while David Einhorn casually says he thinks you tanked your own company intentionally (without any dissenting opinions), you may want to avoid getting sued by a combined armada of mega-asset managers.
Setting aside the situational aspects of the deal, what are the odds of it going through? Most sources view this as a matter of speculation while a few refer to estimated stakes that various holders have in DELL's common equity. To get a real answer I pulled DELL's total latest holder information from S&P Capital IQ. From this data, I could immediately remove Michael Dell and other insiders, who will not vote on the deal. Then I could go through and mark holders who have already publicly stated that they would vote against the deal. Calling to mind that the deal requires votes in favor from 51% of shares excluding Michael Dell and insiders, I then evaluated the breakdown of shares by individual holder type and driving characteristics, as well as specific funds in the case of asset management firms.
Removing the total shares held by Individuals/Insiders from total outstanding shares produces an accurate approximation of the total shares potentially available to vote on the DELL LBO. To approve the deal, there needs to be votes in favor from over 50% of the shares able to vote. Halving the voting shares total yields the approval threshold that must be met in order to execute the LBO. In order to evaluate the odds of execution, I simply subtracted the cumulative impact of shareholders who will vote against the deal in waves.

Weak Hands
The first portion of shareholders I marked off were those who would unquestionably sell now for a guaranteed profit if they were going to vote in favor of the merger. This included all institutional owner classes with the exceptions of traditional investment managers and banks/investment banks.

Opposing Managers
The second portion of the holders marked off was the group of institutions who've voiced disagreement with the buyout price publicly. Harris Associates L.P. and Yacktman Asset Management Co. did not specifically say that they were opposing the merger, but they did express discontent. Continued buying by both indicates an intention not to vote in favor (why buy to lose?).

Public and Other
The third portion marked off was the Public and Other section of holders, who were removed for the same reasons as the weak hands. Any holders who would vote in favor would have an incentive to sell, and on top of that D.F. King & Co. is acting to solicit votes against.
Manager Policies
Some institutions' stated policies and track records implied a strong likelihood to vote one way or another. To avoid too much speculation, I've only included two funds as examples in my share calculations.
Dodge & Cox's M&A proxy guidelines encourage a delay of vote in the event that support is not sufficient. Their mandate states:
When Dodge & Cox is in favor of a merger, acquisition or spinoff, Dodge & Cox will typically support a proposal to adjourn the meeting when votes for a merger or acquisition are insufficient, as this gives management additional opportunities to present shareholders with information about its proposals.
Given how that support for the deal is at best close, Dodge & Cox cannot be counted as a vote in favor, and thus can be deducted from the threshold.
Geode Capital Management, LLC, an index fund spin-off of Fidelity, can also be removed from the population of votes in favor of the LBO due to the nature of index fund investing.

Index Funds
Index funds should theoretically vote against takeout deals like this because their mandate is to track the index, not alter it. A passive index fund manager has no incentive to get involved in anything that would alter the composition of the index in question. If the merger were to pass, then the fund would adjust accordingly, but acting to trigger that change would be directly in conflict with the objective purpose of most index funds.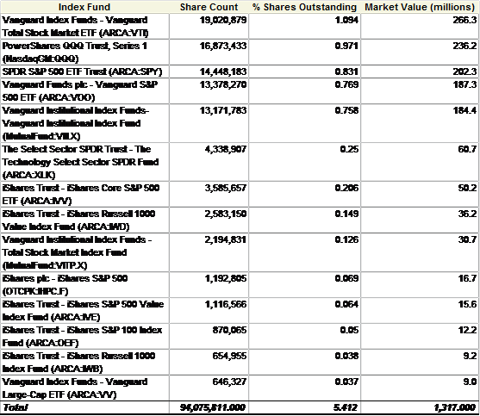 So we can determine with very reasonable assumptions that the LBO cannot go through under the current state of affairs. The bid price is simply too low and the current stock price above the bid allows everyone who would vote in favor of the deal to exit at a sure profit. Additionally, by all reports, there is only continued buying by the LBO opposition, and that strengthens their case while providing further exit opportunities for larger players who would otherwise vote in favor of the deal. Consequently, increased consolidation of shares should diminish the downside risk if the deal is simply pulled off the table, as a significantly larger percentage of shares will be held by long-term investment funds.
What's interesting is that all of the data I've used was available a month before Michael Dell made his bid. The environment has only gotten worse, but it seemed very obvious that this deal would never go through at $13.65 using only data available December 31, 2012. Regardless of what you think of Michael Dell, Silver Lake, Goldman Sachs, or anyone else involved in this deal, no one would say that any of them is stupid. I believe that the most likely scenario is that Michael Dell and his advisors saw this exact situation coming and prepared for it. No one would pay the $24 per share asked by some for DELL, but $15-18? Not outrageous.
I think Michael Dell and Silver Lake bid to buy out DELL at a price far below what they actually expected to buy it at. They structured their debt with low covenants specifically to allow them to substantially alter their bid to a price that would actually get the deal done. The problem then becomes a question of how to avoid essentially haggling over the stock. Any upward pricing talk would trigger the stock, and then it would be almost impossible to argue the price down, eventually causing the deal to fall apart. But Michael Dell chose to bid so low that in a matter of days all parties who would potentially oppose a buyout identified themselves and unified to a degree. Now he's essentially left with one group to negotiate with, and if he can get them to agree to a price, the deal will go through without a hitch.
From my point of view, it makes the most sense to assume the current situation was planned. Otherwise, you'd be forced to assume a severe degree of incompetence on the part of Michael Dell, Silver Lake, and their advisors. I expect the buyout groups to meet with Southeastern Asset Management and a few of the other major holders and then announce a strongly increased bid of $17-18 that gets the deal done without any more debate. The target close period of this summer and the low rate environment both favor a resolution sooner rather than later.
Disclosure: I am long DELL. I wrote this article myself, and it expresses my own opinions. I am not receiving compensation for it (other than from Seeking Alpha). I have no business relationship with any company whose stock is mentioned in this article.