This is a simple insight: Micron (NASDAQ:MU) seems likely to beat estimates for the February and May quarters. The reason is simple and has already been given some exposure in Russ Fischer articles on the name. Basically DRAM prices are going through the roof since early December 2012.
The DXI index below, taken from DRAMExchange.com, is a composite of DRAM prices. The trend is easy to observe: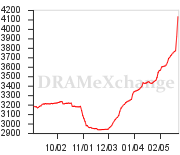 Obviously the DRAM prices are just one variable. The other variable is how analysts have incorporated this movement into their earnings estimates. This is what happened in the last 90 days (so encompassing all the DRAM rally):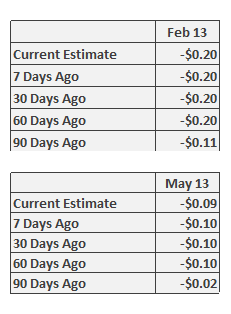 Again, the estimates have been mostly unchanged, which leads me to believe that Micron will beat both the February consensus, and guide higher than the May consensus. A beat and guide higher is usually enough to provide some additional upside, even if the Micron stock has been on a tear for a while, also helped by the torrid Bernanke-decreed market.
Conclusion
Taking into account the behavior of DRAM prices and the lack of movement on Micron earnings estimates, I believe Micron is likely to beat its earnings estimates for the February quarter and guide higher for the May quarter. Micron reports on March 18.
Disclosure: I have no positions in any stocks mentioned, and no plans to initiate any positions within the next 72 hours. I wrote this article myself, and it expresses my own opinions. I am not receiving compensation for it (other than from Seeking Alpha). I have no business relationship with any company whose stock is mentioned in this article.