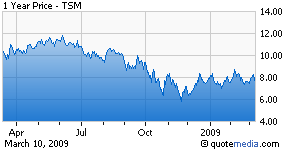 In an upbeat sign for the chip industry, Taiwan Semiconductor (NYSE:TSM) has raised its revenue guidance for its fiscal first quarter ending March 31. The contract chip fab says it now sees revenue for the quarter of between NT$36 billion and NT$38 billion, above previous guidance of $NT32 billion to NT$35 billion. The company said the higher guidance reflects "quick orders from customers, especially from the mainland Chinese market, and a stronger U.S. dollar."
Taiwan Semi said it now sees Q1 gross margin of 14%-16%, with operating margin of -2% to 0%; previous guidance was for 1%-5% gross margins and operating margins of -15% to -19%.
The company also said that February sales were about NT$11.5 billion, down 7.5% from January, and off 59.5% from a year ago. For the first two months of the quarter, sales totaled NT$23.94 billion, down 59.2% from a year earlier.
In early trading Tuesday, TSM is up 21 cents, or 2.7%, to $7.95.