The iShares MSCI Turkey ETF (NYSEARCA:TUR) is on a six-day winning streak after a sharp pullback that started in mid-January.
"With Turkey exhibiting positive demographics, strong consumer demand and an open, competitive economy, the country is at a figurative, as well as literal, crossroad between Europe and Asia," says Frank Holmes, CEO and chief investment officer at U.S. Global Investors. The firm manages the Eastern European Fund (MUTF:EUROX).
The Turkey ETF was one of last year's top performers in emerging markets with a 65.6% rally in 2012, according to Morningstar data.
However, one reason for the recent weakness in TUR is a lower Turkish lira versus the U.S. dollar.
In Turkey, investors will keep a close eye on the country's current-account deficit and the European economy, Barron's reports.
However, Holmes says after a decade of fiscally responsible actions, Turkey is the picture of a growing prosperity.
"Investment managers like me aren't the only ones showing increased interest in Turkey. Secretary of State John Kerry visited Turkey this week during his first overseas trip as America's top diplomat," Holmes wrote in a blog post.
There is also talk in Europe of finally admitting Turkey to the EU, he adds. "Turkey's admittance to the EU had stalled over Cyprus, but more recently, France and Germany seem to be warming to the idea," Holmes said.
Still, the Turkey ETF's recent pullback was driven partly by disappointment that Moody's didn't upgrade the emerging market's credit rating.
Yet Holmes points to Turkey's well-capitalized banks, solid GDP growth and manufacturing sector strength as positive factors.
iShares MSCI Turkey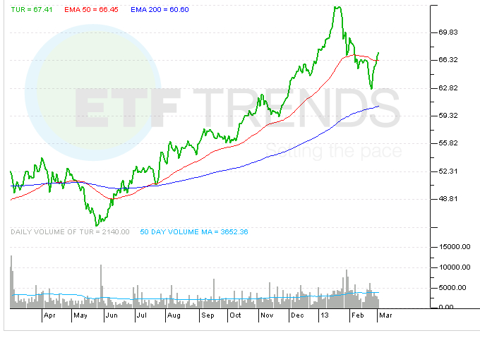 Click to enlarge
Full disclosure: Tom Lydon is on the board of directors for U.S. Global Investors.
Disclosure: I have no positions in any stocks mentioned, and no plans to initiate any positions within the next 72 hours. I wrote this article myself, and it expresses my own opinions. I am not receiving compensation for it. I have no business relationship with any company whose stock is mentioned in this article.