Google's (NASDAQ:GOOG) stock fell decidedly below the psychologically significant mark of $300 per share Tuesday. The stock has fallen 60% overall from its high near $720 and sits near its 2004-2005 prices. Despite this, Google remains a global leader in search, internet advertising, and has its finger on the pulse of innovative web services. The bull cases for Google, which I've written about several times (Google's earnings power and Google's search share), remain intact in the long run. Does that mean the shares necessarily imply a great risk-reward tradeoff now?
For perspective, let's take a look at Google's performance and its stock performance over a similar period.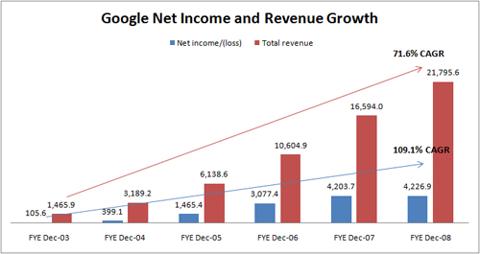 Special thanks to GridStone Research for the graph and data

Overall, Google's stock grew at a 93% CAGR from its IPO in 2004 until 2007. Even including the precipitous drop in 2008, the stock has grown at a 30% CAGR. Since 2003, Google has grown its revenue at a 72.6% CAGR and its net income at a 109.1% CAGR. Roughly normalizing to the 2004-2008 time period, Google's revenue and net income have grown at 62% and 80% CAGR, respectively.
It's clear that Google's stock grew relatively in line with its net income; in fact, even at its peak, Google's stock growth never outpaced its net income growth rate, thus implying that wild multiple expansion was not responsible for investor returns over the last five years.
Unfortunately, with the changing economic outlook, the market seems to be preemptively punishing Google for slowing growth. If the current share price holds, the implication is that the Company will not grow net income from 2008 levels for another three years, assuming that a stock's return (30% CAGR, today) trends towards the long-term growth rate of a company.
This return scenario seems compelling for a long term investor, given that we remain dependent on growth for our returns as opposed to any fundamental valuation. It's hard to ascertain whether or not the stock current price represents a reasonable entry point.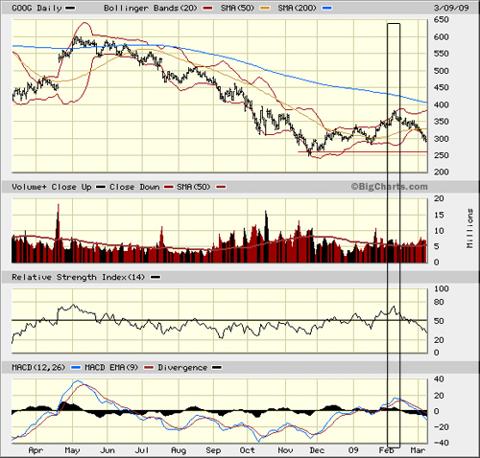 Unfortunately, Google's stock chart does not seem overly compelling today, after a bullish cross through its 50-day moving average and up towards its 200-day moving average, an important development for a reversal. In the area marked, it is interesting to note that all short term indicators were overwhelmingly positive just before Google's swift and violent correction over the last month. The stock has failed its downside test for 50-day support. Further, the very short term uptrend has all but been violated and it seems a test of its 52-week closing low of $257.44 may be likely. For those with a long term perspective looking for an opportunistic entry into Google's stock, you may be better off on the sidelines for the time being. But probably not for long. Keep an eye out for a strong bounce off the stock's lows, that will mark your best near term entry point.
Full Disclosure: Author is long shares of GOOG at the time of writing.