If you're in the market for a long-term growth and income play, which has demonstrated a significant increase in its Caribbean-based wireless revenues, and is located in the telecom sector then I have a pretty viable long-term play demonstrating the above mentioned catalysts.
Atlantic Tele-Network, Inc. (NASDAQ:ATNI) is a telecommunications company providing its services to under-served markets in North America and the Caribbean. Through the company's operating subsidiaries, ANTI provides both wireless and wire line connectivity to residential and business customers, including a range of mobile wireless solutions, local exchange services and broadband internet services". Shares of ATNI which closed Tuesday's trading at $46.78/share currently yield 2.15 % ($1.00) and trade an average of just 78,393 shares per session. One of the things I should point out for growth investors is the fact that shares of ATNI are 29.35% higher since January 1st of this year.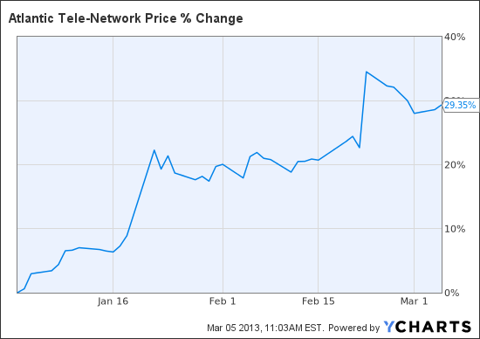 There are four things to consider when it comes to Atlantic Tele-Network, Inc. and they are the company's recent uptrend which could signal a positive near-term upswing, the company's most recent dividend increase, its exceptional quarter in terms of its international wireless revenues and the recent sale of its retail business to AT&T (NYSE:T).
Uptrend Status: Based on Monday's closing price, shares of ATNI are trading 3.87% above its 20-day simple moving average, 12.92% above its 50-day simple moving average, and 21.66% above its 200-day simple moving average. That indicates a short-term, mid-term and long-term uptrend for the stock which generally translates into a buying mode for traders.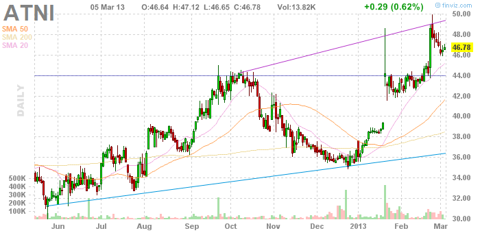 Steady Dividend: If you happen to be in the market for a sustainable dividend, ATNI offers just that. Since June 2008, when the company was paying just $0.16/share per quarter, Atlantic Tele-Network has increased its dividend a total of five times bringing its quarterly payout up to its most recent distribution of $0.25/share. One thing that should be pointed out is that on September 14th ATNI raised its quarterly dividend by 8.7% to $0.25/share which represented the Company's 14th consecutive annual dividend increase.
Caribbean Wireless Revenues: After digging through the company's most recent quarterly report, I noticed something quite and that was a 10% increase in the company's International Wireless Revenues.
Based on the numbers, "International wireless revenues were $21.3 million, an increase of 10% over the $19.4 million reported in the fourth quarter of 2011. At the end of 2012, the Company had approximately 333,000 international wireless subscribers of which 88% were prepaid subscribers. This is an increase of approximately 3% from approximately 322,000 wireless subscribers at the end of 2011".
If the company can continue to demonstrate an increase in both international subscribers and revenues, then there should be no reason why revenues can't exceed $22.5 million and users can't exceed 350,000 users by the end of 2013.
Atlantic Tele-Network Sells Its US Retail Wireless Business to AT&T: On January 22nd, and in a transaction valued at $780 million dollars, Atlantic Tele-Network has agreed to sell its domestic retail wireless business operated under the Alltel name by ATN's subsidiary Allied Wireless Communications. According to the company's press release in regard to the $780 million in proceeds Atlantic Tele-Network would acquire, Michael T. Prior, Atlantic Tele Network's CEO stated that, "We have a disciplined, long-term approach to managing our portfolio and intend to balance the use of the after-tax proceeds among new acquisition opportunities, a possible reduction in debt outstanding, investments in our existing lines of business and returns to shareholders through dividends".
Conclusion: When it comes to those who may be looking to follow my lead in establishing a position in Atlantic Tele-Network, I'd keep a watchful eye on the company's growth by acquisition strategy as it could contribute to the annual dividend increases the company has made over the past fourteen years. With solid earnings over the past 12 months and the potential to increase its international presence especially in the Caribbean region, I think Atlantic Tele-Network has the potential to be a great long-term investment.
Disclosure: I am long ATNI, T. I wrote this article myself, and it expresses my own opinions. I am not receiving compensation for it (other than from Seeking Alpha). I have no business relationship with any company whose stock is mentioned in this article.