A lot is made about the cash balances at Apple (AAPL). In fact a recent article talked about the cash balances not being the $137B (see Apple Does Not Have $137B In Cash) normally used by analysts. The point of the article was that Apple doesn't actually have $137B in cash, but rather the amount is in other assets such as long-term marketable securities that accounts for the majority of the $137B thought to be cash.
Instead of dissecting whether the company has the cash invested into short-term and long-term securities (more on that later), the more important discussion is counting up the billions coming in the door. Apple is generating so much cash on a monthly basis that it could double the dividend without needing to worry whether the long-term securities are invested in durations of 1 year or 3 - 5 year investments.
Cash And Equivalents Definition
Before discussing this situation further, investors need to understand the real definitions of the three buckets included in most generally accepted as cash equivalents.
Cash and cash equivalents - An item on the balance sheet that reports the value of a company's assets that are cash or can be converted into cash immediately. Examples include bank accounts, marketable securities, and Treasury bills.
Short-term marketable securities - This account contains any investments that a company has made that will expire within one year. These accounts contain very liquid securities that can be converted into cash quickly at a reasonable price.
Long-term marketable securities - This account contains any investments that a company intends to hold for more than a year. These accounts contain very liquid securities that can be converted into cash quickly at a reasonable price.
The key takeaway is that the marketable securities may not technically be cash, but the company instead has invested in higher yielding assets that can still be converted into cash quickly. For the most part, this means government securities and very liquid corporate bonds. Ones where some principal risk might exist, but in general these assets can be considered as easily convertible to cash when needed.
Future Cash
A more important discussion is the daily cash machine of Apple. It has the ability to generate more cash in the next couple of years than it has in the disputed marketable securities balances now. The company generated over $56B in cash last year and will easily top that amount with even limited revenue growth this year. See the below chart for the quarterly and yearly cash generated from operations: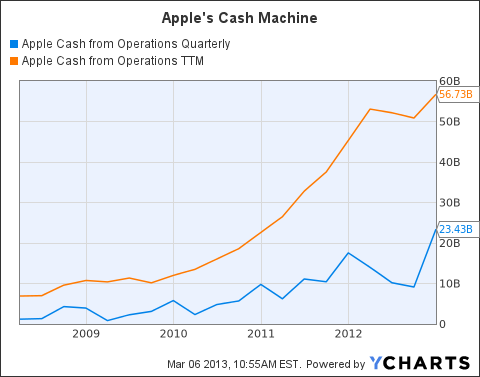 AAPL Cash from Operations Quarterly data by YCharts
Unless investors think growth is going to decline by a considerable amount, Apple will still be a cash machine. The company only needs to maintain the current levels of revenue to generate piles of cash.
Declining Earnings Estimates
As earnings estimates continue to decline, the risk exists that cash flows will eventually plunge. For the bears, those numbers must hit a major drought in order to go from a positive $56B all the way to negative. As the table below shows, the earnings estimates for the next year remain higher than last year:

* Data provided by Yahoo! Finance.
Incredible Shrinking Enterprise Value
The enterprise value continues to plunge as the cash and marketable securities balances grow and the market cap drops. With a market cap of around $400B and the cash equivalents growing to around $150B by the end of this month, the enterprise value is technically around $250B.
The below chart shows the enterprise value using the cash and cash equivalents balances only. At least $125B needs to be deducted in order to include the marketable securities totals.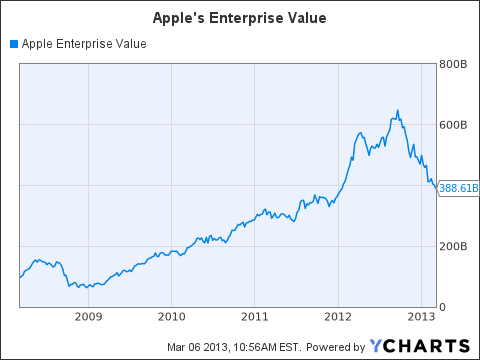 AAPL Enterprise Value data by YCharts
Conclusion
Investors continue to over analyze the situation at Apple. The company has hoards of cash and continues to generate billions on a monthly basis. With the March quarter coming to an end, the company has generated enough cash to approach the $150B mark by month end. Investors need to focus as much on the cash generation machine as the current balances and the investment vehicles utilized to generate the most profits from cash.
Agreeing with the general market sentiment, Apple needs to return more cash to shareholders if only to reduce the demands of investing that much cash. One can only imagine the amount CPAs utilized to track all those marketable securities. Investors though shouldn't question the ability of the company to turn those securities into cash and quickly if needed.
Disclosure: I am long AAPL. I wrote this article myself, and it expresses my own opinions. I am not receiving compensation for it (other than from Seeking Alpha). I have no business relationship with any company whose stock is mentioned in this article.
Additional disclosure: The information contained herein is for informational purposes only. Nothing in this article should be taken as a solicitation to purchase or sell securities. Before buying or selling any stock you should do your own research and reach your own conclusion or consult a financial advisor. Investing includes risks, including loss of principal.