By Jason Napodano, CFA
On March 6, 2013, Pozen (NASDAQ:POZN) reported financial results for the fourth quarter and full year 2012. Pozen reported revenues in the quarter of $1.35 million, driven entirely by royalties on $18.4 million in worldwide sales of Vimovo at AstraZeneca (NYSE:AZN). Vimovo continues to muddle along at AstraZeneca. Sales of $18.4 million represent the best quarter to date for the product, although we are hesitant to call this a breakout as there is clearly still work to do here. To date, AstraZeneca has filed applications in 80 countries, won approval in 63 countries, and launched in 52 countries. These statistics continue to improve every quarter - we now wait for signs that the sales are ramping. The fact that sales in the fourth quarter were up 37% sequentially from the $13.4 million in the third quarter 2012 is clearly a positive sign.
For the full year 2012, Pozen reported total revenues of $5.35 million, driven by $4.85 million in royalties on $64.4 million in worldwide sales of Vimovo at AstraZeneca and $0.5 million in an upfront licensing agreement from Desitin Arzneimittel GmbH for the license of MT-400 in 27 countries of the European Union, as well as Switzerland and Norway in May 2012. A side-note to the MT-400 agreement, Desitin terminated the license and returned all rights to MT-400 back to Pozen in March 2013. MT-400 is the development name to Treximet (85mg sumatriptan + 500mg naproxen). GlaxoSmithKline (NYSE:GSK) controls the U.S. rights to Treximet, and sold approximately $78 million of the drug in 2012. We have heard that Glaxo is currently looking to divest Treximet. We remind investors that Pozen sold all royalty rights to Treximet back in November 2011 for roughly $75 million in cash - brilliant move that unlocked significant value in our view.
Pozen reported a net loss in the fourth quarter 2012 of $6.1 million, or $0.20 per share. This was slightly better than our model which estimated the net loss at $0.21 per share. SG&A was in-line with our model, but R&D expense at only $2.6 million was lower than expected. For the full year 2012, Pozen reported a net loss of $25.3 million, or $0.84 per share. We continue to be impressed with how Pozen controls operating expenses. R&D in 2012 at $11.9 million was nearly half that of the $23.0 million reported in 2011 and the lowest since 2003. We continue to expect low G&A and R&D costs in 2013. Pozen plans to conduct two phase 1 studies to satisfy the European Medicines Evaluation Board (MEB) request on the PA Marketing Authorization Application (MAA), one phase 1 pharmacodynamic (PD) study demonstrating appropriate gastric pH control with PA-100/40 and one bioequivalence ((BE)) study comparing PA-100/40 to a currently marketed enteric-coated aspirin 100mg product.
Pozen exited 2012 with $87.2 million in cash and investments. Management believes that cash burn in 2013 will be roughly $22 million, which includes no upfront payment from a commercialization partnership on PA. Guidance for 2013 includes filing the U.S. new drug application (NDA) on PA-325/40 and PA-81/40 in the second quarter 2013 and securing a commercialization partner before the end of the year. We think PA could command an upfront payment of $25 million given our belief that peak U.S. sales are roughly $260 million. We discuss PA in greater detail in this article written for PropThink Understanding The Market Opportunity For Pozen's Safer Aspirin.
Valuation
We are maintaining our "Outperform" rating and $10 per share target on the stock. We are comfortable with the filing strategy on PA-325/40 and PA-81/40 in the U.S. We suspect that the application will include all the necessary data to gain approval during the first half of 2014. Additionally, we are pleased with the company's progress with PA outside the U.S. Guidance from the MEB in the Netherlands suggest that no phase 3 trial is necessary for approval in Europe.
We have conducted a discounted cash flow (DCF) analysis on Pozen and arrived at a fair value of roughly $9.50 per share. The current market capitalization of only $190 million represents a steep discount to the cash on hand ($87 million), the net present value of the future Vimovo royalties ($65 million based on our projections for future cash flows), and the potential to partner PA-325/40 later in the year.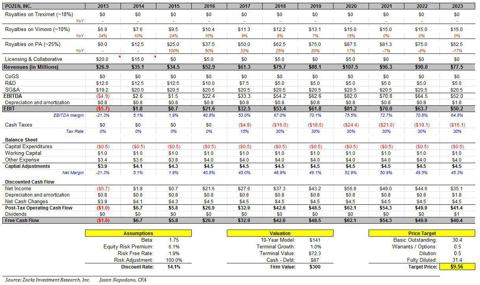 Click to enlarge
Disclosure: I have no positions in any stocks mentioned, and no plans to initiate any positions within the next 72 hours. I wrote this article myself, and it expresses my own opinions. I am not receiving compensation for it (other than from Seeking Alpha). I have no business relationship with any company whose stock is mentioned in this article.