BlackBerry (NASDAQ:BBRY) is scheduled to report earnings on March 28, 2013, which will be a watershed moment for the company. It will be the first quarter in which management will officially shed some light on BlackBerry 10 ("BB10"). Sales will be still be made up mostly of sales of the aging BlackBerry 7 devices, since BlackBerry 10 was not launched until January 30, 2013. Investors could ignore weak sales and profit figures, instead focusing on evidence that initial sales for BlackBerry 10 were strong.
In 2013, shares traded as high as $18.32, but fell back steadily over the last few weeks: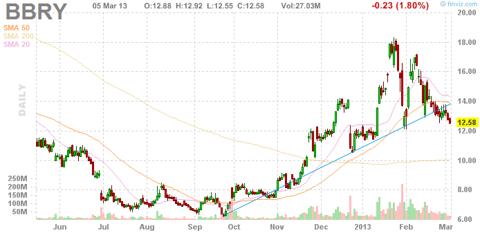 (Data Source: Finviz)
Analyst Forecasts
Initial forecasts for BB10 sales vary widely. Summarizing from Seeking Alpha's Market Currents:
Analysis
Regardless of analyst forecasts, investors will need to look for evidence that BlackBerry management is confident that momentum for BlackBerry sales will continue. Building up inventory levels and sustaining marketing spend for the next 2-3 quarters would support a view that gross margins will not erode. For the time being, few carriers have reduced the price for Z10 devices. Best Buy (NYSE:BBY) sold the Z10 for $99 on one weekend. This was only at select locations, and was a special event celebrating a grand opening.
A report that suggests half of all Z10 sales in Canada were made from customers coming from other platforms (Android or Apple). When BB10 is rolled out in the United States, BlackBerry will need to pull off the same coup. If this happens, the company has a chance in regaining lost market share. BlackBerry is unlikely to stem market share losses in the short-term, but has a chance to do so over a multiple-quarter time frame.
Risks
BlackBerry's focus on the higher-margin BB10 device leaves it vulnerable in growing market share in the low end. The company's biggest competitor is Nokia (NYSE:NOK). At the Mobile World Congress, Nokia launched the Lumia 520 and 720. The devices sell for $183 and $329 unsubsidized. In the emerging markets, consumers are sensitive to price levels. BlackBerry does not have an inexpensive BB10, and will still rely on the older BBOS7 for market share.
Nokia's high-end Lumia device could compete effectively against BlackBerry. The company is planning to bring a 41-megapixel 'Pureview' sensor this summer to the United States market.
Nokia shares are down around 12% in the month, underperforming BlackBerry, whose share is down 3.5%.
Conclusion
BlackBerry still has a number of additional catalysts that supports the view that shares will rise after the recent pullback, in the quarters ahead.
First, BlackBerry Q10 will win buyers who will only use a keyboard-based) BlackBerry device. Sprint will also carry the Q10 when it is released.
Second, support from more of the popular mobile apps could still be in the works, as BB10 sales gain momentum. BlackBerry already has native app support from LinkedIn (NYSE:LNKD), Foursquare, Angry Birds, and Amazon's (NASDAQ:AMZN) Kindle. BlackBerry does not yet have support from Facebook's (NASDAQ:FB) Instagram (though a search reveals it is possible to install the application on the device.) Netflix (NASDAQ:NFLX) has yet to build an app for BB10.
Finally, the short float on shares of BlackBerry remains elevated. Strong guidance for higher BB10 sales from management in the quarterly earnings could set up a squeeze. On February 15, 2013, short interest grew 5% to 136.5M shares, up from 129.5M on January 31 2013. The short-float is currently 32.1%.
Disclosure: I have no positions in any stocks mentioned, and no plans to initiate any positions within the next 72 hours. I wrote this article myself, and it expresses my own opinions. I am not receiving compensation for it (other than from Seeking Alpha). I have no business relationship with any company whose stock is mentioned in this article.