By Jayson Derrick
Currently, 8% growth seems to be the "magic number" that everyone is looking for the Chinese economy, and any data pointing to a lower growth is met with concern. The Chinese economy grew by 7.4% in the third quarter 2012, and left everyone wondering if the 8%+ growth prospects are over. Hu Jintao, outgoing Chinese president has set a 7% growth target for future leaders to achieve, as this rate is sustainable, and in line with the government's plan of doubling per capita GDP by 2020. China's manufacturing industry, infrastructure that is improving at light speed, a high savings rate and a large workforce are all favorable factors that will sustain development and create a new generation of middle class with disposable income.
China's income per capita is currently $5,500 on a nominal basis, or around $8,000 in purchasing-power-parity terms; 7% growth per year until 2020 will take that to $9,800 nominally, or around $15,000 in a PPP basis. China will become the most important market for multinationals, if it isn't already. Nowhere else in the world is there such a growing consumer market with an estimated 600 million individuals (roughly 40% of the entire population) making up the middle class sect in just seven years from now. As a side note, the affluent population is expected to be 270 million individuals by 2020.
Here are some companies to consider adding to your portfolio that might play a large role in the Chinese growth story, and can profit immensely.
General Motors (NYSE:GM)
China will be by far the largest car market by 2020, with some estimates predicting 2016. General Motors is currently the leader in the Chinese market. January and February sales climbed 7.9% to 525,835 vehicles compared with declining sales for Toyota, Nissan and Honda. General Motors is beating out the local competition as Chinese carmakers without a foreign partner have seen declining numbers since 2010. By 2015, demand for electric and hybrid cars will be 500,000 units, with this number increasing 10 fold to five million by 2020. General Motors is currently developing the next generation of smaller, lighter, lower cost vehicle battery systems in Shanghai to meet future demand.
Chinese demand for luxury vehicles will also become the largest in the world by 2016. In a survey of potential buyers of luxury vehicles, 59% of respondents indicated they won't buy a local brand when buying a premium luxury vehicle, which is great news for General Motors considering Ford (NYSE:F) does not offer a premium luxury car to the Chinese market. Recently, General Motors launched a new Cadillac sedan, the XTS to the Chinese market, which will begin production in Shanghai. Currently, China remains Cadillac's second-largest market selling 30,000 cars with the hopes of more than tripling sales to 100,000 units by 2016.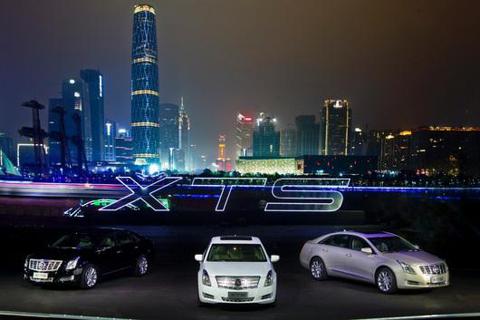 Coach (NYSE:COH)
Chinese consumers account for a third of global sales for high-fashion brands, and it is only a matter of time before Shanghai dictates the latest fashion trends, making Paris, Milan, New York City, and others an after thought for the major luxury brands. Leading the way is one of the most popular brands within the Chinese market, Coach.
Sales of Coach handbags and accessories have fallen during the most recent quarter while sales growth has underperformed the market for the first time since 2000. Shares of the company were punished while investors ignored the fact that international sales grew 12%. China is the most important international market for Coach and sales have risen 40%. Victor Lewis, responsible for spearheading the company's growth in China since 2008, was recently given the task of CEO.
China remains paramount to Coach's future, as rapid expansion in the Chinese market offers significant growth opportunity, while the company hopes to combat its 'tired' and unpopular image in the domestic markets. A growing appeal for luxury items coupled with a growing middle class, higher access to credit cards, increased spending by women and younger consumers will drive up Coach's sales within China.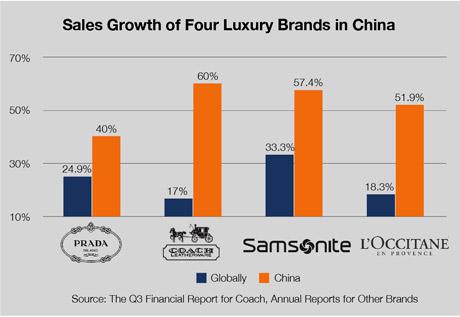 Pepsi (NYSE:PEP)
The Chinese market will make up about 25% of global soft drink consumption over the next five years. To take advantage of this, Pepsi has invested over $3.5 billion in the Chinese market to gain market share as it is currently trailing rival Coca Cola (NYSE:KO), which has invested $2.5 billion. Emerging markets, especially China, represents a key battleground as the domestic market is over saturated with many popular and generic brands.
Pepsi currently operates 27 beverage and food plants within China and plans to open 10 to 12 new plants to develop beverages tailored to the Chinese market like blueberry gatorade and snacks like hot-and-sour fish soup chips to target the growing middle class consumers who represents the key target market for Pepsi. Pepsi's CEO, Indra Nooyi understands the significance emerging markets play to long-term growth and visits China at least once a year.
Pepsi formed a joint venture in China with Tingyi, a local Chinese company giving it exposure to bottled water, tea and juice, a move that is viewed as a 'one up' versus Coca-Cola, which has no exposure to these beverages in the Chinese market. I believe that this venture will make Pepsi the clear winner in the (soon to be) world's largest beverage market in just a few short years.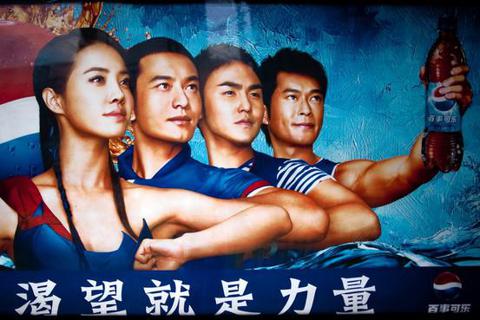 Nokia (NYSE:NOK) - Avoid
Nokia's performance in China has been a huge failure since 2011 as the company struggles to gain a foothold in a country that is seeing tremendous increase in demand for higher-end Samsung and iPhone smartphones. China is the hottest market for cell phones right now, and a growing middle class will continue driving growth. A failure in China will put Nokia's global recovery effort at serious risk. The company's sales were down 79% in the Chinese market in 2012 as the Symbian is dying and the Windows Phone Lumia missed out on the Chinese New Year shopping season.
Nokia is offering its Lumia model that is priced at $738 at a bad time, as rumors continue surfacing that Apple (NASDAQ:AAPL) is developing a cheaper model of its phone designed for the Chinese market. Nokia used to be the world's largest mobile phone maker in part due to its dominance in China, but these days are long over. By 2015, Nokia will be an afterthought in the Chinese market, and I think it would be foolish to buy Nokia based on the Chinese plans, as its brand has an unfavorable image, and its products are not seen as "cool" by the Chinese market.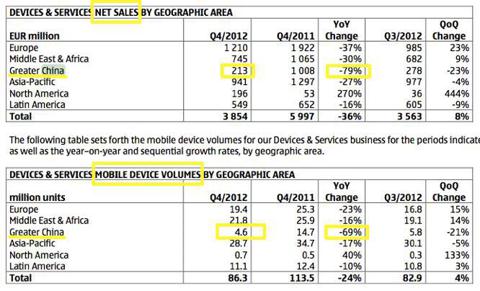 Conclusion
China is already a battleground for many companies fighting for global dominance and this will only intensify in the next few years as the middle class continues to grow. With trillions of dollars at stake, multinationals are pouring in billions of dollars to capture the Chinese market, which is great for shareholders who can pick out the winners. The stocks that I have mentioned already have a strong foothold in the Chinese market, and as each day passes it will be harder for newcomers to arrive in the market to take away market share. I am positive with my picks and these companies should benefit from a growing Chinese economy.
Disclosure: I have no positions in any stocks mentioned, and no plans to initiate any positions within the next 72 hours. I wrote this article myself, and it expresses my own opinions. I am not receiving compensation for it (other than from Seeking Alpha). I have no business relationship with any company whose stock is mentioned in this article.