Owing to an upbeat earnings result released in late February, the share price of Dollar Tree (NASDAQ:DLTR) has appreciated by 13.4% year to date. At $46.00, the stock is still trading far off from its 52-week high of $56.82 achieved in June 2012. In agreement with Cramer's call, I believe there remains a solid room for a continued price run-up and my view is backed by the following four compelling reasons:
1. In late February, Dollar Tree reported an upbeat Q4 performance with both revenue and EPS exceeding consensus estimates driven by a strong 2.4% same-store sale growth. In a note dated February 27, 2013, Edward Kelly at Credit Suisse wrote the following (sourced from Thomson One, Equity Research):
We continue to rate DLTR Outperform. While the near-term fiscal challenges associated with the payroll tax increase and higher gas prices are real, the company seems to be managing through the issues well, its mid-teens long-term earnings growth profile remains intact, and the risk/reward now sets up well given the recent sell-off and reasonable guidance.
2. From a relative valuation perspective, Dollar Tree shares appear to be favorably priced based on the company's solid financials relative to its peers' (see chart below). The consensus estimates on average predict the firm's revenue, EBITDA, and EPS to grow at 2-year CAGRs of 8.3%, 10.2%, and 11.6%, respectively. Those figures are slightly below the averages of 10.0%, 10.3% and 14.5%, respectively, for Dollar Tree's 2 primary competitors - Family Dollar Stores (NYSE:FDO) and Dollar General (NYSE:DG). However, Dollar Tree's long-term EPS growth rate is forecast to be 18.5%, which is notably above the average estimate of 15.2% for the 2 comparable companies. On the profit side, Dollar Tree demonstrates a superior performance as the firm's various profitability margins and capital return metrics are considerably above par. Dollar Tree also carries a relatively lower debt load as reflected by its below-average debt to capitalization and debt to EBITDA ratios. In terms of liquidity, the company has the highest free cash flow margin. Both Dollar Tree's current and quick ratios are markedly above par, reflecting a healthy balance sheet condition.

To summarize, Dollar Tree's relatively weaker near-term growth potential would likely weigh on the stock valuation. However, given the company's strong long-term earnings growth prospect, superior profitability, as well as its excellent liquidity position, I believe the stock's fair valuation would still command a solid premium over the average level for Family Dollar and Dollar General. The stock's current valuations at 8.6x forward EBITDA (next 12 months) and 16.5x forward EPS (next 12 months) together represent an average premium of 7.3% over the same peer-average trading multiples. When accounting for the long-term earnings growth potential, Dollar Tree's long-term PEG of 0.9x is 10.6% below the peer average PEG at 1.0x, suggesting the stock is modestly undervalued on a relative basis (see chart above).
3. From a historical valuation standpoint, the stock's trailing P/E multiple is currently trading near its 5-year bottom (see chart below).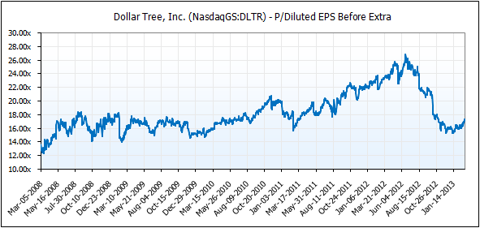 In my view, the comparison presents a great buying opportunity as a higher valuation is likely to be justified by the following positive fundamental developments:
1) Dollar Tree has been able to drive up investment returns substantially over the past 5 years (see chart below);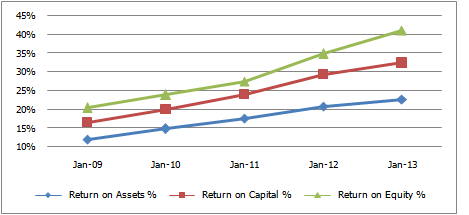 2) The firm's various profitability margins have been trending steadily over the same period (see chart below); and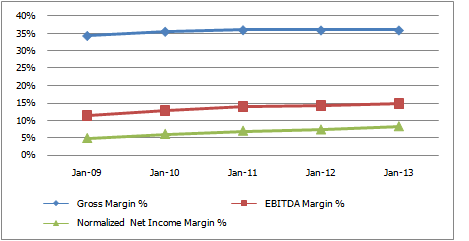 3) Sell-side analysts' average estimate for the company's long-term EPS growth rate has been revised from 17.3% to 18.5% since 18 months ago and the stock's average target price was raised from $36.83 to $49.14 (see chart below).

4. Further, Dollar Tree's forward P/E multiple is trading at a 14.2% premium over the same multiple of the S&P 500 Index, which stands at 14.5x now (see chart below). I believe Dollar Tree should command a higher premium over the market provided that 1) the P/E multiple premium averaged at 31.1% in the past 12 months; 2) Dollar Tree's long-term earnings growth rate at 18.5% is overwhelmingly above the average estimate of 8.2% for the S&P 500 companies; and 3) the company's market-leading profitability performance and healthy balance sheet condition should warrant a concrete valuation premium.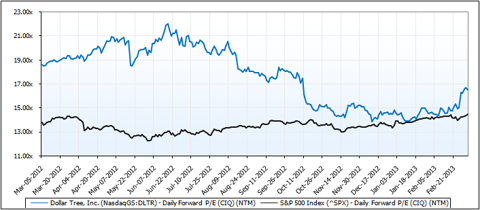 Bottom line, in the light of the solid growth prospects and the excellent financials, investors should consider buying Dollar Tree shares as the valuation is cheap.
All charts are created by the author and all financial data used in the article and the charts is sourced from Capital IQ unless otherwise specified.
Disclosure: I am long DLTR. I wrote this article myself, and it expresses my own opinions. I am not receiving compensation for it (other than from Seeking Alpha). I have no business relationship with any company whose stock is mentioned in this article.