Stratasys Ltd, formed in 2012 by the merger of 3D printing companies Stratasys Inc. and Objet Ltd., manufactures 3D printers and materials for prototyping and production. SSYS was down 0.96% and closed at $68.16 on March 5, 2013. SSYS had been trading in the range of $32.87-$92.30 in the past 52 weeks. SSYS has a market cap of $2.64B with a beta of 1.38.
Needham & Company upgraded SSYS from hold to buy with a price target of $80.00 following solid Q4 results and better than expected 2013 guidance. The firm commented,
"SSYS' first EPS report since the merger in early December with Objet, as expected, featured a good deal of merger-related noise. However, on pro forma combined basis, Q4 revenues were up 23% y/o/y with solid high-teens operating margins. Management expects revenues to be up 20%-24% in 2013, with EPS guidance meeting Street expectations. SSYS shares climbed 7% yesterday, with investors reacting positively to the strong pro forma 2012 financials and what appears to be reasonable 2013 guidance, assuming the integration goes according to plan. We believe industry demand remains strong, the integration of the merger appears to be on track, and we expect increased operating leverage to drive earnings growth over the next two years."
On March 4, 2013, Piper Jaffray reiterated its overweight rating and $94.00 price target on SSYS. Piper Jaffray noted,
"Stratasys reported solid Q4 results with revenues of $96.4 million increasing 23% on a year/year basis and non GAAP EPS of $0.41. Operating income increased 19.0% year/year and net income increased 40.9% y/y. The results versus consensus comparison is difficult this quarter with the consensus pool consisting of estimates that excluded and included none or partial results from Objet, so we will compare the results versus our industry high estimates that included a full quarter contribution from Objet."
Analysts currently have a mean target price of $84.10 and a median target price of $86.50 for SSYS. For 2013, analyst are estimating an EPS of $1.86 with revenue of $421.07M, which is 95.60% higher than 2012. For 2014, analysts are projecting an EPS of $2.57 with revenue of $526.80M, which is 25.10% higher than 2013.
Confidence from the Management
SSYS now boasts 130 3-D printing materials, giving it the widest array in the industry
SSYS had a nearly $30M backlog of orders going into 2013, giving Stratasys "a high level of confidence"
SSYS is having success penetrating the market for high-end printers, such as those that can produce prototypes of dental equipment
If the management is correct, SSYS is in the early stage of a multi-year growth opportunity
There are a few positive factors for SSYS:
Higher revenue growth (3 year average) of 7.8 (vs. the industry average of -0.4)
Higher operating margin of 16.5% and net margin of 9.9% (vs. the industry averages of 16.3% and 8.8%)
SSYS has a total cash of $51.80M with zero total debt
SSYS generates an operating cash flow of $11.86M with a levered free cash flow of $4.18M
Comparison
Investors may want to learn more 3D printing technology before establishing any position in this emerging trend. Investors who are interested in 3D printing stocks can also review other 3D printing companies, such as 3D Systems Corporation (NYSE:DDD) and ExOne Co (NASDAQ:XONE). Below is a quick comparison between SSYS, DDD, and XONE.
| | | | |
| --- | --- | --- | --- |
| | Stratasys, Ltd (NASDAQ:SSYS) | 3D Systems Corporation | ExOne Co |
| Market Cap | $2.64B | $2.95B | $339.41M |
| P/E | 189.33 | 72.88 | N/A |
| EPS | $0.36 | $0.47 | $-1.49 |
| Beta | 1.38 | 1.71 | N/A |
| Revenue Growth | 7.8 | 46.3 | N/A |
| Operating Margin, TTM | 16.5% | 17.1% | -65.4% |
| Net Margin, TTM | 9.9% | 11.0% | -74.3% |
| ROE, TTM | 9.7 | 10.6 | 0.0 |
Source: Google Finance and Morningstar
Technically, the MACD (12, 26, 9) indicator is showing a slightly bearish trend, but the MACD difference continues to converge. MACD indicator could turn bullish soon with MACD Histogram currently at -0.02. The momentum indicator, RSI (14), is picking up but still indicating a bearish lean at 42.88. SSYS is currently trading between 50-day MA of $77.90 and 200-day MA of $64.31, as seen from the chart below.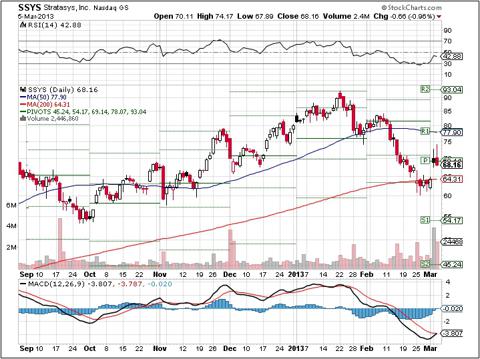 Source: StockCharts.com
How to Invest
With sturdy revenue growth and strong demand, SSYS still has much further upside potential. However, high P/E remains a concern. For bullish investors, a credit put option spread of June 22, 2013, $50/$55 put can be reviewed, which will allow investors to gain upside credit premium or enable investors to acquire SSYS stock at a price below $55.
Note: All prices are quoted from the closing of March 5, 2013. Investors and traders are recommended to do their own due diligence and research before making any trading/investing decisions.
Disclosure: I have no positions in any stocks mentioned, and no plans to initiate any positions within the next 72 hours. I wrote this article myself, and it expresses my own opinions. I am not receiving compensation for it (other than from Seeking Alpha). I have no business relationship with any company whose stock is mentioned in this article.