Credit card companies are breaking down - and this may be the beginning of the next "shoe to fall." Oh sure, I understand that Capital One Financial (NYSE:COF) and American Express (NYSE:AXP) are already long gone. I'm not talking about those companies. No I'm looking at the transaction processing companies - primarily Visa Inc. (NYSE:V) and MasterCard (NYSE:MA) who actually benefit by taking a small fee for every transaction using their networks. Now up to this point, the stocks have been hit, but not so much worse than the average blue chip company. Investors simply don't see the risk at this point. Both companies are cash flow positive, both have an established base of clients and international opportunities. Both are forecasting earnings growth and both stocks enjoy a relatively healthy multiple.
I'm not going to tell you I think Visa or MasterCard are going to go belly up. The situation just isn't that dire. But I do think investors will be surprised at how sharply these companies can drop in the coming quarter or two. See, the "healthy multiple" is actually a testament to the confidence that investors have in the future growth of the companies. You'll pay 20 times earnings if you expect those earnings to grow quickly.
But credit (and debit) card transactions just aren't going to have the same growth trajectory they have enjoyed for the last several years. And if this growth is called into question, investors could quickly re-value the stocks to multiples of 15, 10 or even 8. If Visa began trading at 8 times earnings it would be a 64% drop!
There was a very informative opinion piece in the WSJ yesterday that outlined some of the issues facing credit card lending, the companies who offer the credit, and consumers who rely on credit. As the economy continues to contract, lenders are looking at their exposure and quickly realizing that outstanding credit lines can be a big risk.
Ms. Whitney states that there is currently about $5 trillion in credit card lines outstanding, and that about $800 billion is drawn upon. The available $4.2 trillion seems like it would afford considerable liquidity, but the author expects the available lines to decrease by $2 trillion by the end of the year, and by $2.7 trillion by the end of 2010. We are already seeing lenders cut back at a much more rapid pace than expected.
Part of the issue accelerating this trend is the fact that no lender wants to be left holding the last or largest receivable when a consumer goes under. So there is a race to reduce credit lines and re-price interest rates to encourage customers to pay off balances quickly. While this may help individual lenders, it has a striking effect on consumer confidence.
Many consumers look at their credit lines as a safety net. If something drastic happens, they can draw on that $10,000 credit line until they figure out how to deal with it. But if that line is cut, a prudent consumer will build another safety net (likely by socking away savings which is the wiser thing to do in the first place). This leads to less spending for a time and could further hurt the transaction processors.
I believe the consumer spending contraction is still in place and will carry out for several quarters to come. In my opinion the analyst expectations for Visa and MasterCard earnings are inflated. The stock prices also reflect optimism which leads to a dangerous situation in a bear market.
Revisions of earnings expectations coupled with shrinking price/earnings ratios on stocks have a multiplication effect on investors. Lending stocks have already discounted the risk and are not worth shorting. But I believe profits could be made shorting the transaction processing companies in the weeks and months ahead.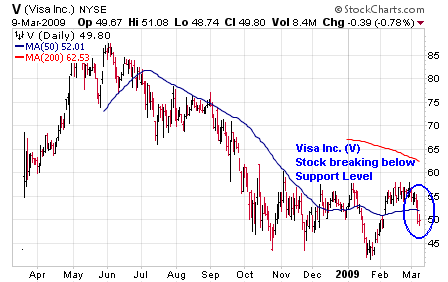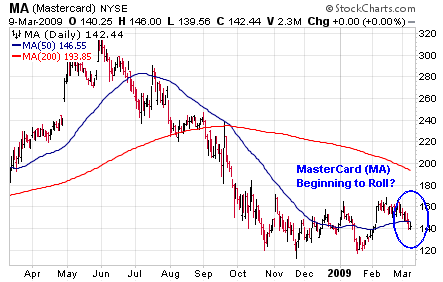 Disclosure: Author has a short position in Visa.