Urban Outfitters (URBN) will announce fiscal Q4 earnings next Monday. For those unfamiliar with URBN's business, the company operates 4,000 retail locations across chains like Urban Outfitters and Anthropologie.
URBN's recent press releases showed signs of good growth. The company is well operated and taking market share from competitors like GAP (NYSE:GPS) and Limited (LTD). But while there might be a little left in the run, the stock is way too rich and should not be bought at these levels.
PAST
Over the past six quarters, URBN has grown earnings, but missed street estimates last quarter and missed Q4 last year. (all data from thestreet.com)
| | | | | |
| --- | --- | --- | --- | --- |
| Period | Estimate | Actual | Variance | Previous Year |
| Q3 2013 | $0.41 | $0.40 | ($0.01) | $0.33 |
| Q2 2013 | $0.33 | $0.42 | $0.09 | $0.35 |
| Q1 2013 | $0.20 | $0.23 | $0.03 | $0.23 |
| Q4 2012 | $0.29 | $0.27 | ($0.02) | $0.45 |
| Q3 2012 | $0.32 | $0.33 | $0.01 | $0.43 |
| Q2 2012 | $0.32 | $0.35 | $0.03 | $0.42 |
A few misses isn't too bad, especially with a giant beat in Q2 this year. But all that success is already priced in, with the stock up almost 40% since before it announced Q2 earnings.
PRESENT
Currently, URBN is one of the most expensive stocks in the S&P 500, trading at over 30x earnings (all data from S&P, charts made by author)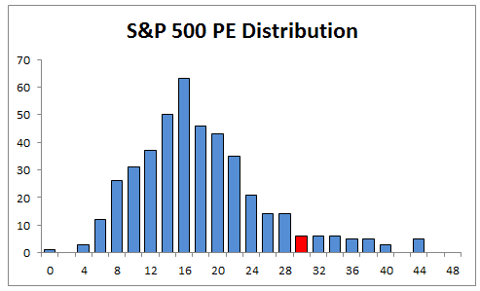 Click to enlarge
Against other consumer discretionary stocks, URBN sticks out even worse. Comps like GPS and LTD are valued closer to 16x, or about half what URBN is valued at.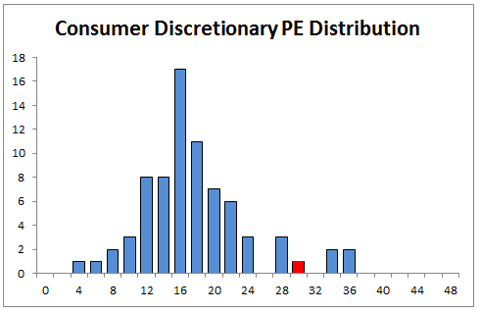 Click to enlarge
FUTURE
RISKS
There is no doubt that URBN is a well run company and deserves some premium over its competitors. But is it likely to outpace these competitors enough to cause the current difference to widen? I don't see it.
One indication is Google Trends - to estimate how many people are going to a store, we can see how frequently users search for it.

Click to enlarge
You can see people are searching for Urban Outfitters more than they used to, but the relative growth doesn't imply any upward surprise. And searches for brand Anthropologie are actually down this year.
REWARD
While I think earnings will be up as forecast this year (impressive 15% growth), I'm expecting multiple compression of about 25% over the next few months. That means a price target in the $35 area, though I expect a bumpy ride.
Disclosure: I have no positions in any stocks mentioned, and no plans to initiate any positions within the next 72 hours. I wrote this article myself, and it expresses my own opinions. I am not receiving compensation for it (other than from Seeking Alpha). I have no business relationship with any company whose stock is mentioned in this article.