The weakness in the Japanese yen has given strength to Japanese stocks with more monetary easing expected. Focused exchange traded funds are positioned to run up as these equities are currently about 40% off highs seen several years back.
"We're still about 40 percent below those 2007 highs," Cullen Thompson, Co-Founder & CIO of Bienville Capital, told CNBC at the Young Presidents Organization (YPO) meeting in Istanbul. "If there is sincere policy follow-through then you could have that 50 to 60 percent increase in Japanese equities which represents a decade of equity returns in 9 months," he said.
Prime minister Shinzo Abe used "unlimited easing" promises last November to address the nation's deflationary cycle. Since then, the Japanese yen has lost about 16% in value against the U.S. dollar and 21% against the euro, reports Holly Ellyatt for CNBC. Meanwhile, the Nikkei 225 has gained 29.2%.
Investors are watching as Haruhiko Kuroda, a proponent of aggressive policy action, has been nominated as next Bank of Japan governor. He has promised to put Abe's economic policies through increased asset purchases, reports Ellyatt. The Bank of Japan meeting on Thursday is expected to lead Japan into another phase of monetary easing.
Investors who want to hedge currency exposure to the yen like the WisdomTree Japan Hedged Equity ETF (NYSEARCA:DXJ), and the DBX MSCI Japan Currency Hedged Equity Fund ETF (NYSEARCA:DBJP). They have been the most successful Japan-focused ETFs this year, rising 9.6% and 8.8%, respectively. The weak yen has put the spotlight on long equity ETFs such as the iShares MSCI Japan Index (NYSEARCA:EWJ), up 3.6%. The CurrencyShares Japanese Yen Trust (NYSEARCA:FXY) has lost more than 7% in 2013, due to the falling yen.
"The ETF money is trying to find the central bank that's going to ease the most aggressively," Dave Lutz, head of ETF trading at brokerage Stifel Nicolaus, said. "Right now, that's Japan."
Brendan Conway for Barron's reports that an eight-week flood of $3.1 billion in new cash has moved into the relatively small niche of exchange-traded funds tied to Japan's stock market.
DBX MSCI Japan Currency Hedged Equity Fund ETF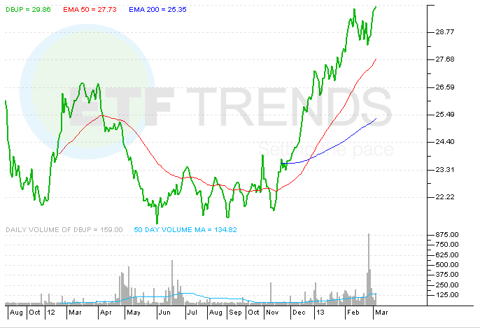 Tisha Guerrero contributed to this article.
Disclosure: I have no positions in any stocks mentioned, and no plans to initiate any positions within the next 72 hours. I wrote this article myself, and it expresses my own opinions. I am not receiving compensation for it. I have no business relationship with any company whose stock is mentioned in this article.
Additional disclosure: Mr. Lydon serves as an independent trustee of certain mutual funds and ETFs that are managed by Guggenheim Investments; however, any opinions or forecasts expressed herein are solely those of Mr. Lydon and not those of Guggenheim Funds, Guggenheim Investments, Guggenheim Specialized Products, LLC or any of their affiliates.