In October of last year I stated my preferences for Ann Taylor's (NYSE:ANN) common stock over that of Ralph Lauren (NYSE:RL). Since then Ann Taylor is down by nearly 20% compared to gains in the teens and middle-single digits for Ralph Lauren and the S&P 500 Index, respectively (see graph). Based on fundamentals, currently, Ann Taylor offers even better investment opportunity than Ralph Lauren. While both stocks may reward investors in the long-term, Ann Taylor seems like a better bargain.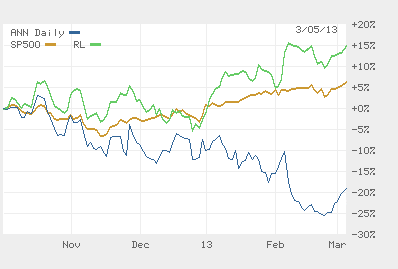 Fundamentals and valuations
Ann Taylor and Ralph Lauren have about 46.6 million and 90.7 million shares outstanding for market capitalization of $1.4 billion and $16.1 billion, respectively. Below is a table comparing a number of valuation and fundamental metrics for Ann Taylor, Ralph Lauren, and the S&P 500.
| | | | |
| --- | --- | --- | --- |
|   | ANN | RL | S&P 500 |
| EBITDA margin | 11.2% | 19.0% | 21.3% |
| EBITDA/EV | 4.5 | 11 | n/a |
| Dividend yield | 0.0% | 0.9% | 2.3% |
| Price-to-earnings (forward) | 12.7 | 19 | 12.6 |
| PEG | 0.9 | 1.4 | 1.7 |
| Price-to-sales | 0.6 | 2.3 | 1.4 |
| Price-to-book value | 3.2 | 4.3 | 6.5 |
| Beta | 1.8 | 1.5 | 1 |
| Price-to-CFO | 5.2 | 16.1 | n/a |
| Number of stores | 981 | 907 | n/a |
| Employees | 19,900 | 25,000 | n/a |
| Employees per store | 20.3 | 27.6 | n/a |
Source: Thomson Reuters, Capital IQ, author's estimates, SEC filings; EBITDA - earnings before interest, taxes, depreciation, and amortization; EV - enterprise value; PEG - price-to-earnings-to-growth; CFO - cash flow from operations.
It seems from the table above that Ann Taylor offers better value across the board. One exception is its EBITDA margin, which is lower by 8.8% than that of Ralph Lauren. Also, Ann Taylor does not pay a dividend compared to a dividend yield of about 0.9% for Ralph Lauren and its shares have a slightly higher beta that those of Ralph Lauren. Without a doubt, from a financial and valuation standpoint Ann Taylor common stock offers a better value to investors.
Recent trends
Ann Taylor recently opened its first store in Canada while Ralph Lauren recently announced it is closing its fourteen Rugby stores. The estimated cost for the Rugby store closings is between $20 to $25 million. Both companies are increasingly relying on e-commerce. Ann Taylor recently introduced a multichannel shopping allowing on-line shopping and picking at the local store or shipping from it. And Ralph Lauren is also focused on online expansion to accommodate the trend of increasing online shopping by consumers. This together with Ann's international expansion and Ralph's re-focusing of its stores bodes well for the future.
Ann Taylor and Ralph Lauren are at different phases of their international expansions. For example, Ann Taylor has a few stores outside of the U.S., in Canada, and plans to start international shipping soon. On the other hand, Ralph Lauren has stores in Europe, Asia, and South America. In fact, a large number of customers are wealthy tourists who travel internationally and buy Ralph Lauren's brands abroad. Ann Taylor is primarily known in the United States and the company is just scratching the international marketplace.
In addition, Ralph Lauren has sports offerings and sells its products through retail and wholesale channels. Ann Taylor on the other side is almost entirely focused on work and formal to slightly casual style clothes and the brand is not diluted by being sold wholesale. Ann Taylor could easily grow. For example, it could expand into the high-end active style as more women become involved in sports as evidenced by the success of Canada-based Lululemon Athletica (NASDAQ:LULU).
Outlook
Ann Taylor will be focusing on three major initiatives in the next twelve months. These are further multichannel development, international shipping, and new stores together with store renovations. Ralph Lauren is implementing a new SAP system, which should improve efficiency and operational quality. This company owned by the famous designer is also planning on taking full control of the Chaps brand following the acquisition of Warnaco and continuing its retail expansion in China with twenty new stores next year.
These initiatives, together with a recovering economy and consumer confidence, bode well for both companies. However, Ann Taylor will likely experience a stronger growth as the company is just starting to expand internationally and its penetration in the international and domestic markets is not as saturated as that of Ralph Lauren. Also, a woman's closet is never too full. Both companies are likely to seek new sources of revenues, such as new styles, accessories, and channels but it seems that Ann Taylor has more room for product introduction.
Conclusion
Ann Taylor and Ralph Lauren offer exposure to the high-end fashion industry. However, Ann Taylor is significantly undervalued compared to Ralph Lauren. In addition, it has more opportunities to grow internationally and diversify its products across styles and uses. Both companies have solid balance sheets, repurchase shares, and are led by proven management teams. Thus, a downside risks is somewhat limited. However, the upside potential for Ann Taylor appears stronger than that for Ralph Lauren from current stock prices.
Disclosure: I am long ANN. I wrote this article myself, and it expresses my own opinions. I am not receiving compensation for it (other than from Seeking Alpha). I have no business relationship with any company whose stock is mentioned in this article.