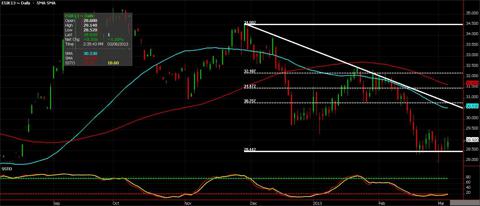 I see all these articles on selling silver… well, I'm a buyer for clients. Silver futures have declined 10% in the last month, and are lower by 16% from their highs in the end of November. I think silver was a sale at $32.50-$34.50, and is a buy now. My understanding is that we try to buy low and sell high. Look at the chart above. It appears futures are finding solid support around $28.50/ounce in the May contract. For the last 11 sessions, we've been in the $1 trading range, and my feeling is that when we get out of this consolidation phase, the direction of the breakout will determine the next leg.
As a speculator, I am positioning some clients thinking the direction will be to the upside. I've suggested scaling into bullish trade, and I think traders should position themselves in either futures or options to capitalize on a return to above $30/ounce in the coming weeks. I think we are in the process of putting in 2013 lows as of this post. We all know past performance is not indicative of future results, but just as an exercise, let's examine what silver futures did the last 3 years in Q1: 2010- +6.2%, 2011- +20.5%, 2012- +16.0%. Let's assume we see the average move in 2013, which would equate to a 14% gain, and from where we started at the beginning of this year, that would put us at $34/ounce by month-end. Do I think this will happen? Not necessarily. But I do think that is a reasonable target in Q2. Again, past performance is not indicative of future results.
My stance is that every commodity investor should have a portion of their commodity portfolio long gold and or silver at these levels based on current dynamics. Contact me for specific trade ideas based on your risk tolerance, size of allocation and profit expectations.
Risk Disclaimer: The opinions contained herein are for general information only and not tailored to any specific investor's needs or investment goals. Any opinions expressed in this article are as of the date indicated. Trading futures, options, and Forex involves substantial risk of loss and is not suitable for all investors. Past performance is not necessarily indicative of future results.
Disclosure: I have no positions in any stocks mentioned, and no plans to initiate any positions within the next 72 hours. I wrote this article myself, and it expresses my own opinions. I am not receiving compensation for it. I have no business relationship with any company whose stock is mentioned in this article.