Blue chips may also have serious problems
When I want to point out a technology company, my first choice is Apple (NASDAQ:AAPL) as an innovative and remarkable business. Unique products made it a money-making machine with one of the largest market capitalizations.
Everything seemed perfect until the stock price made a significant all-time top in the third week of September 2012. Since then there has been a sharp correction that only allowed a small bounce back in the latter half of November. What was the reason? The obvious answer has to do with the poor 4th quarter report released on October 25th. Moreover, the most extraordinary occurrence was that Apple shares have continued to decline even after the company posted record results for the 1st quarter of 2013 with sales of $54.5 billion. A disappointing forecast for the coming months was the reason for this depressing reaction.
Chart courtesy of StockCharts.com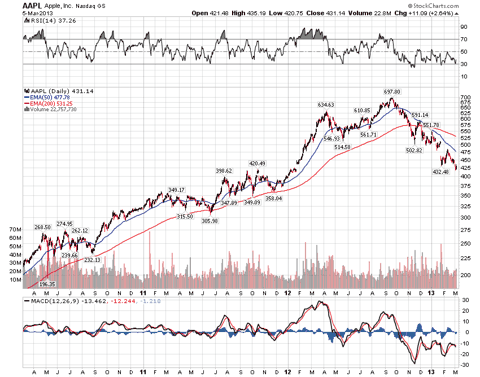 There is no doubt that a cycle has ended, and the company must reset itself.
The drop in prices reached 40% in about 5 months establishing a new 52-week low. Meanwhile, the company has been accumulating cash flow of $39.8 billion, short-term securities and $97.3 billion in long-term securities, totaling $137.1 billion.
There is a significant contradiction here. While notorious Apple shareholders only have been worried about alternatives for the distribution of this mountain of cash, the shares have lost a substantial portion of their value. It seems that everyone has forgotten that the largest part of this money has to stay in the company in order to fund its product development and new acquisitions. I believe this is exactly what the Apple shares debacle is trying to explain for months.
Apple valuation
Let's assess the value of Apple shares accepting a growth rate of only 1% while maintaining the average margin's level of the last two years. The average growth of 2011 was 17.7% while it was 7.1% in 2012.
Apple has achieved high sales with exceptional products in recent years and now has a particularly strong competition. So, I think that, in the current situation, the assumptions I used are appropriate.
US$ million

2012

2013

2014

2015

2016

2017

1. Net Sales

156,508

158,073

159,654

161,250

162,863

164,491

2. Growth

1.0%

1.0%

1.0%

1.0%

1.0%

3. Net Profit

39,518

39,913

40,313

40,716

41,123

4. Net Margin

25.0%

25.0%

25.0%

25.0%

25.0%

5. Terminal Value

133,842

6. Total (3+5)

39,518

39,913

40,313

40,716

174,965

Discount Rate

8.0%

NPV (Net Present Value)

251,817

Minus: Long term Debt

0,000

Total Market Value

251,817

FD Shares Outstanding

947,217

Thousand

Price Per Share

265.8

US$
I do not want to fail to mention that there is a restrictive aspect of this assessment with the Discounted Cash Flow method. I only admit net income because it is a better way of assessing stocks as I am not studying an investment project.
My review of $265.8 is still 38% lower than the current level of Apple stock price, which is signaling something truly significant. Selling​​ roughly the same amount of 2012 is reasonable in light of what I stated before, but that implies a much lower stock price. Looking for future performance at near zero growth rate Apple is only worth $265. The company is not building up new products that beat the competition, and its downside protection will slide to lower levels.
Cash Distribution Versus Business Investment
Apple is sitting on a massive pile of money. This might be attractive for some short-term investors, but it is an evidence of unwelcome news for the company's business. A large part of that money should be used to make investments in new products, including research and development. Innovation does not suddenly appear - it is instead a long time job of investigation and marketing activity with vast dimension. This is especially true for a company that, from now on, will find growth to be a difficult task due to the high revenue level that has been achieved through unique products.
The issuance of preferred shares would strongly affect the value of common shares. If it materialized, it would be a serious situation that could induce by itself a substantial stock correction beyond the decline seen in the last five months.
Dividends and value for shareholders
We know that dividends and similar handouts are not beneficial for the prices of listed companies. In practice, they are innocuous and only produce short-term relevance to a minority of shareholders. If an adequate fraction of earnings is distributed as dividends it may surely be agreeable to investors, but what is significant is company growth and stock appreciation.
Technically, the issue is inconclusive with many authors admitting that the stock value is independent of dividends. For guidance, I note that studies of Brennan (1970) have showed that firms with higher dividends had lower prices. Moreover, Litzenberger and Ramaswamy (1979) have found just the opposite. Black and Scholes (1974), as well as Modigliani-Miller (1961), had concluded that the value of the shares was independent of the dividend. The dividend policy should be primarily guided by the objectives of management though it may also be a signal to the market, where there are no other efficient ways to do so.
When the return on invested capital exceeds the return expected by shareholders there is a premium. It translates into the difference between the market price and the book value of the company. Dividends have nothing to do with this concept.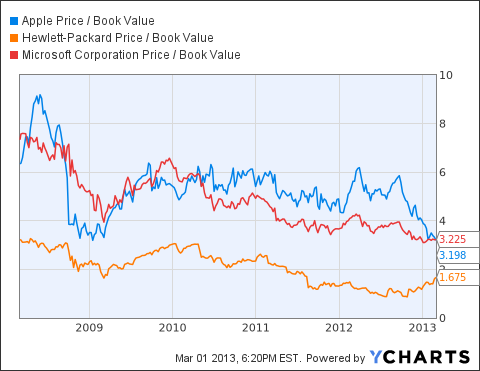 AAPL Price / Book Value data by YCharts
Historically, Apple has distributed dividends since 1987 until 1995 and then has stayed 17 years retaining all of its profits. Only recently (August 9, 2012) Apple has resumed the distribution of dividends to its shareholders in the amount of $2.65 per share quarterly.
Conclusion
Let's see if Apple manages to keep its profile as a growth stock. If not, the company is likely to fall to a large extent.
The expectations of shareholders and analysts are not optimistic in line with Apple's forecast. Moreover, by my assessment there are no reasons that support current prices unless the company grows significantly going forward.
To reverse the current decline in stock prices, Apple has to persuade the market of its strength and creativity. This can only be achieved with innovative products, which have to be market winners, in order to increase sales substantially. The shareholders strongly doubt that the company overcomes the level of sales of recent quarters. This situation is expected to continue and may even deteriorate until Apple can launch new products successfully.
Apple shareholders that are obsessed with receiving large dividends and other benefits are negative for Apple because they do not care about growth. All businesses with high growth policies require that shareholders accept to finance this growth with retained earnings.
Something is wrong when an investor chooses to receive a considerable amount of money in the present which will entail a substantial loss of its investment in the future.
Apple is not and never was a company that distributes high dividends for investors with a low level of income tax. If the company changes its shareholder profile, it will have also to modify its own profile.
Disclosure: I have no positions in any stocks mentioned, and no plans to initiate any positions within the next 72 hours. I wrote this article myself, and it expresses my own opinions. I am not receiving compensation for it (other than from Seeking Alpha). I have no business relationship with any company whose stock is mentioned in this article.